Your head is buzzing with ideas and you are poised and ready to leap into the world of making a living from home. Or maybe you are already eye-ball in the work of being a freelancer and loving it. These Tips for Freelancers and Solopreneurs will hopefully help you enjoy this awesome journey called solopreneurship. Enjoy!
Peeps that DON'T Make a Good Clients:

Friends: Your BFF may quickly become an EX-BFF if you take them on as a
People who are slow to pay: If you're late once, I'll cut you some If it happens again, all work will cease until payment is made. When payment is made, congrats; you are now part of my monthly "pre-pay" plan. NOTE: These parameters and guidelines need to be a part of your contractor/client contract that gets signed before you begin any work.
Family: And that's all I got to say 'bout
Overseas clients: I have clients in Canada and it works just Just be aware that, if you do want to work with clients overseas, do it through a job site like UpWork or Guru. That way there will at least be some checks and balances and safety measures in place. I wouldn't rule out overseas clients, but in the beginning, I would suggest sticking with US-based job opps.
Clients who don't acknowledge your value and ask you to cut your rates to accommodate them. Don't do it. Stand your ground and ask for what you are worth. Always.
DO be known in your marketplace.
No one wants to deal with an unknown company. Make extra efforts to have strong visibility and you will attract more customers. If you are trying to connect with local clients, volunteer, join a networking group and join your local Chamber.
If your ideal client is online, be active in forums and groups that are made up of business people asking questions and looking for advice (LinkedIn). Have a business orientated social media presence on Facebook, Twitter, and Google+.
Have a website for gosh sake! There are many free options to create your own business "home base" including Blogger and Weebly. But the bottom line is if you want to be viewed as a professional, you need to act like a professional. Trying to draw in clients, with no visible online presence, looks …well…SHADY. Take the steps to do it right and create some sort of landing page for potential clients to check you out, see past work, view testimonials from happy clients and find contact details.
I personally use WordPress.org (the self-hosted option) because I was committed to freelance as a career and also knew I wanted to monetize my site as much as possible. Some people may balk at the thought of paying $10 a month to host their site through BlueHost or some other providers, but to me, it is the equivalent of owning a house rather than renting.  It's an investment in your growing business and one I advise making.
DON'T Ever Stop Prospecting for New Business
Top marketer Alyssa Avant shared recently during one of her Getting Started as a VA Google hangouts that one of her biggest mistakes when she first got started was NOT continuing to prospect for new clients even when her plate was full.
Clients are harder to find when you are scrambling to find one and you are more likely to take a job that doesn't match your ideal skill or pay. Always be looking and keep your sales funnel full and overflowing. Make it a DAILY habit. When you see a possible fit make the connection that day, apply or pitch immediately. Procrastinating usually leads to missed opportunities.
DO Make your Customer #1.
Always remember your customer is the reason for your work, not an interruption of it! Every one of them should feel like they are your most important client.
"Over-deliver and under-promise" is not exactly one of my favorite sayings…but I do totally agree with the "over-deliver" part. I would rather go the extra mile and have a Raving Fan for a client instead of only doing the bare minimum of what a client wants/needs. Don't make your clients go elsewhere for services you yourself can be providing.
DO Dare to be Different.
Don't try and copy others. What will shape your success is how you deliver a personal touch. It's those little extra details that will you uniquely you and authenticity goes a loooonnggg way.
Like I mentioned before, you are uniquely YOU. Yes, you have to conform to the needs of your clients and oftentimes mimic their company's voice or mission, but you can also add your own "flava" to what and how you write. I honestly believe one of the things that have set me apart from the pack is the fact that I do indeed have my own style and voice. I embrace my quirk and oddness 🙂
Readers want conversational, fun and fresh content to read and the trend of, "writing like you speak" is alive and well. Don't be afraid to let your Inner Awesome shine.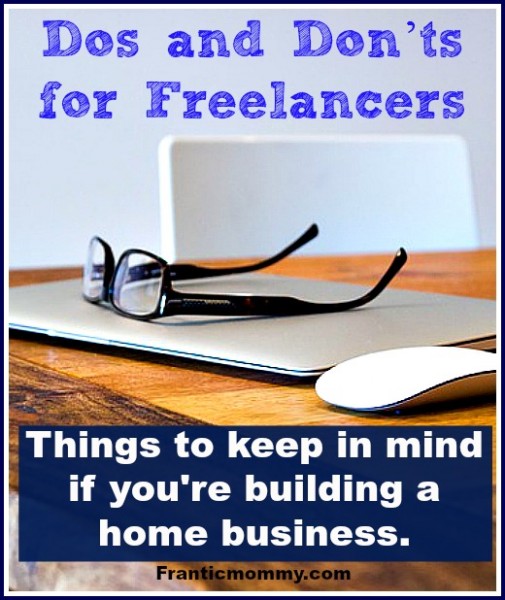 There's been a multitude of freelancers in the past that have experienced moments doubt and wondering if their voice and work has a prayer of ever getting noticed. But I can promise you that there is more than enough work/clients out there.  Embracing your skills and quirks is what makes YOU uniquely YOU. No one can copy your "you factor" and that alone will set you apart from the pack.
Now go sell something 🙂
–