**The posts I write might contain affiliate links or be written in collaboration with businesses or brands. Please see my disclosure policy for more information.**
**Some of these links are affiliate links which means, if you click through and buy, I get a wee little commission. Possible enough even to buy a new marker for my hardcore adult coloring addiction 🙂
Not long ago, in one of my Facebook blogger groups, a member asked if anyone knew of good standalone online tool that would help her create courses for potential clients.
I popped and basically said that Jigsaw Box was great and I had used it in the past for my own courses. I also shared my affiliate link so she could click through and explore it for herself.
Seconds after I click "post," she shot back a reply. "Is this an affiliate link? If so I am not interested."  Now, I know this was just typed words on Facebook, but I swear I could feel her bristling indignantly from her side of the screen. I responded that, yes the link I shared was an affiliate link, but she could certainly Google Jigsaw Box and look it up on her own.
The online silence that followed was deafening.
I honestly had a moment of "WTF?" Why is clicking someone's affiliate link repulsive? To me, affiliates are like commission. If I refer a product or service to you that helps your life and biz, and you buy it, it's like getting a tip for sharing my expertise or experience with said product or service. When you buy a car, the salesman gets a commission, yes? People are OK with giving the salesman a spiff for their time and knowledge, why is it so different with bloggers and affiliate links?
Maybe I am spiraling into Drama Land over this, but it did leave me wondering what all the fuss was about and also wondering how many other people felt the same way. Bloggers know they need to be transparent about their affiliate links and disclose on their blog (like I did below) that their links are affiliate links. NO ONE is trying to pull the wool over someone's eyes here, people. I have to admit, I am a little baffled at the preferences between a regular link and a affiliate one.
P.S. Clicking an affiliate link does not cost you extra!
On the flipside, if you are a blogger or affiliate marketer like me, there is a simple way to make your ten-foot-long-affiliate link not look so intimdating to people. Again, no one is trying to be dishonest because full-disclosure is always present, but links can be made more appealing with a free tool called Bit.ly.  Bit.ly is a link shortener that takes long garish affiliate links like https://jigsawbox.infusionsoft.com/go/jigsawbox/12482 and make it tidier and prettier like bit.ly/2bitdAR. And its FREE. #Winning
Once you go to Bit.ly's site, you'll see "Create BitLink" prompt on the upper right corner. Once clicked, you plop in your long, ugly link, hit return or click Create and presto! You have a short-n-prettier link.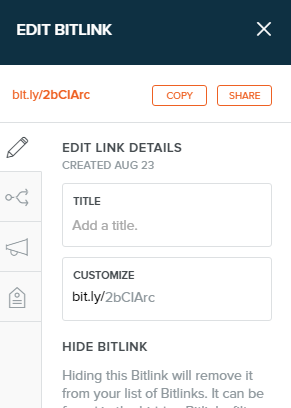 Bit.ly links are also handy for use on Twitter when character count is so critical. So, what are YOUR thoughts on affiliate links? Are you OK with clicking them (no, they don't give you viruses) and tipping the refer for their input and knowledge? If not, please let me know why. I am oh-so curious about this 🙂
**Some of these links are affiliate links which means, if you click through and buy, I get a wee little commission. Possible enough even to buy a new marker for my hardcore adult coloring addiction 🙂