**The posts I write might contain affiliate links or be written in collaboration with businesses or brands. Please see my disclosure policy for more information.**
By Shellie Cibuzar, licensed and registered dietitian at Essentia Health-St. Joseph's Medical Center.
A big part of our No Bummer Summer is grilling and picnicking. On a summer day, spicy chicken skewers sizzling on the grill are one of my mouth-watering favorites.
Grilling often focuses on meats, especially beef and pork. Opting for chicken or turkey instead gives you a meal that's lower in fat and calories, which is ideal for managing your weight. Poultry is also a good source of protein as well as essential nutrients and vitamins.
A spice rub or marinade can add high-impact flavor to chicken. I recommend blending your spices with grapeseed oil, which keeps the flavor in and also helps prevent the chicken from sticking to the grill. Remember to give your grill plenty of time to preheat so the chicken gets safely and evenly cooked.
This recipe is from chef and television host Ainsley Harriott. It's low in fat and a breeze to prepare. If you're entertaining, make the marinade the night before and you'll have more time to spend with guests.
Sticky Garlic Chicken Skewers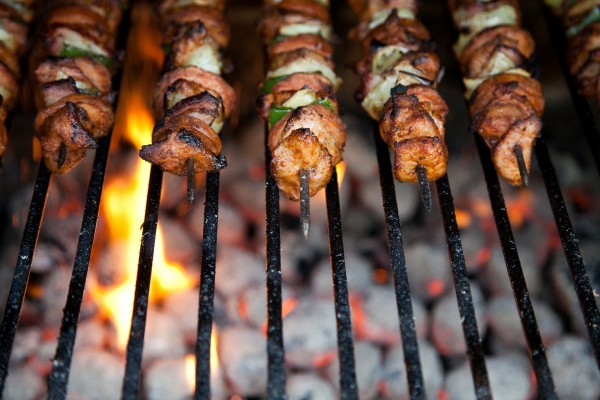 Ingredients:
3 garlic cloves, crushed
2 Tablespoons honey
4 Tablespoons tomato ketchup
4 Tablespoons Worcestershire sauce
2 teaspoons Dijon mustard
2 teaspoons hot pepper sauce, or you can use mild
3 skinless, boneless chicken breasts, cut into thin strips
Salt and freshly ground black pepper to taste
Soak twelve,10-inch bamboo skewers in water for at least 20 minutes. Mix together garlic, honey, ketchup, Worcestershire sauce, mustard and hot pepper sauce; season to taste with salt and pepper. Toss in chicken and stir until well combined. Transfer to a non-metallic dish, cover and marinate for 20-30 minutes or overnight. Prepare grill, or preheat broiler to high. Thread marinated chicken on to skewers. Grill for 5-6 minutes. Or, arrange on foil-lined baking sheet and broil for 6 to 7 minutes, turning occasionally until well browned and cooked through. Serve with mixed salad and baby new potatoes.
Nutrition information
Servings: 4
Calorie: 221
Protein: 28 gr
Carbohydrates: 21 gr
Total fat: 4 gr
Saturated fat: 1 gr
Fiber: 1 gr
Sodium: 636 mg
Shellie Cibuzar, licensed and registered dietitian at Essentia Health-St. Joseph's Medical Center.
Learn more about Essentia Health of Brainerd and Duluth HERE