**The posts I write might contain affiliate links or be written in collaboration with businesses or brands. Please see my disclosure policy for more information.**
And our yearly Quest for a No Bummer Summer continues!
Like all good adventures in life, one must have a Plan to squeeze out every drop of summertime fun. In the past our Plan has been to create the No Bummer Summer List which contained fun (budget friendly) things to do with suggestions made by the whole family. That has worked well for the last 6 summers, but as my kids get older they are less interested in tadpole collecting, water balloon fights, scavenger hunts and arts and crafts. Beaches are OK and waterparks don't hold the thrill they used to. So what does that leave?
Travel, experiences and adventure!
With that in mind, this year, we are going BIG. No "daycation" or weekend getaway in the Frantic household. We piled into my Ford Explorer and hitting the interstate (and lots of back roads) and spent a week in a place that has been on our radar for quite some time; South Dakota.
Huh? You may be thinking? Why not Vegas, California or New York? Well, simply put-we hate crowds, freeways and mega malls. We LOVE nature, prairies, trails, State/National Parks and critter attractions. So this year we are setting aside one whole week to spend time at Custer State Park, The Badlands, The Wind Cave, Mount Rushmore and the rest of the Great 8 to be exact. You can read a quickie summary of this oh-so-fab trip HERE, but there was one place in particular that I feel needs some extra mention.
It started with our own personal love of reptiles.
Don't judge.
We have two "scaly babies" and yes, I adore the heck out of both of them. When we determined we were going to SoDak, I perused the SD Travel Guides like a madwoman and I am pretty sure I heard angels sing when I turned a page and the words Reptile Gardens leaped off the page at me.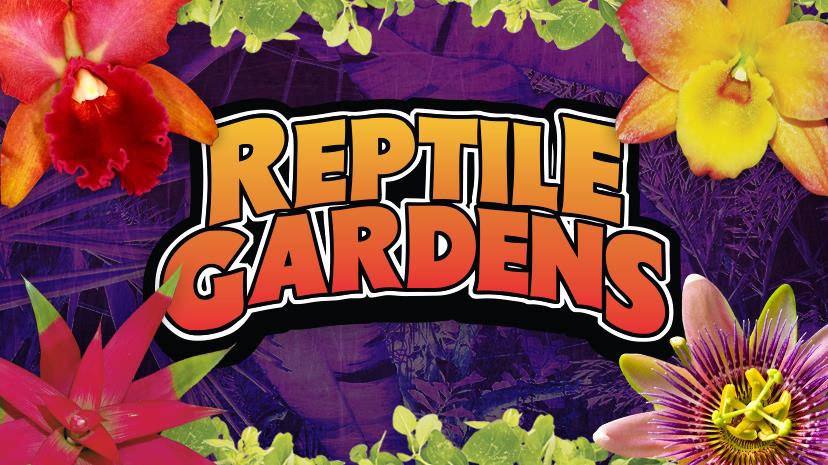 Excitedly we made tentative plans to visit, but I have to say it was the tall-tale of a rattlesnake in a bucket that truly sealed the deal for us. Once in SD one of the first adventures we had was on the Mount Rushmore Tour Bus. The guided tour to epic locations like Custer State Park, Mount Rushmore and Crazy Horse monument was amazing, but the stories, history and humor of our driver Dan E. was like the cherry on the ice cream sunday. Dan was a unbeatable combo of hilarious and uber knowledgable and it made the trip even more delightful.
On the way to one of our destinations, we passed the Reptile Gardens and Dan launched into an enchanting story about how the 80 year-old attraction first began. Basically he told a tale of an enterprising young man who, in the early 1930s, figured out a way to set up a roadside telescope and train it on the under-construction Mount Rushmore monument. As the story goes curious tourists would pull over and take a peek through this young man's telescope for the bargain price of ten cents.
Then one daym while set up at his roadside tourist trap, this same young man caught a rattlesnake and tossed it into a bucket to release later. He quickly learned that the tourist crowd was just as interested in his captive snake as his review of Mount Rushmore…so he started charging ten cents for that as well! This industrious young man was none other than Earl Brockelsby, founder of Reptile Gardens of South Dakota.
Great story, right? Unfortunately, it's not true! Kinda true, but not really.
Reptile enthusiast with an entrepreneurial spirit
The real truth and story is revealed in the book Rattlesnake Under His Hat: The Life and Times of Earl Brockelsby by Sam Hurst and it doesn't involve a telescope or a snake in a bucket. What is true is that 19-year-old Earl Brockelsby discovered people's innate interest in snakes when he was a young tour guide at a local Rapid City attraction. The job was drudgery and the working conditions were pitiful so to liven things up this fearless snake enthusiast would often end his tours by removing his hat and revealing a live rattlesnake coiled on top of his head! He took special note of the visitors' reactions – they were always excited and thrilled to see a live rattlesnake close-up.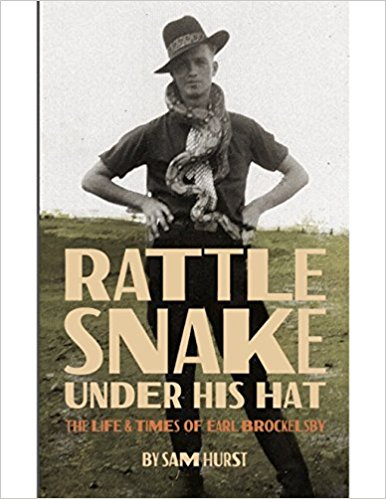 Wanting to explore people's fascination with snakes, Earl enlisted the aid of some friends and built an 18 by 24 foot building at the top of a long hill about 3 miles south of Rapid City, and put a handful of specimens on display – the location was carefully chosen because in those days, cars would often overheat as they reached the top of a long hill. The idea was for them to stop in Reptile Gardens' parking lot to cool their radiators and maybe stay to see the Gardens.
On June 3, 1937, the doors were opened, and the Black Hills Reptile Gardens was officially in business. Admission was 10¢ for adults and 5¢ for children to see the exhibit. That first day of operation Reptile Gardens took in $3.85. For the next two days, no one visited and on the following two days it took in only 40 cents and 50 cents respectively. Fortunately business improved; by 1941, the business had 15 employees and was showing a profit.
In 1965, Reptile Gardens was forced to move due to the construction of a new highway. Moving to its current location – six miles south of Rapid City in Spring Creek valley – the new and improved park featured a new Sky Dome with a Safari Room. This large enclosed area gave visitors the rare opportunity to walk amongst free-roaming reptiles and birds. Although this kind of exhibit has become common at zoos, Earl was among the first to envision and create one in the US.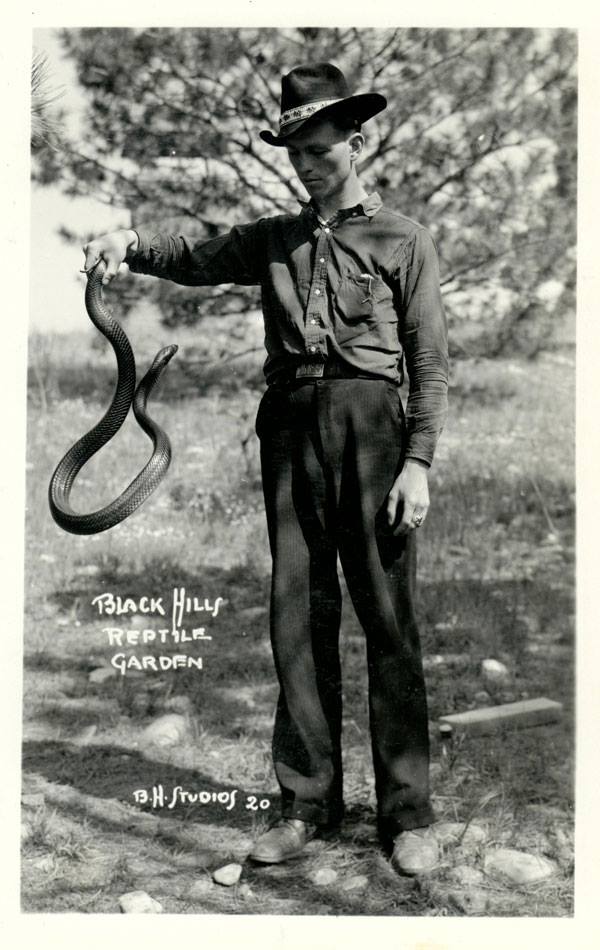 To date the park continues to be family owned & operated since 1937 and Reptile Gardens is listed in the Guinness Book of World Records as being the World's Largest Reptile Zoo.
For us, this whole history and legacy only made this place that much more exciting to visit. And let me assure you, there was TONS to see. Once inside the park I was taken with how beautiful it was. The landscaping was immaculate and flowers bloomed everywhere. The first thing we did was make a beeline for the crocodile show. The croc wrangle was a young maned Trey and he was funny, spontaneous and hugely entertaining. When the show was over he admitted to the crowd that this was his first show-I never would have guessed.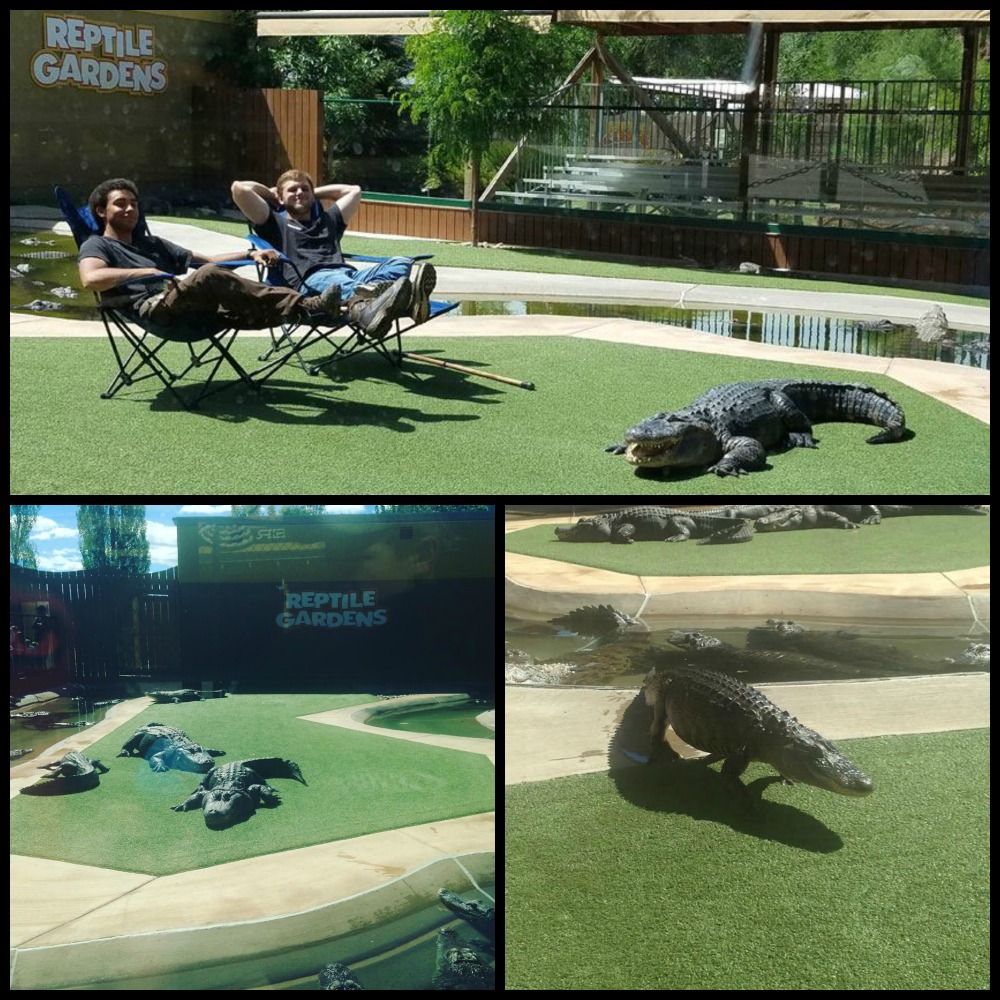 We also LOVED the giant tortoises we took some time to "slow down" and come encounter the gentle giants in the Tortoise Gardens. There are three Aldabra Tortoises, Quazi, Tank, and Orville,  who range in age from 50-60 years old and between 300 and 400 pound in weight. They are extremely mild-mannered LOVE their necks scratched (if they could kick their back leg in delight like a dog, they would) and were a hoot to hang with. You cannot be stressed out when hanging out with a Aldabra Tortoise; it's just not possible.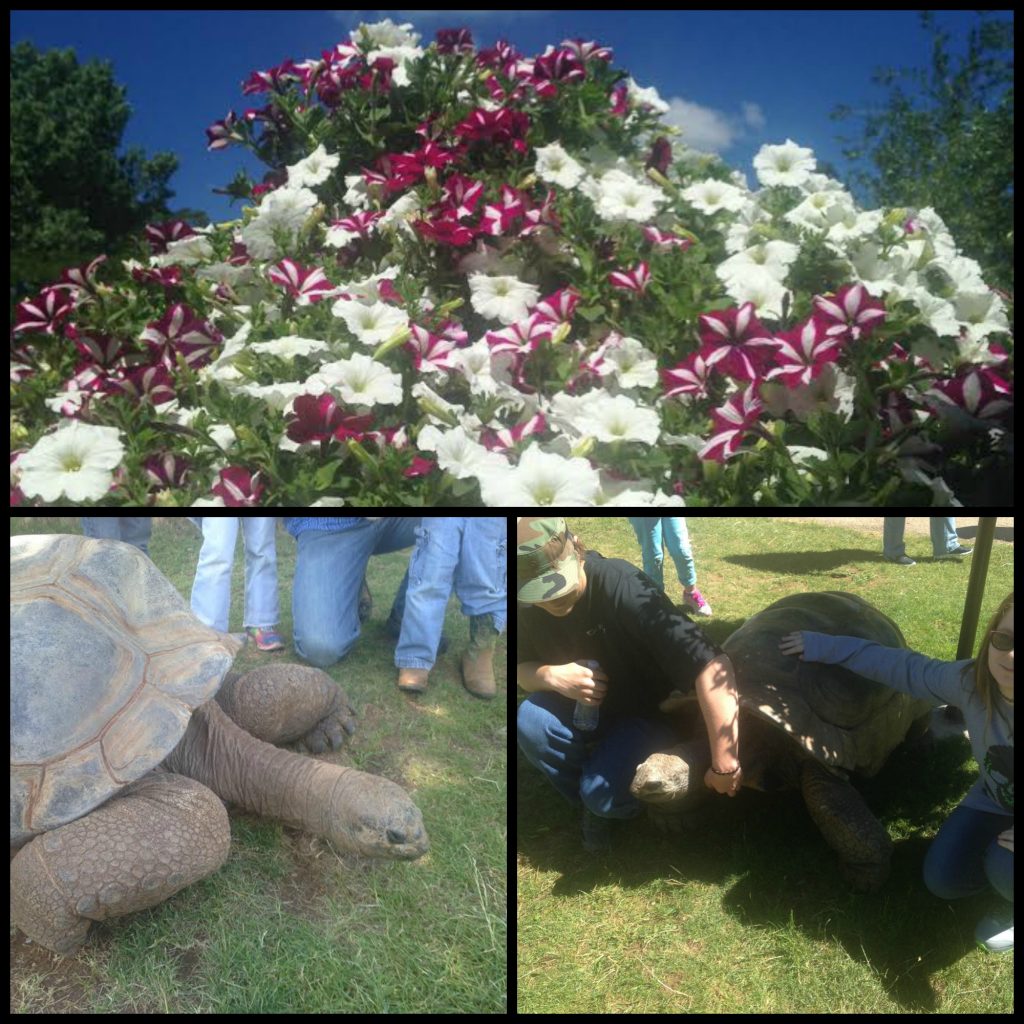 We also caught a excellent snake show, a tropical bird show and spent quite a bit of time watching the prairie dogs. Prairie dog exhibits are a dime a dozen at animal parks, but the one at South Dakota's Reptile Gardens has a unique and fun twist. The underground dome let's park visitors to "go underground" and get a "prairie dog's eye-view" of life in a PD town.
Speaking of "dome"…we also loved the the Sky Dome that houses multiple levels of exhibits and animal displays. The lower level is the Safari Room and its like a living rain forest complete with colorful parrots, anole lizards zipping around, skinks and lizards basking on rocks and even a live red-tailed boa lounging around. It was colorful, hot, tropical and an experience that I will never forget. This level is also filled with beautiful orchids, bromeliads, caladiums, and other tropical plants from all around the globe from places like Central America, South America, Africa, and China.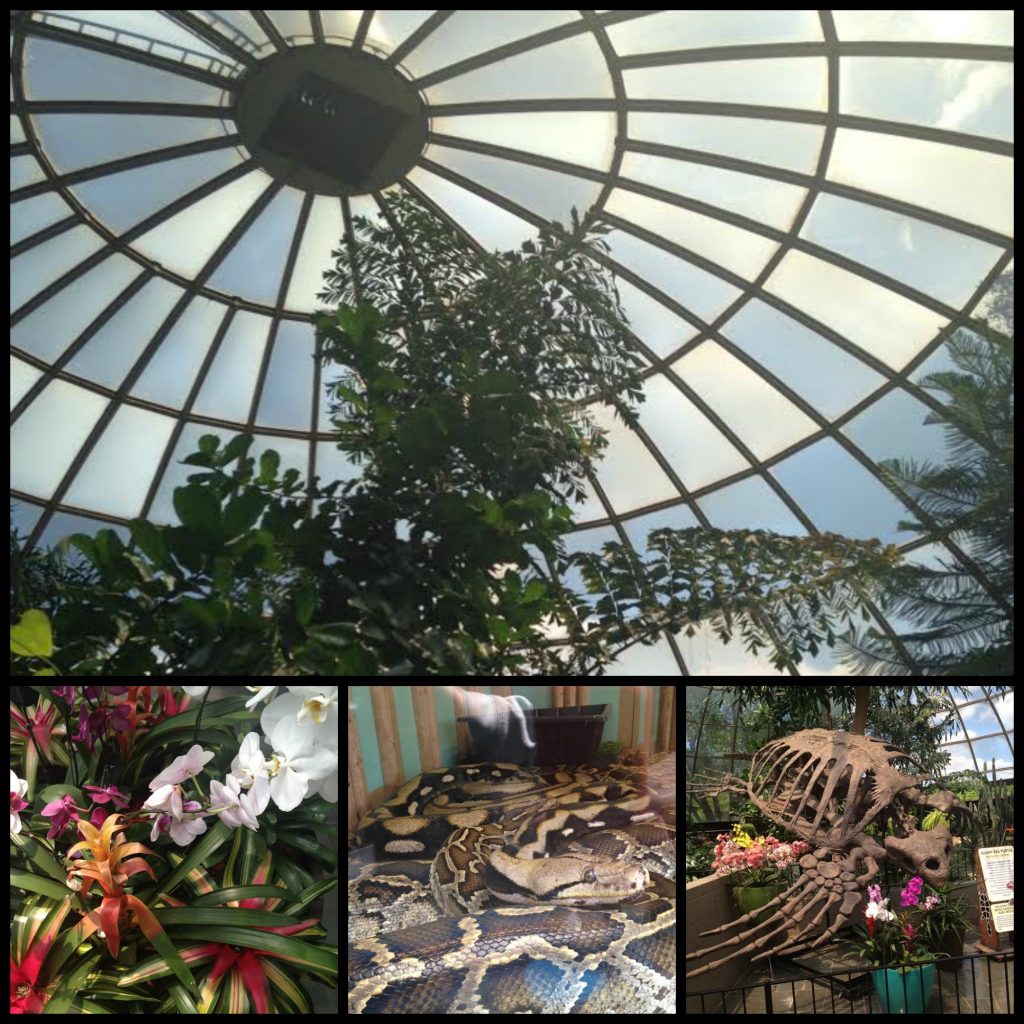 The next level up was all sort of smaller exhibits from rare frogs to creepy-crawly insects (tarantulas, hissing cockroaches etc). The final level was super fascinating. The mezzanine level of Sky Dome houses some of the world's deadliest snakes – and is the largest collection of reptiles in the world. There was every kind of snake imaginable from little buggers to massive-anacondas. One thing I noticed was that every exhibit has amazing and beautiful presentation and gorgeous stones, minerals and rocks were present in everyone. When I commented that observation to Jeff Oldham, RG Sales Manager, he shared that fact was by design. Not only was founder Brockelsby taken with wildlife, he was very interested in all of the agates, geodes, rocks and fossils that South Dakota had to offer and that love is reflected in all of his exhibits and would spend days hiking in the Badlands collecting samples.
You know a trip is good when you are still talking, dreaming and bragging it up to friends weeks after returning home. 🙂 All I can add to that is, if you should find yourself in the Black Hills of South Dakota any time soon, I HIGHLY recommend a stop at Reptile Gardens in Rapid City. Two thumbs up!  The largest collection of reptiles in the world is located just 6 miles south of Rapid City, SD at 8955 S. Highway 16.  Just look for the giant dome at the bottom of the hill on Highway 16.
To learn more about Reptile Gardens and all they have to offer, visit them on the web. Enjoy!
**Franticmommy was comped free tickets in exchange for this review. Opinions expresses are purely my own.