**The posts I write might contain affiliate links or be written in collaboration with businesses or brands. Please see my disclosure policy for more information.**
"Meet Taj Carter, the kind of kid who can have the time of his life just about anywhere. That is until his entire summer vacation disappears in the blink of an eye. Imagine going to bed on the first night of summer only to wake up the next morning and find out it's the first day of school.
 But that's the least of Taj's worries. He discovers that time doesn't fly when you're having fun–it gets stolen! And the time thieves are after way more than one summer break. They're after all the fun time on earth, and it's up to Taj to find a way to get back his summer—and to save the world from falling completely off the clock."
An Edge-O-Your-Seat Chapter Book
What I loved most about Time Tracers-The Stolen Summer was the fun, lighthearted, easy-reading-flow of the story. I was hooked from the first page when the author conveys the teen agony of having to sit through the final 10 minutes of 7th grade.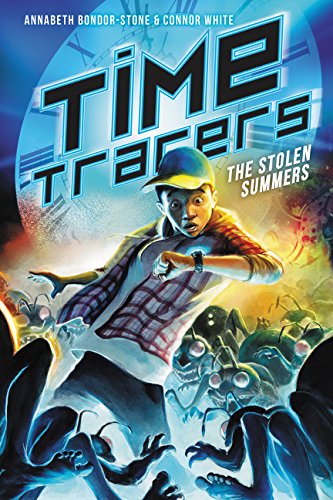 I have a 6th grader and a 9th grader. I totally get it.
Once free from the school's clutches (their words, not mine) Taj, Jen and Lucas launched into an intense and detailed plan of how they are going to spend every waking moment of summer and their plans will make you chuckle out loud.
But then it happens…time disappears and all three find themselves sitting on the school bus again for the first day of school.
They've been robbed. Robbed of summer and only the mysterious man in the grey suit can help get it back.
Needless to say…I LOVED this diverse chapter book for middle readers. Good stuff.
In addition to being respected authors, Annabeth and Connor are also performers who have endeared themselves to thousands of children nationwide through in school readings, humor and clowning to visually engage young readers with the written word. They're also partnered with kidlit.tv for their web series, The Truth About Libraries!, a fresh look at all the cool things kids can discover by visiting their local library. https://www.youtube.com/channel/UC3BfsulmC2RM3w4tQBB-fmg