**The posts I write might contain affiliate links or be written in collaboration with businesses or brands. Please see my disclosure policy for more information.**
It's my hope that the next tidbit of advice and sharing is going to be the piece that inspires you to push away from your keyboard, desk, cubicle, couch or whatever and Get.Outside.
You see, last few years have been filled with a ton of personal B.S and Challenges. BUT…I am rising above, re-finding ME and learning and growing in ways I could have never predicted.
I AM IN A GOOD PLACE 🙂
During this time of growth and happiness. one thing has really struck me; I CRAVE being outside. It's like a blanket of happy that I yearn to wrap myself in. It also propels me back to childhood when nothing made me happier than to listen to froggies chirp and morning doves coo. I love nature. Always have. Always will.
Especially water. I just feel the need to be near rivers, streams (or "cricks" as we call them in MN) and lakes. Recently, I was blessed with being able to see the sea for the first time and dip my toes in that vast body of water. It was "Vitamin Sea" to say the least!
Through it all, this I know for sure:
Nature is incredibly healing
I have a severe case of Nature-Deficit Disorder
The term "Nature-Deficit Disorder" came to my attention years ago when I heard about Richard Louv's profound book, Last Child in the Woods.
Today, average eight-year-olds are better able to identify cartoon characters than native species, such as beetles and oak trees, in their own community. The rate at which doctors prescribe antidepressants to children has doubled in the last five years, and recent studies show that too much computer use spells trouble for the developing mind. Nature-deficit disorder is not a medical condition; it is a description of the human costs of alienation from nature. This alienation damages children and shapes adults, families, and communities. There are solutions, though, and they're right in our own backyards. Last Child in the Woods. is the first book to bring together cutting-edge research showing that direct exposure to nature is essential for healthy childhood development-physical, emotional, and spiritual. What's more, nature is a potent therapy for depression, obesity, and ADHD. Environment-based education dramatically improves standardized test scores and grade point averages and develops skills in problem-solving, critical thinking, and decision making. Even creativity is stimulated by childhood experiences in nature.-Last Child in the Woods.
I don't think this is limited to just kids.
I know for a fact that, if I don't get outside to walk, move around, garden or practice my super-amateur-iPhoneography skills, I am sadder, crabbier and not much fun to be around. SO, I self-diagnosed myself with Adult Nature Deficit Disorder and here's how I am fixing it:
Garden! I am the first to admit I am a crappy gardener. But I never give up because Dirt Therapy is wonderful.
Gear! I bought myself some gear. Kinda like when you buy a new outfit and you are more inspired to go out for a night on the town. My walking gear does just that. I bought:
A super good quality hiking boot (Itasca brand to be exact)
Bought a TRek Stic (in my mind this stick will be effective for defending myself against bears….I hate bears…long story).
Lots of [easyazon_link identifier="B010AFV0LM" locale="US" nw="y" nf="y" tag="franticmomm02-20″ cart="y" cloak="y" localize="y" popups="y"]bug spray[/easyazon_link] and [easyazon_link identifier="B004D2DR0Q" locale="US" nw="y" nf="y" tag="franticmomm02-20″ cart="y" cloak="y" localize="y" popups="y"]sunblock[/easyazon_link] and download a bunch of walking trail maps to the many paths and State Parks in my area.
Road Trips! I will recall my own childhood. Growing up, our family spent tons of time snooping around in the woods and exploring new parks or trails. On Sunday's we all piled in the car when went for a ride; that was our "thing."
Embrace the Water! I may not live by a sea, but I do live in the state of 10,000 Lakes. That's not B.S. either. If I travel a mile or less in ANY direction from my house, there's a lake. I need to rock the Lake Life in 2018.
P.S. I want a kayak so bad I can almost taste it. It is #1 on my personal Must Buy Wish List for 2018.
Fairy Houses! My bestie Valarie B. got me hooked on this super fun activity. Fairy Houses are small structures/houses for the fairies and nature's friends to visit. Sticks, bark, dry grasses, pebbles, shells, feathers, seaweed, pine cones, and nuts are just some of the natural materials that can be used. Fairy Houses can be made anywhere, as long as you don't use man-made or live foliage, and can be a fun and magical way to encourage young imaginations.
Here's one we built on Portland, Maine's Mackworth Island in the Fair Forest. One of the most magical days I've had in a very long time.
There is a very sweet story that goes along with this hobby (I bought it for my daughter; my co-fairy house maker) called Fairy Houses by Tracy Kane. Love this book.
Here's are two of the three that I've built so far (the last one isn't done yet)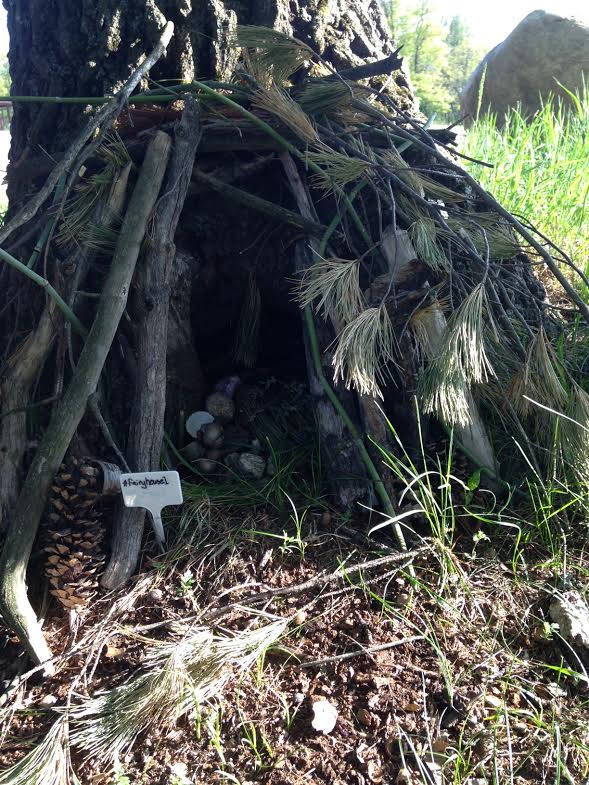 Exercised my very amateur "iPhoneography" skills: My dad was an amazing photographer…but I just never got the bug. When I did dabble in it years ago I found myself more frustrated than inspired. So this year, thanks to iPhones with kick-arse camera and this little thing called Instagram, I am fiddling around with capturing the essence of Minnesota, and our nature adventures, and sharing them on Instagram. If you want to see a few of my pics (I am really into sunsets, lakes, and clouds lately) search #IHaveaThingforBeautifulLakes on the platform and see what pops up. Better yet, follow me on Instagram.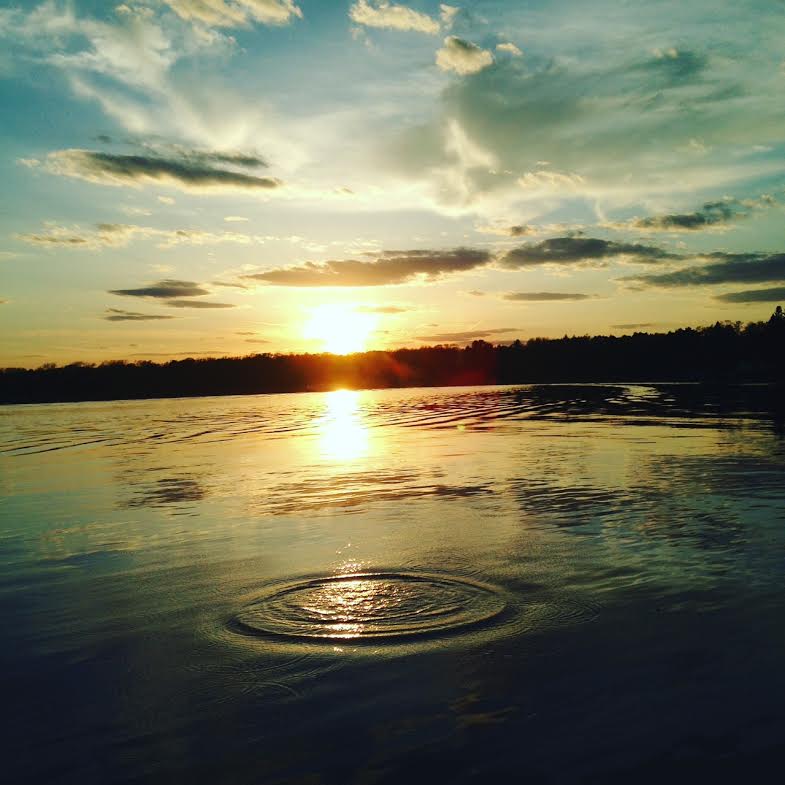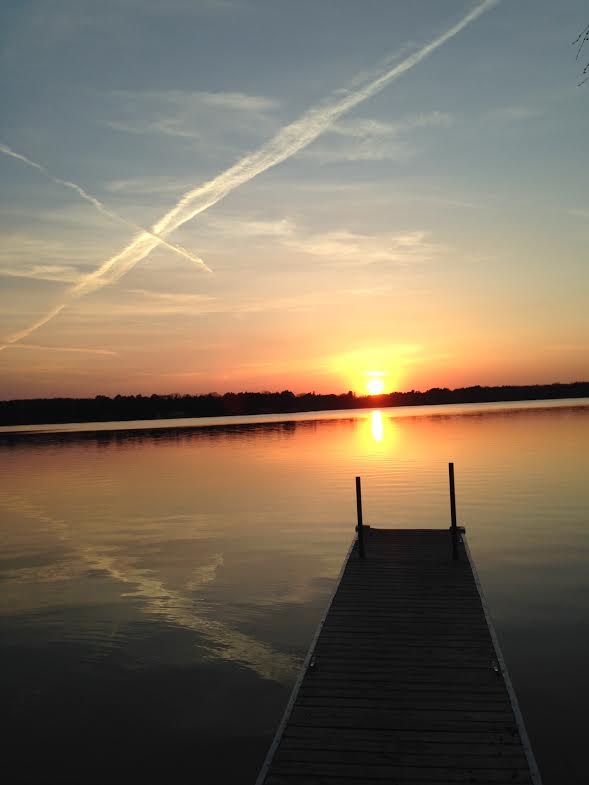 Damn, I'm lucky to live in Minnesota!
Getting outside and having adventures doesn't have to be a big production. It is less about what you pack and more about what you leave behind. You leave behind sadness, loneliness, worry, and stress. You leave behind TV's radios and cell phones and let the waters, leaves, trees, paths, forest, mountains, clouds and critters be your entertainment. Let the sun be your timepiece and the sound of babbling brooks or crashing waves be your radio. It works. Trust me on this one.
Now get outside, breathe some fresh air, get the sun on your skin and feel better about things today.
**this blog post contains a couple of affiliate links. What this means is, if you click them and make a purchase, I will get a teeny little commission. Very teeny 🙂