**The posts I write might contain affiliate links or be written in collaboration with businesses or brands. Please see my disclosure policy for more information.**
Let's Get Science-y!
It probably comes as no surprise that today's average child spends far more time indoors than you did as a child. For many kids, screentime, whether it's on a gaming system, Netflix and Hulu, tablet or smartphone app, might win out over spending time outside.
But we need to encourage our kids to put down their devices and get outside. And as parents, there's no better way to achieve this than to lead by example.
Your backyard is a great place for your child to get outside in play. In addition to swimming and playing outdoor sports, your child can also use your backyard as a science experiment. If you are interested in helping them achieve this, you may want to familiarize yourself with some popular backyard activities, especially those that have a focus on nature and science.
Exploring your backyard is not only a fun activity, but it is also educational. There are a ton of living, breathing creatures that can be found indoors. All children love exploring nature, but there are some who may enjoy this exploration more than others. Those children are likely to be toddlers or elementary school-aged children. Since young children may need your assistance, you will want to pick backyard activities that you will also enjoy.
One of the many ways that you can incorporate science into your backyard is by studying the plants that can be found in your yard.
Herbology for Young Spouts
Did you know that dandelions are NOT a pesky weed? I was This Year, Year's Old when I found out that dandelion flowers make a great jelly, wine, and the leaves are edible!
I haven't tried any of the above…yet….but I do know that it's important to locate patches that have not been treated by conventional fertilizers or exposed to pollutants. The point is, our woods, meadows, and National Parks all have flora that has dual purposes.
I love, love, love the info shared on AnOffGridLife.com. Just know, no one is asking you to sell everything and go live in the woods! BUT, there are some awesome and informative topics about dual-purpose and edible plants on this site. I highly recommend Foraging With Kids and Foraging for Medicinal Plants.
While all backyards are likely to have a number of different plants or flowers, yours may have more. For the best type of environment, you are encouraged to explore areas of your yard that have yet to be mowed.
Moss is the Boss
Some naturalists refer to moss "nature's carpet." By definition, moss is considered a bryophyte: a small flowerless green plant of the division Bryophyta, which comprises the mosses and liverworts. These velvety moss cushions don't have regular roots, flowers or seeds which gives them an almost floating on the ground's surface "carpet-y" effect.
Moss is also a cool way to add unique a fairy/gnome-like atmosphere to container gardens, outdoor play areas, and even fairy gardens.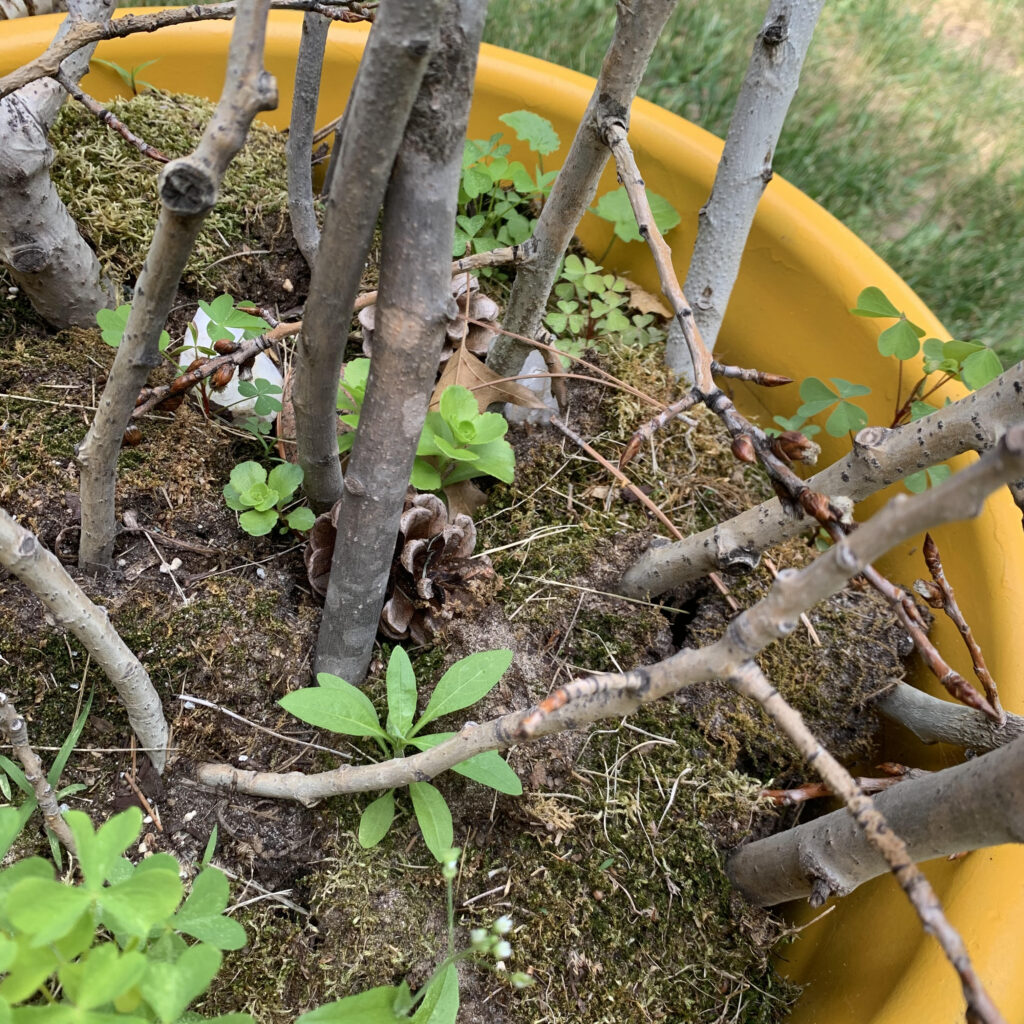 But your first question may be, "where do I get my moss?" Moss can be collected from nature, from your local garden center or via online specialists like MossAcres.com. If you plan on collecting your moss from nearby woods or your own backyard, opt for sheets of the bryophyte when possible. The good news is that moss is resilient.   If all you can collect are small pieces, once rehomed in your new terrarium or garden it will grow just as quickly. Collect a mixture of moss growing on stumps, rocks, and the forest floor to add different textures and shades of green to your display.
Plant I.D. Simplified
I know it's counterproductive to use a device outside when you are trying to get away from device use, but I also love the ease and instant learning (and safety) that comes with the plethora of plant i.d. apps on the market.
The PlantSnap App is $3.99, is available for Apple and Android, and is well worth that price.
I also personally like PictureThis: Identify Plant, Flower, Weed, and More on my iPhone.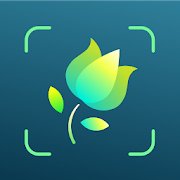 PictureThis is one of the most popular mobile apps for identifying plants from a photo on Google Play.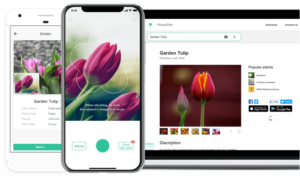 According to the information displayed on the apps description page, PictureThis is able of distinguishing 10,000+ species of plants with an accuracy of 98%.
Whether your child plans on exploring your backyard or they do so without intending to, it is likely that they will be interested with what they see and learn. Incorporating science into your next backyard adventure is just one of the many things that you and your child can do outdoors; however, it may be the most beneficial.
ENJOY!
---
ONE MORE THING–
Making reading an adventure and not a "task/ chore/requirement" during the summer months is a great way to help them increase the desire to learn and keep them interested as well. Setting aside time as a family and selecting a summer reading list is a great way to not only make the idea of reading more exciting but also to involve kids in voicing their thoughts and options on what it is that they would like to read.
summer reading for reluctant readers
Well…we've added a whole new level of "learning is FUN" layer to summer reading with our new kidlit book-inspired activity ebook!
The ABC's of BookJumping: The Best of Jump Into a Book by Valarie Budayr and Rebecca Flansburg allows frustrated parents of reluctant readers to enjoy hand-picked book reviews and unique companion activities that will reignite your child's love of reading and encourage screen-free family time.
What if you could "live" inside the pages of the children's books your family reads? What if you could enjoy the same adventures as the characters? Bookjumping is taking the solitary act of reading a book and transforming it into an event that can be shared with others. It's the process of pulling books off shelves and stories off pages. It's making kids' books come ALIVE by "jumping" inside the pages. Readers of this ebook will enjoy hand-picked book reviews and unique companion activities that will reignite your child's love of reading and encourage screen-free family time.
"This fun picture-book-based e-book contains over 150 hand-picked book reviews, unique book-inspired activities, and recipes. Just in time for #summer reading!" Amazon reviewer
We purposely made this book an ebook for the "portability factor" and affordable to fit every budget and family need.
Go here for more details on what you can expect from with awesome ebook and learn more about the authors.
Grab your copy of The ABCs of BookJumping: The Best of Jump Into a Book on Kindle HERE.
Happy Reading!