**The posts I write might contain affiliate links or be written in collaboration with businesses or brands. Please see my disclosure policy for more information.**
Guest post by Stephanie Hendrick–Author of Meant for More
Exhausted from a long day of back-to-back appointments, I turned off the light in my home office and shut the laptop. As I walked toward the kitchen, I could hear the click-clack of high heels on the wood floor. There she was, eight years old, making herself a bowl of cereal as she stood at the counter in my black high heels. The baby-blue collar of her school polo peeked out of the grey dress she had grabbed from my closet, hanging to about mid-calf on her little frame. As she turned to look at me, I noticed she had gotten in the makeup drawer and dolled herself up.
They love to imitate us whether it's with our clothes, makeup, jewelry, or when we least expect them to respond with a gesture or facial expression that looks all too familiar- because it's your own.
They emulate what they see day in and day out, despite what we may tell them to do, or say, or how to act. Our words don't carry much weight with them. And, honestly, should they? Our words lose all depth when we model the opposite of what we preach to our children.
We tell our kids to chase their dreams, to never give up. But do you chase your own ambitions?
My guess is that most of us aren't pursuing any dreams. I'll be the first to admit that until a couple of years ago I was a workaholic chasing a paycheck and absolutely miserable on the inside. There are others I know that may not be workaholics, but they punch the 9 to 5 clock day after day to pay the bills without an ounce of passion for the very place that they spend 1/3 of their day.
This is where young little minds find conflict.
At home, many of these children grew up being told to dream big, work hard, go to school, and never give up. Those words are often empty. They watch Dad rise early, come home exhausted, and sometimes miss the recital or the basketball game. They watch Mom frantically race around the house readying herself, finding the missing shoe, packing lunches, and heading straight for the kitchen to prepare dinner when she comes in from a long day at work. The conflict isn't a result of the hard work. Our kids recognize the sacrifice we make for them.  They know what you're capable of. They watch you pour every ounce of effort into the project at work or disappear into the office after dinner to get back to a client. The conflict isn't your tenacity. They can see the depth of your potential. They know you work overtime to pay for sports, for vacations, and to fix the leak in the roof. The conflict isn't in your ability to provide. 
The conflict is your motive. 
Purpose isn't a job title or description. It isn't a paycheck, a license, or a lifestyle. It's the impact you see you're able to make through that role. It's the dream placed on your heart that you fulfill in your own unique way.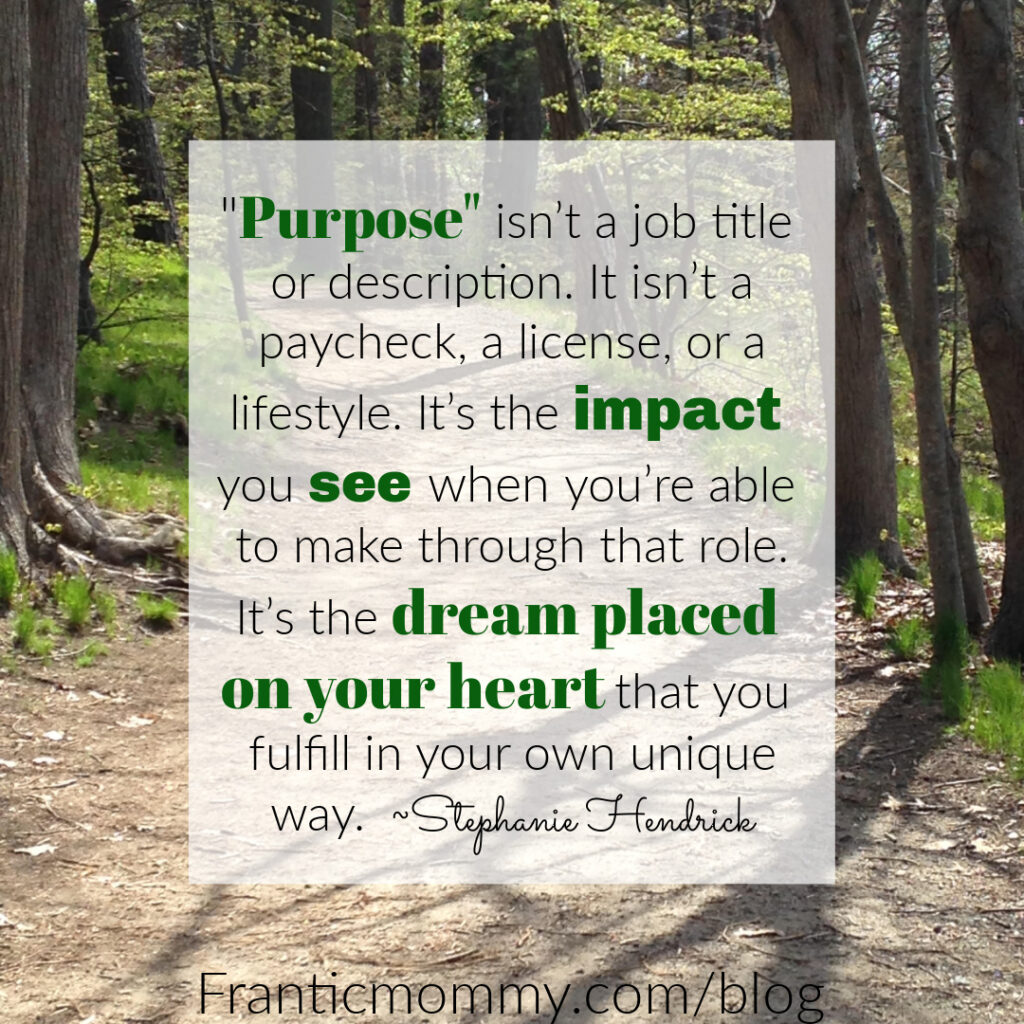 What if, instead, this was what we modeled for our kids?
At the end of the day, expect from your children and this next generation only what you're willing to model for them, not merely what you preach.
As I watched my eight-year-old click-clack down the long hallway toward her playroom, I smiled. I know that my words aren't empty when I tell her she can become whoever she wants. She has a dad that models risk-taking and a mom that was willing to start a new career to prove to her two little girls that any dream is worth chasing. The very book that came from that moment in time, titled Meant for More, is about the very journey that so many of us need to take.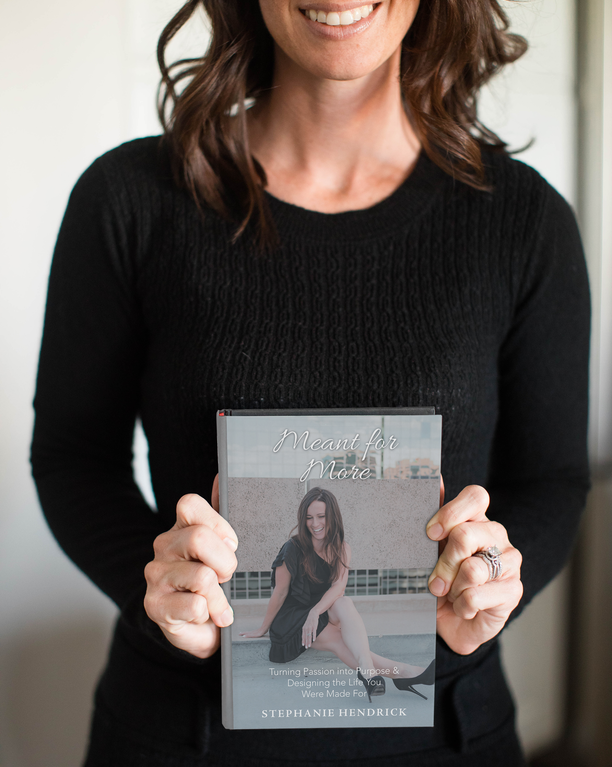 Stephanie Hendrick–Author of Meant for More and Motivational Speaker
Stephanie is the Founder of Meant for More, a platform designed for today's female entrepreneurs and mom + entrepreneurs alike. Through motivational speaking & the release of her book, Meant for More: Turning Passion Into Purpose & Designing the Life You Were Made For, she inspires women and shifts the mindset barriers keeping so many of them from pursuing their purpose & scaling their businesses.
Alongside her husband, they grew their first business over 800% in the first eight years and grew a Sales Team producing in the Top 1% of the United States year after year within their industry. After filing for bankruptcy in her early 20's, she has risen up to create a now multi-seven figure business. She knows firsthand the intricacies of scaling & the balancing act it takes to be married to your business partner, raise 2 daughters and build a thriving business despite the barriers that will inevitably come up along the way.
Realizing fulfillment wasn't tied to a number, she replaced herself within her first business in order to pursue the purpose within her: motivating women into action around their big ideas and equipping them with how to do so through motivational speaking for corporations, associations, and conferences.
For more information on Stephanie's new book Meant for More or speaking engagements, you can visit www.stephaniehendrick.com