**The posts I write might contain affiliate links or be written in collaboration with businesses or brands. Please see my disclosure policy for more information.**
The moment I unboxed my copy of the lyrical debut book from M. O. Yuksel, I thought, "Wwwooooooowwww!!" In My Mosque is a hardcover picture book that was gifted to me by HarperCollins Books and the HarperKids Influencer Program and this book screams quality.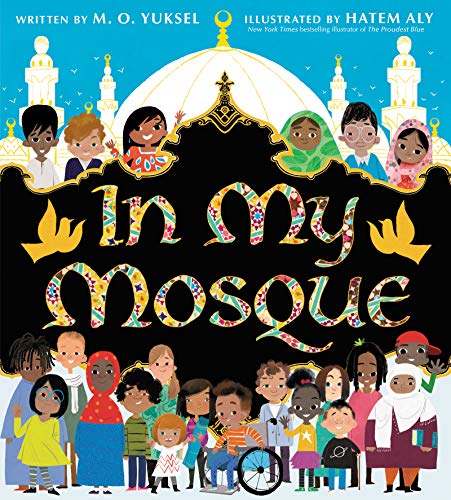 Then, I noticed that the illustrator, Hatem Aly, also illustrated The Proudest Blue which is another favorite of mine. Together, Yuksel and Aly have created a book that will keep families in awe from the first page to the last.
As a long-time project manager for the diversity in children's literature initiative, Multicultural Children's Book Day, I am always on the hunt for beautiful diverse picture books that promote empathy, understanding, inclusion, and love. In My Mosque has ALL of that.
No matter who you are or where you're from, everyone is welcome here. From grandmothers reading lines of the Qur'an and the imam telling stories of living as one, to meeting new friends and learning to help others, mosques are centers for friendship, community, and love.
M. O. Yuksel's beautiful text celebrates the joys and traditions found in every mosque around the world and is brought to life with stunning artwork by New York Times bestselling illustrator Hatem Aly (Yasmin series, The Proudest Blue, The Inquisitor's Tale). The book also includes backmatter with an author's note, a glossary, and more information about many historical and significant mosques around the world.
"Faith, community, tradition, and reverence are all gorgeously displayed along with depictions of and information around real-life mosques from around the world, and we couldn't be prouder of this book."~ The HarperCollins Team
This amazing book is available for purchase via the HarperCollins website or on Amazon.com
P.S. They also have a super-cool (and free) activity guide that goes with In My Mosque HERE!