**The posts I write might contain affiliate links or be written in collaboration with businesses or brands. Please see my disclosure policy for more information.**
Publisher and author, Penny Eifrig, is a long-time advocate of kids, diversity, and literacy. Her company, Eifrig Publishing, has enabled dozens of children's titles to come to life and helped authors fulfill their dream of publishing. Her creative mind was also always on the hunt for ways to make reading more fun while helping authors shine the spotlight on their picture books, middle reader books, and graphic novels for young readers.
"I had several ideas over the past few years that were swirling around in my mind, " Penny shared. "I knew there had to be a unique and effective way to support indie authors, promote diverse books and better representation, provide some equity by providing free books to all kids, facilitate author events, and mostly, how to get kids excited about reading and writing."
Then, in the early morning of April 3, 2022, she recalled awakening with a jolt. Her mind was swimming with a concept that could not be ignored.
"I grabbed my phone and jotted down the complete outline for the Golden Ticket to Literacy and how already-existing book vending machines could be filled with diverse books. These two ideas together provided a vessel for all of my goals to come together," she added.
Penny spent months doing research, working on logistics, curating authors, and creating a website. As a result, she did a total revamp of her non-profit, Random Acts of Reading (RoAR), which she had founded in 2015, with a continued mission of promoting literacy, creativity, writing, and activism for kids. was created with a mission statement of promoting literacy, creativity, writing, and activism for kids.  RoAR also provides exciting literacy promotion for indie authors, organizes free meet-the-author events for schools and community groups, and offers free books to students–all wrapped up on a book vending machine that excites kids to get reading! Random Acts of Reading (RoAR) is committed to promoting literacy confidence for all children by providing exciting and equitable access to quality diverse books, authors, and opportunities to proudly share their own writing and ideas, through an innovative literacy program built around book vending machines.  
These beautiful and diverse books are categorized in three ways, Emerging Readers, Early Fluency, and Fluent Readers, to ensure that a child is able to select a book that is appropriate to their reading level.    
How Does The RoAR Book Vending Machine Work?
Students can earn tokens to use to "buy" a selection of diverse and inclusive books from their school's book vending machine in a variety of ways. They can get tokens for exhibiting positive behavior, when they achieve learning goals, when it's their birthday, or however the school chooses. Kids are celebrated as they select a book to take home and, as an extra layer of fun, they also have a chance of discovering a golden ticket inside its pages.    
Upon discovery of the golden ticket, the student will present it to the teacher/administrator who will scan the QR code on the ticket to reveal a special message from the author.    
The finder gets the honor of keeping the special golden ticket, but the entire school "wins" the meet-the-author event, and at the event, all of the students receive a free copy of the book prior to the event. If the book is not appropriate for older or younger readers, they can take part in the event but will get a book at the next event, for a book more suited to the other grades.    
The unveiling of the very first RoAR Book Vending Machine occurred February 3, 2023, at the Centre Hall Elementary School in Centre County, PA, and it was a huge success. 
"I am so excited to see how the program can support indie authors, whose books will fill the machines," Penny shared. "I am absolutely am thrilled to see the excitement that the kids (and administration/teachers) are showing after getting their own vending machines set up in their schools. I actually cried at the first launch as the kids jumped up and cheered when the machine was revealed and they found out they would all be able to pick a book from it. It is a remarkable feeling to know that our program is bringing some joy to these kids, who have been so courageous over the past difficult years and deserve to be celebrated." 
If this wasn't cool enough, this process has been extra special to me because the vending machine includes one of MY books!!!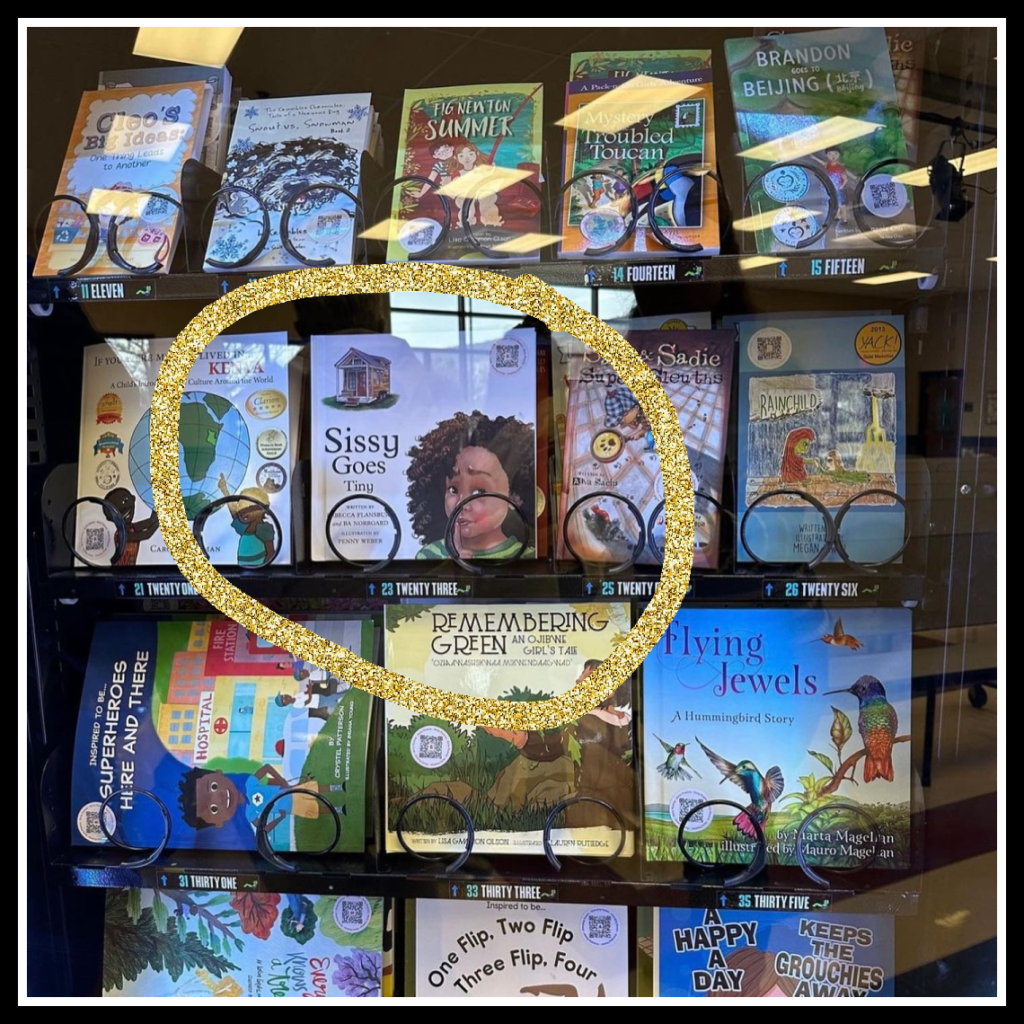 I co-wrote this diverse hardcover children's book back and 2019 and just as we were building up steam and doing author events like crazy, COVID pop up its ugly head. I am always on the lookout for unique and innovative ways to get my book in front of young readers and the RoAR project was absolutely perfect.
And I'm in good company too! My good friends and authors Eugenia Chu, Carole P. Roman, Alva Sachs, and the amazing Mom Bosses at Pack-N-Go Girls have books in the machine too. Can one vending machine handle this must AWESOMENESS?!

Administrators or principals who want to add this program to their school can reach Penny Eifrig at penny@randomactsofreading.org. Indie authors and publishers who would like their book to be considered can also reach out using the same email.
THANK YOU, Penny, for all of your hard work!    
Learn more about Eifrig Publishing and Random Acts of Reading by visiting their website or following them on Instagram and Facebook.    
**************************************************
Eight-year-old Sissy loves her life. She loves her toys, her Big house, and her Big backyard. But when her parents decide they are going to "live Tiny," the thought of parting with some of her belongings and living in a Little house on wheels doesn't sound so good. But as her family's new adventure unfolds, Sissy begins to understand that "stuff is just stuff" and living in a Tiny House is filled with the possibility of Big adventures!    
Filled with "gentle lessons" about conservancy, minimalism, recycling, repurposing, and generosity, this diverse hardcover book shows us what is possible when families choose experiences over "stuff."    
Inspired by the tiny house trend and written from a child's perspective, this vibrant tiny house book will help the next generation understand and apply green lifestyle choices like downsizing, decluttering, living tiny, repurposing, and nomadic travel.    
As someone who works in the children's book industry, co-author Becky Flansburg was also keenly aware of the outcry by parents, teachers, and librarians for books that allowed young readers to "see themselves" in the pages of the books they read. This could mean an Asian child scuba diving, a disabled child competing in the Olympics, or a biracial child living with her family in a tiny house.    
    Co-author, B.A. Norgarrd also had a vision of creating a vibrant picture book that entertained and enchanted readers, but also one that worked to start conversations and encourage families to re-evaluate clutter and overly busy lives in favor of simplicity and freedom especially if it helps them be kinder to Mother Nature.    
Sissy Goes Tiny is available on Amazon and in the Audrey Press Bookstore.