**The posts I write might contain affiliate links or be written in collaboration with businesses or brands. Please see my disclosure policy for more information.**
Welcome to 2023! Okay, I may be late on this greeting because the calendar just flipped to March. BUT, it's never too late to ramp up and solidify your business hustle for the upcoming year. Even though I traditionally do my business planning for the New Year in October of the prior year, my goals and visions are ever-evolving and shifting to accommodate new opportunities or interests.
With that in mind, here are 4 Power Activities for Freelancers that will work to amplify success.
1. Make a Plan ASAP
Starting 2023 without any sort of plan is like international travel with no map! If you haven't done so, take the time to sit down and allow yourself the headspace to form some goals. Just because it's not the "new year" anymore doesn't mean you have to let the goal-setting slide. This is also the time to recap the previous year by listing what worked for your business and what didn't.
2. Be Specific About Your Targets for 2023
The S.M.A.R.T. formula has always been a great tool for me to help drill down to what I want in clear and actionable steps.
Specific: Be very detailed and clear about your goal "I want to write a book" is too vague. Why? What kind of book? Are your writing to inspire, create extra income, share your expertise, or record a time, culture, of lifestyle? Will you be looking for a traditional publisher or will you self publish?
Measurable: There must be a way to measure a goal. Don't afraid to put pen to paper and outline the timeline to achieve this goal. When I work with my Book Shepard/Ghostwriting clients, Milestones with target dates are an important piece of the project. But I will caution you to make your goals/milestones/target dates realistic.
Aligned: The goal is in alignment with your values, life purpose, and vision for you. Why is this goal important to you? How will you feel when you achieve this goal?
Reach: It must be a challenge for you, but not so much that you can't imagine reaching it.
Time frame: It must have an end date to be accomplished, not open-ended.
3. Fill Your Brain With New Knowledge
I love me a good webinar, podcast, and especially an excellent non-fiction business book. Here are two business-based books I highly recommend.
Hey, Freelancer. Go Clone Yourself! by Kathleen Krueger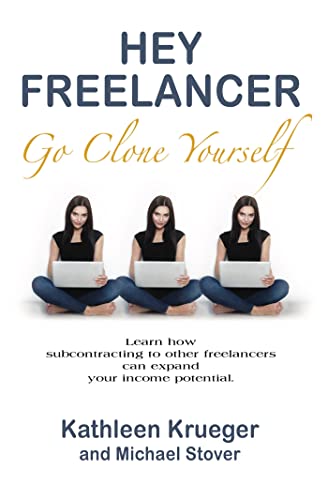 This book documents Kathleen's writing career and how she created an agency model that allowed her to start hiring subcontractors. This formula also allowed her more time off without limiting her income potential.
"The greatest benefit we enjoy from our content writing agency business model is making more money while working less hours. The whole point of being a freelancer is freedom, right? With our "Clone Yourself" business model, we are enjoying the freedom we dreamed of when we began."~ Kathleen Krueger
Work Jerks: How To Cope With Difficult Bosses and Colleagues by Louise Carnachan
Did you know that, according to the Pew study, 57% of Americans quit their jobs in 2021 because they felt disrespected at work? Over my decades on this planet, I've experienced the feeling of having a job that I loved, but a workplace culture that I did not. This book not only gives excellent insight on how to deal with difficult personalities, but shows readers how to change their own perspectives instead of expecting the colleagues to have an epiphany about their problematic habits.
4. Invest in Yourself
Take care of YOU. Eat good food, get lots of rest, and go outside and get the sun in your eyeballs as often as possible. I know the act of taking responsibility for our mental, physical, emotional, and spiritual health is expensive, but you will never regret an investment in yourself.
BONUS TIP
5. Never stop dreaming!
My 58th birthday is coming up soon and over my 5+ decades on this planet, I have pursued many of my dreams. Some successfully and some not so much. But that's totally okay. I have zero regrets and I'm not done dreaming yet!
How about you?
---
Get the Nitty-Gritty on The Freelancer Life-More Resources to Help You Along Your Side Hustle Journey
MOM BOSSING
MOM BOSSING: The Freedom to Create the Business You Love is a book filled with personal stories, resources, support, wisdom, and encouragement from a solopreneur who has been in the trenches as a mom boss. This step-by-step guide shares the truth, fears, tears, and cheers of being a mom who is building a business empire on her own terms. If you are looking for a new career for the "second half of life," venturing into direct sales, rocking a home business, or dreaming of leaving a dead-end job, this book provides the building blocks needed to move forward with a healthy dose of humor authenticity. In many ways, this book could also sport the tagline of Building a LIFE on Your Own Terms.
I was lucky to have Becky Flansburg join us at Multicultural Children's Book Day when we first began our nonprofit. She was the "head elf" which meant she did everything from project management to help us get sponsorships. In the early years, we weren't able to keep her busy for more than a few months a year and even that was very part-time. Becky's contribution to the team helped us grow our nonprofit, and, in turn, we were able to keep her busier. Now, as a "mom boss," Becky is sharing her journey and her wisdom for moms who want to try solopreneurship.  It's particularly helpful for anyone who wants to become a VA (Virtual Assistant).~author and mompreneur, Mia Wenjen
Have you ever dreamed of working from home on your own terms instead of being confined to a corporate cubicle or windowless office? Have you ever dreamed of earning a steady and honest income while still having plenty of time for friends and family?
Lucky for you, it is all very possible. It's a life that I have successfully been living for over 12 years…and I can't imagine supporting my family (and following my dreams!) any other way.
Within the pages of this robust 90-page e-book and resource guide is the motherlode of excellent information about working from home (on your own terms) all rolled into a handy read-at-your-own pace guidebook.
Whether you are looking to pursue a career as a freelance writer, virtual assistant, graphic designer (and more) this Resource Guide will provide the insight, tools, guides, advice, and strategies that can apply to any freelance business. If you want the very basics of getting started without the benefit of support and coaching, this eBook is for you.
For anyone looking to start their freelance career, or up their game, this book is the perfect place to start. Jam-packed with actionable items and details about even handling unruly clients, well-meaning visitors, and kids while working from home – this book has it all! Highly recommended!~author and mompreneur, Carissa Andrews
For those who are contemplating the freelance lifestyle but need a guidebook with baby steps, this is your manifesto! Becky Flansburg shares her tips for balancing a freelance career with a family including the nuts and bolts such as the online tools she uses for networking and running her business. Becky is a gentle and realistic cheerleader for anyone who wants to work at home as a solopreneur.~Mia Wenjen
FREElance FREEdom is Available on Kindle
Available in Paperback on Amazon: mybook.to/FREElanceFREEdompprbk