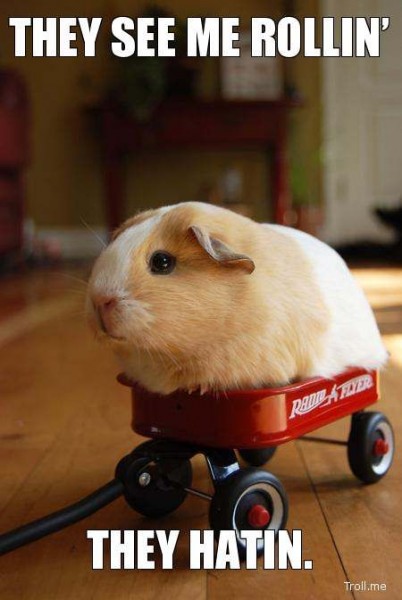 I think I am a pretty good driver. I've never hit anything (at high speeds, anyway) and there are no Whiskey Plates in my future.
I do know that my spousal unit thinks I am a more..umm… aggressive of a driver than I need to be, but hey, I get to where I need to go in a relatively very safe fashion.
Leave it to one of my kids to pee on my parade and upset my apple cart.
Date: August 2, 2010
Time: 5:30 p.m
Location: Just leaving Mickey Dee's (McDonald's) for a well earned french fry treat (well-earned because no one freaked out when it came time to leave the pool and made me wade in in my street clothes to retrieve their wailing little tails).
Passengers: Princess Sara and Prince Jakey D.
Driver: Moi
Jakey D: Mom?
Me: Yes honey
Jakey D: Did you ever have trouble with stuff when you went to driving school?
(pause)
Me: Um …. no (YES). Why do you ask?
Jakey D: Because you seem to hit curbs a lot when we turn corners.
Me: Um…OK…no, of course not. (Liar, Liar, Pants on FIRE!)
Jakey D: And I am wondering why you always yell "HANG ON TO YOUR STUFF!! when we turn a corner.
Me: "Er……."
Jakey D: "Is it because you are a bad turner?
Me: "Ummmm…."
Jakey D: "So, did you even finish driving class? Or did you just quit and buy a car anyway?"(ZINGER!).
Me: "Of course I finished flunked twice driving class. The teacher said I was the worst best student he ever had. He said I turned corners like there were magnets in my wheels and curb a pro. My parents were mad as HELL  thrilled when I passed flunked. Have you been talking to your Father about my driving again?"
Maybe that's why the kids always yell, "Daddy's driving!" when we climb in the car and head to town……
Like the images on this blog?
Great images for your website or blog are waaaayyyyyy easier to create than you think!
PicMonkey makes creating fun images with text that tell a story and pull the reader in easy to achieve. I've taken this experience and created this 25 pages guide with over a dozen screenshots to help YOU tap into the awesome-ness that is Picmonkey.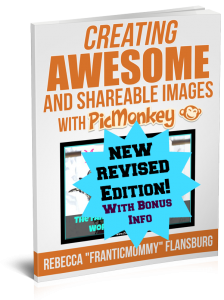 SO…for less than the price of a pack of gun, you can get Creating Awesome and Shareable Images with PicMonkey; an info-packed ebook full of tips, strategies, options, and best practices for navigating the image creation tool PicMonkey. For less than a BUCK, we can be creating amazing and shareable image for your own blog, website, and social media in no time!
Click HERE to grab your copy of Creating Awesome and Shareable Images with PicMonkey
For only .99!!