**The posts I write might contain affiliate links or be written in collaboration with businesses or brands. Please see my disclosure policy for more information.**
Dear Saleslady at Target,
              I am sure you are a lovely person. You look like someone's grandma. And you look quite stylish in your red Superstore logo'd smock.
But..
You DID NOT just comment about my purchase of Pepto. Really? REALLY?
Was it really necessary to hold it in your hand and declare "Oh, someone's got a yucky tummy!"
You.Did.NOT
And loudly enough to turn every head within my periphial vision.
If I would have purchased socks, I would have invited you to Stuff A Sock In IT.
Remind me to never go through your line if I have some Va-gy-gy Yeast Action goin on or Head Lice.
P.S please have your manager reinstall the filter between your mouth and brain. Have a nice day.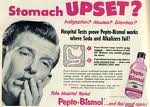 Never Miss a Poop Story. Subscribe HERE http://feeds.feedburner.com/blogspot/dpfZp