**The posts I write might contain affiliate links or be written in collaboration with businesses or brands. Please see my disclosure policy for more information.**
We all wonder how. We all want it.
We all want more followers/readers on our blogs. Although I don't know of any special formula, secret recipe, or magic bullet, there are most definitely ways to get more blog followers and keep them coming back for more.  Here are some ideas:
To Get More Blog Followers (loyal Followers) you Need to be Consistent: Basically this means you need to blog consistently, and blog often. Two to three blog posts a week a week if possible.  Blogging more frequently not only gives your readers something to look forward to, it also gives the Search Engines fresh content…..and they lllooovvveee fresh content.
Don't be an Introvert: I know that's a crazy comment because, let's face it, most writers/bloggers are introverts. But interacting with other bloggers on-line is the same as off-line networking. And like real-world networking, it takes commitment and effort to get out there and meet folks.  Set aside 15-30 minutes a day to visit other blogs and try to leave meaningful comments. By "meaningful" I mean don't do a hit-and-run-one-liner like "nice blog" or "I followed you so please follow me back."  Bloggers are a savvy bunch, and they know a blow-off when they see one.
Join Communities: Think "where can I go to connect with many bloggers all at once."  Blogging communities are not only popular, but they are a great place to hook up with a pool of like-minded bloggers. Some of my favorites include BlogFrog, RichMoms, and SITS. There are others including vibrant Facebook Groups like The Bloggy Girls Club or Blogging Moms. Take the time to join, engage, and participate with other bloggers and grow your readership at the same time.
Plant the Seeds: Tap into the power of social media to grow your readership. Every time you post a new article, that article needs to be disbursed over social media channels like Twitter, Facebook, Google+, StumbleUpon, and Pinterest. If this sounds like a ton of work, tap into third party sites like Hootsuite, Buffer, and ifttt to help get the job done.
Sign up for a Free 30 day trial of HootSuite Pro
Keep Posts Bite-Sized: Readers have gold-fish attention spans these days so keep your blog posts around 300-400 words. If readers show up at your blog and are greeted by a slab of text or something akin to a novel…later gator. Keep it short, relevant, and simple.
Remember: Blogging is a Marathon, not a Sprint. I have taken more pricey classes and blogging courses than I care to shake a stick at over the years. But the bottom line is you need to be committed and you need to be present. Putting your heart, soul, and time into your blog will gain solid readers and the rewards for your dedication will come back to you in the long run.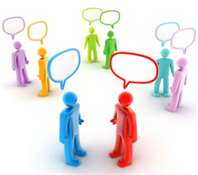 What do you feel are great ways to gain and keep more followers and readers?

Need ideas, tools and suggestions for being a work-from-home Mom? This ebook was created as a tool to help others navigate the sometimes slippery slopes of work-from-home freedom. A guide that shares the key facts, secrets, tips, strategies and resource to make an informed leap and discover Life Beyond the Cubicle. This eBook has been in the making for "lots of sleeps" but I think it's finally time to release my baby into the world.
FREElance FREEdom -Tips & Secrets for Working from Home and Discovering Life Beyond the Cubicle!
If your plan is to grab 2015 by the short hairs and create a new career and income stream for yourself, then go HERE to grab your copy of this investment in your new Future.
P.S.- I'm also offering a TWO BONUS GIFTS! #Winning!