**The posts I write might contain affiliate links or be written in collaboration with businesses or brands. Please see my disclosure policy for more information.**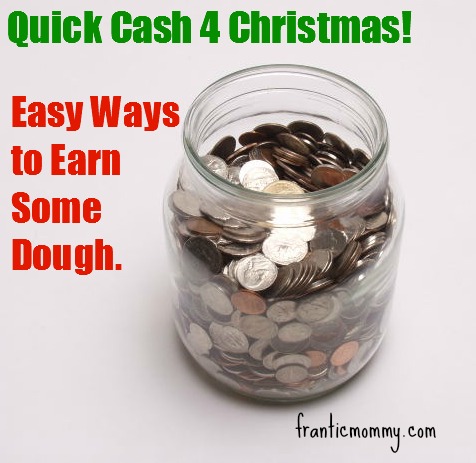 Old Mother Hubbard
Went to her purse the Cupboard
To give the credit card bill poor Dog some dough a bone          
When she got there
Her checkbook The Cupboard was bare…
BEEN THERE, DONE THAT.
I know this time of year puts the smackdown on everyone's budget, but there are ways to drum up some extra cash just to use for the holiday season.

One of my favorite on-line buddies is Sandy Dempsey, the founder and guru of
The Dreaming Cafe.

She created this awesome list a few years back and I personally have referred to it more than once. Sandy was kind enough to let me share it with you so I pulled some my favorites off to post today, but if you want the complete list of 100, go
HERE.
 100 Ways to Earn $100 (or more!)
Sell something you'd normally buy by becoming an independent sales representative. Examples: Avon, Mark Kay, Mia Bella, Tastefully Simple, etc.
Rent booth space at your local flea market or farmers market and sell your 'clutter'.
Run errands for others: Grocery shopping, going to the post office, taking the car in for maintenance, doctors' appointments, waiting for the cable guy, etc.
Love painting, cooking, making jewelry, Facebook, bookkeeping? Teach a class. Reach out and share what you enjoy and love by teaching others. Share your passions.
Childcare: Part-time, full-time, night-time, day-time, weekends. Everyone needs a little help now and again with the kids.
Pet-sitting: If you love animals, taking care of someone's family pet(s) while they are away or on vacation may be just the thing to make a little extra cash.
Holiday and house decorating: If you have a flair for decorating and love making your home beautiful you may be able to sell your services and help others to do the same.
Sell big ticket items on Craigslist (games, electronics, exercise equipment)
Event organizer: Love people? Love parties? Love organizing? Love to bring people together to celebrate? Event organizing could by your ticket to a few extra bucks (or a new career or business).
Have a guest room? Rent it out.
Professional shopper and gift purchasing: People are super busy today. If you enjoy shopping and love people, you can offer your services to shop for and get that special gift for someone. Include specialty gift wrapping as part of your service and delivery if needed.
eBay : Selling both new and used products through the highly popular online auction site eBay can earn you $100 or more depending on how much time you invest into learning the ins-and-outs.
Seasonal rental home cleaning service: There are areas of the country that have seasonal rental home at the beach, in the mountains, etc. These homes need cleaning between daily or weekly renters and need to be checked on during the off season.
Virtual assistant: You can do data entry, make travel arrangements, type reports, prepare presentations, etc. Just about anything you may have done in the past as a clerical worker, office manager, personal assistant or executive secretary can now be done virtually using online services, email and phone. You can have one or more clients and offer one or more services depending on the client's needs. You can offer monthly services or one-time project assistance.
What ideas do you have for earning extra jing this holiday season?