**The posts I write might contain affiliate links or be written in collaboration with businesses or brands. Please see my disclosure policy for more information.**

I live in a tiny house.
No really, it's a shoebox.
When you live in a tiny abode, the main key to NOT becoming a subject in the show Hoarders, is to purge often.
By purge I mean dressers, closets, and gear is sorted and evaluated on at least a bi-monthly basis. Most of it goes into totes for our annual spring garage sale, but much of it (this time of year) can be turned into Quick Cash for Christmas.
I am blessed with several local children's and adults clothing consignment shops in our area. A couple of them will let me consign (I don't get paid until it sells) clothing and a couple will buy outright.
It's the "buy outright" ones that are perfect for a quick turn-around of $$.
A Couple Things to Keep In Mind:
You will get less money for your items if you sell outright as opposed to consigning.
These shops need to be picky by necessity. They want good brand names (not Wally-World stuff) and clothes in great condition. When surveying your clothes for sell-ability, think "would I buy this?"
They will want clothing that is in season. Don't expect them to buy summer clothing in the middle of winter simply because most of these stores don't have vast storage and styles do tend to change.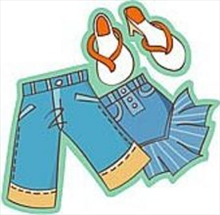 There are a also "non-clothing" items these stores will buy as well. Baby furniture, video games, and even some movies or toys. Inquire with your local shop for things they might be in need of, or for items that are on their "buy" list.
My personal (and recent) success story is just last month when I took in a grocery bag of clothes (including my 9 year-old's outgrown Columbia winter jacket) and made enough instant cash to find him a replacement winter jacket, plus walk out with cash in my hand. Swweeettt.
As for on-line, there's a great source for selling your gently used kids clothes and gear, and that is Storkbrokers.com. I have had great luck selling there in the past. My recommendation is to list stuff there NOW anyway even though there's no guarantees you will make any sales before Christmas. The bonus is the potential steady stream of income from the sale of your stuff- all year long :0)
Sorting through your household content is also another way to get and stay organized. I just bought this awesome book from Moms In a Blog called 30 Days to a More Organized Home. I am super stoked to read it. Grab your copy HERE or click the image below. Enjoy!