**The posts I write might contain affiliate links or be written in collaboration with businesses or brands. Please see my disclosure policy for more information.**
So how's it going so far? Rocking your crockpot?
The more I delve into this subject, the more intrigued I get! If you remember, this all started one day when I was rooting around in a cupboard and came across this…this… contraption (my crockpot that I have had for around 10 years).
It was an "Oohhhhh yyeaaahhhh. I remember this thing…." moment for sure.
Since then I have been cooking and experimenting with recipes and ideas. I have found however, not everything is a "quick an easy meal." Certain foods take longer and these are things to be mindful of unless you want mushy veggies and tough-as-nails-meat. Here are some tips:
Cooking Times for Your Slow Cooker
As you have probably noticed, not every food or dish has the same cooking time in your slow cooker. Not everything is intended to cook all day, nor is everything finished in just a few hours. Here are some general guidelines for cooking times for your slow cooker.
1. Roasts and Meats
For large pieces of meat like brisket, pot roast, or pork shoulder, you can count on a cooking time that's going to be pretty long. Most recipes call for 8 to 12 hours of cooking time.
For pieces of meat like stew meat cubes, sliced round steak, pork chops, or other smaller cuts and cut-up meat, you can expect cooking times of around 6 to 8 hours.
2. Vegetables
Vegetables vary quite a bit. For hearty vegetables like onions, all-day cooking on High will still allow them to keep their shape. Chopped root vegetables like potatoes and carrots take about 4 to 6 hours on High and 6 to 8 hours on Low. Depending on how tender you like them, green beans take 6 to 8 hours on Low and 3 to 4 hours on High to be soft. Winter vegetables like squash can be cooked whole on High for 8 to 10 hours, while cubed squash takes only 3 hours or so on High.
3. Pasta and Grains
Pasta dishes are pretty fast if you use pre-cooked pasta – usually about 3 to 4 hours on Low. Whole grains like brown rice will take about 3 hours, while white rice takes about 2.
4. Fish
Fish cooks quickly in a slow cooker. Thawed fillets can be thoroughly cooked in as little as 1 hour on Low; if you place them in the cooker frozen, then it takes about 2 to 3 hours.
5. Fruits
Sliced apples will take about 3 to 4 hours on High, while whole apples take anywhere from 3 to 6 hours to be tender. Some fruits are much quicker, like peaches and pears, which can be cooked in about 2 hours on Low.
6. Poultry
A whole chicken will take 3 to 5 hours on High, and 8 to 10 hours on Low. Chicken breasts are much faster, taking about 4 hours on Low. Like fish, you can use frozen chicken breasts if you need to leave the slow cooker for longer – frozen pieces of chicken can cook 6 to 8 hours on Low.
7. Beans
For dried beans like lima, navy, black, and pinto beans, you'll need to soak them overnight and expect 8 to 10 hours of cooking time on High once they're drained and placed in the slow cooker with the other ingredients.
Dried red lentils are much faster, cooking thoroughly on High for 2 to 4 hours (brown or green lentils take a bit longer – 4 to 6 hours on High). Canned beans are much faster, with some bean dishes finishing on Low in 4 hours. Others may take longer depending on what else is in the dish.
Want more cool crockpot ideas? I found another cool website called The Crock-Pot Ladies and there's a slew of awesome recipes on there including this one called Cowboy Casserole. Can't wait to try it 🙂
Be sure and check out the other posts in this series!
Crockpot Revisited-Choosing Recipes for Your Slow Cooker
CrockPot Cooking: Cooking Times for Your Slow Cooker
Crockpot Revisited: Tips and Tricks for Successful Slow Cookery
Crockpot Revisited: Adapting Your Favorite Recipes for the Slow Cooker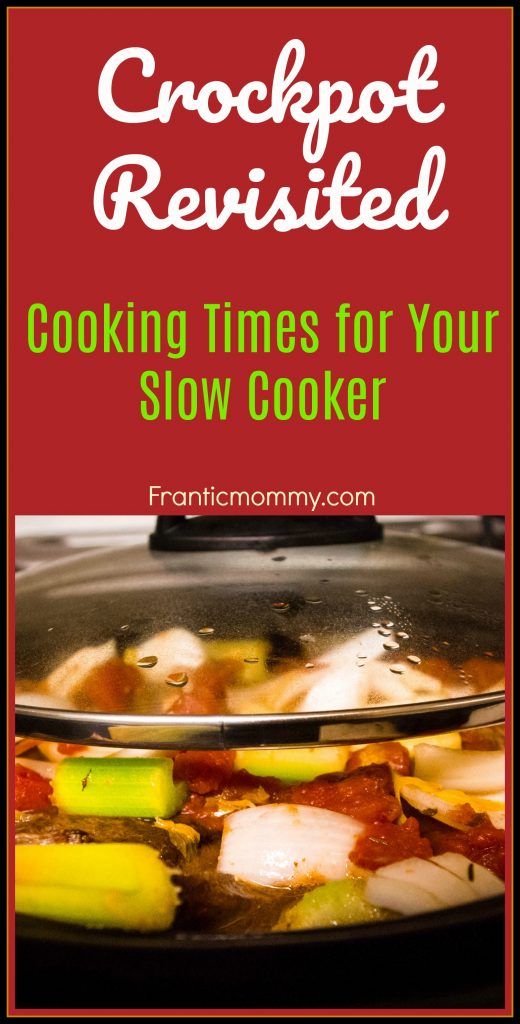 Do you have any good crockpot recipes to share? I have a whole Pinterest Board full of good ones!