**The posts I write might contain affiliate links or be written in collaboration with businesses or brands. Please see my disclosure policy for more information.**
**Intro from Franticmommy
Alicia Jay is a VA….hey that rhymed!
She's also a friend a fellow businesswomen. As you all know, I am always on a quest to bring WAHM's or WAHMS-to-be ideas and resources to help you achieve the working from home (on your own terms) dream. Alicia's core expertise is General Transcription. That skill is something I don't know much about (but highly respect!) but is something that is still in demand with clients. Alicia agreed to share her story and our hopes are that this will strike a cord and inspire. Enjoy!
A Work at Home Career That Leaves Room for Family Time
Does this sound like you?
You have a little one and he's your whole world. But you work all day while he's in daycare. By the time you pick him up and get home in the evenings, you're making dinner, playing with him for a little bit and putting him to bed. You wish you had more time to spend with him than just on the weekends.
OR
You're a stay-at-home mom who has just welcomed a new bundle of joy into your life. You were able to swing staying at home with your first child and manage on your husband's income but you don't think you'll be able to get by now with two kids. You're going to have to get a job. But you really want to be home with your kids and you're concerned that any income you would bring into the household would just go straight to childcare.
Let me tell you what I do. I'm a virtual assistant specializing in general transcription and I'm able to do this from home while raising my three year-old son. I started my career online when I was pregnant with him. I schedule my work around him so I get plenty of quality time in with him while still earning income for my family.
Sound interesting? Let's go over a general definition. In the simplest of terms, transcription is listening to audio and typing what you hear. The main types are medical, legal and general transcription. When searching for a work-at-home career, I quickly realized that medical and legal transcription take schooling and experience that I didn't have.
Then I found out more about general transcription. Unlike the worlds of medical and legal transcription, most clients working with a general transcriptionist will want a cleaned-up version of a transcript. They want unfinished sentences, false starts and things like "uh" and "um" removed from the transcript. They want you to fix sentence structure and create a nice, clean, easy-to-read version of the audio.
I did some research to find out who hires general transcriptionists. The list is pretty large, but these are the people that I work with now in my business:
Bloggers
Authors/writers
Business coaches/ life coaches
Colleges/universities
Entrepreneurs
Virtual assistants
Health and fitness experts
These people often hold webinars, teleseminars, podcasts and interviews. They can use the transcript of these files for research projects, to give away for free, repurpose on their website or bundle with other products/services that they can charge for.
I mentioned before that general transcription doesn't require tons of online schooling or a special degree, which really appealed to me. However, there are certain skills needed for this career such as:
Being a great listener
The ability to follow client directions
Typing accuracy as well as speed
Good grasp of the English language
Excellent grammar and spelling skills
Proofreading ability
Willingness to research unfamiliar terms
I knew that I was an excellent typist, I'm great with words and a fabulous listener. But I didn't have any experience under my belt so I wasn't sure who would hire me just based on my skills. However, I forged ahead and employed the trial-by-fire method when taking on my first client (which I don't necessarily recommend) and I learned a lot.
Practice really does make perfect in this field. The more you do it, the faster you get and the more accurate you will be. Having someone to critique sample files was also really helpful in honing my skills. Today, I confidently take on transcription work knowing that clients will be thrilled with the outcome. They come back for more and they refer other fabulous clients!
So, if one of the above descriptions sounds like you (the work-outside the-home mom who doesn't get in enough time with your kids or the stay-at-home mom who needs to go back to work) then I urge you to look into a career as a general transcriptionist. If you want something badly enough and you're motivated, you can make it happen!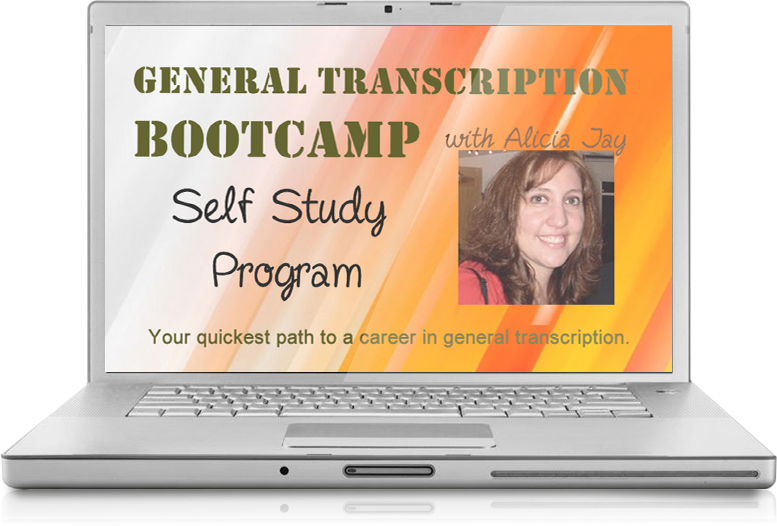 NOTE: Alicia is offering a FREE webinar to help those who want more information on pursuing transcription and
Getting the Skills and Training You Need to Start Your Transcription Business !
Alicia Jay is a work-at-home mom specializing in general transcription. She trains others the skills needed for this career so that they can schedule work around their families. Join her for a fun, free webinar where she takes you behind the scenes of her day as a general transcriptionist showing you what it's really like from her side of the keyboard!