**The posts I write might contain affiliate links or be written in collaboration with businesses or brands. Please see my disclosure policy for more information.**
Today's the day! It is the official celebration day of Multicultural Children's Book Day! To say I am stoked for this event is an understatement and you may remember my post about MCCBD from a Project Manager's viewpoint (me being the project manager).
In case you're tuning in late-here's the skinny:
This wonderful event was the brain child of Pragmatic Mom and Jump Into a Book.  Bloggers across the world are sharing some of their favorite multicultural books that have been provided by sponsors Wisdom Tales Press ,Chronicle Books, LEE and Low Books and author Susan Daniel Fayad.
Despite census data that shows 37% of the US population consists of people of color, only 10% of children's books published have diversity content. Using the Multicultural Children's Book Day, Mia and Valarie are on a mission to change all of that. Their mission is to not only raise awareness for the kid's books that celebrate diversity, but to get more of these types of books into classrooms and libraries. Another goal of this exciting event is create a compilation of books and favorite reads that will provide not only a new reading list for the winter, but also a way to expose brilliant books to families, teachers, and libraries.
Other Ideas to Celebrate MCCBD
Here are some ways you can help us celebrate Multicultural Children's Book Day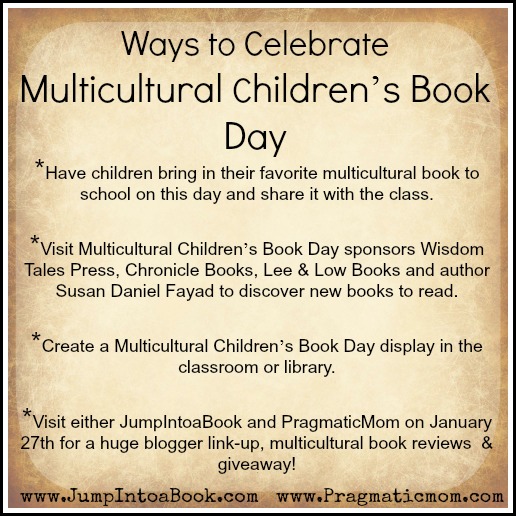 What else is there, you say?
Glad you asked 🙂 Today you can visit Pragmatic Mom and Jump Into a Book and not only see the GINORMOUS link-up from bloggers who have done book reviews on multicultural books for kids, but there's also a honkin big giveaway for Barefoot Books. Find all that book goodness here:
Anyone who has a multicultural book or has done a review of a multicultural book will be able to Linky up and create a huge book list for the thousands of readers/views that will be visit either site. You are welcomed to link up too! This Linky will be live for a month (I believe) and will be a great source for teachers, librarians and parents who are looking for new multicultural books for their kids or students.
And then there's ME.
Yup, I was one of the lucky bloggers who was matched up with a publisher for this amazing event. My publisher was Arundel Publishing and my book to review is Wacko Academy (Wacko Academy Series Book 1). The subtitle "This Time They Kidnapped the Wrong Girl" is an indication of the action packed and well-thought out story in this chapter book.
You think your school is bad? Eighth grader Lily Mason has enough hassles dealing with siblings, cranky teachers and the cute new guy in school. However, when she's kidnapped and brought to the elite Wackerson ("Wacko") Academy, it will take all her smarts and courage to outwit the school's nefarious owner—even if it means teaming up with his infuriating and unnecessarily handsome son. At once funny, harrowing and romantic, Wacko Academy is a book that will enthrall and entertain readers young adult and beyond.
Not only did the book blow me away (it is written very well and is extremely engaging) the author did too! Faith Wilkins is a 16-year-old high school student who perfectly captures the travails of middle school life. A polished writer for any age, she brings the voice of authenticity one girl's adventure of a lifetime. Faith began writing Wacko Academy during the summer of seventh grade in a spiral notebook. This book has also won the Bronze Medal, Moonbeam award for authors under 18. Faith is currently attending high school and when not writing is doing normal "teenager stuff" with her mother and two younger brothers in New York's Hudson Valley.
I specifically requested this wonderful for my soon-to-be-11-year-old reluctant reader son. Now that I've read this book, I know he will love it too. I am truly amazed at the fact a 16-year old writer create this book. It's full of twists and turns, details and intrigue and also a great ending that leaves the reader wanting to know what the future will bring for Lily and Dustin.
Great book. Awesome author. A quick and satisfactory read. What more can I say? Grab your copy of Wacko Academy here.
Full Disclosure:  Arundel Publishing provided a copy of Wacko Academy for me to review.  All opinions expressed are my own
As we've mentioned before, we have so much gratitude for the 65+ wonderful bloggers who came forward to help us review and share their thoughts on multicultural books for kids for this event. Do me a solid and visit as many as you can to read their reviews, learn about new multicultural titles and offer words of encouragement for all the hard work these blogger have done!
.