**The posts I write might contain affiliate links or be written in collaboration with businesses or brands. Please see my disclosure policy for more information.**
Energizing Your Living
Room
Now that winter is coming to a close and spring is in the
air, you are probably more than ready to give your living room a
thorough cleaning. Getting rid of the winter doldrums will breathe new
energy into your living room and your life!
As you begin cleaning, it's easiest to start from the top
of the room and work your way down. Dust the corners of the rooms and
the ceiling. Check the walls and baseboards and wipe them down or spot
clean, as necessary. Don't forget to get the fingerprints off the switch
plates, door, and doorknobs.
Next, clean the ceiling fan and the covers to any overhead
lights. You might be surprised at the piles of dust on your fan blade
tops and the collection of dead bugs in your light shades. While you
have the stepstool, clean any air vents that are up on the wall and take
down the curtains or window treatments and clean them.
Clean your windows, inside and out, making sure to rinse
the screens. You can use a vacuum with a small attachment to get the
dirt and dust out of the crevices of the windowsill. Leave the windows
open and let the fresh air be your motivator.
Now clean off the entertainment center or whatever houses
your electronics equipment. Unplug everything and clean off any dust,
drips, or spills. Remember to never spray cleaner directly onto anything
electronic, instead spray it onto a cloth and just wipe down. Don't
forget to pick things up and dust underneath. Untangle the jumble of
cords and make sure none have signs of melting or fraying.
Knickknacks, table lamps, and other decorative pieces,
including mirrors, art, and pictures should be dusted next. Again, just
use the spray on a cloth rather than spraying directly onto the surfaces
of your pictures and artwork, to prevent liquid from seeping through
onto your treasured photos and art.
Wipe off the tabletops and shelving, making sure to move
everything and clean underneath. A vacuum attachment can be used to get
the hard to reach corners. For shelving units, the top down approach
comes into play again, so that any dust that falls will be wiped up on
the next shelf.
Now it is time for a treasure hunt! Take all the cushions
and pillows off the couches and chairs and see what has fallen through
the cracks. You never know what mysteries the crevices of the couch may
hold. Grab the vacuum and use a smaller attachment to get all the dirt
and crumbs from the cracks and creases.
Clean the upholstery, cushions, and throw pillow of your
couch and chairs, if necessary. Throw anything that is machine washable
in the washer, as per the instructions. Use a spot cleaner on the
fabrics that it is safe for or use an attachment on a carpet steamer if
you find the entire surface needs attention.
Believe it or not, you are already in the home stretch for
the living room. All that is left is to clean the floors and put things
back together.
Grab all of the floor mats and throw rugs and clean them
thoroughly. Shake them out, rinse them off, or launder them, as
necessary. Consider having larger, more delicate area rugs cleaned by a
professional.
If your room is carpeted, vacuum the room thoroughly,
moving the furniture to get under and behind everything. If your carpet
is in really bad shape, buy or rent a steam cleaner and get the ground
in dirt cleaned out of the carpet.
If you have hardwood or tile, sweep up the loose dirt or
use a vacuum on the bare floors setting, moving the furniture as you go.
Mop or polish the floor with an appropriate cleaning solution and let it
dry or wipe it down with a towel.
Once the floor has completely dried, you can put the
couches back together and re-hang the window treatments. Take a look
around and rearrange any of your knickknacks that seem to be out of
place. Light a couple of scented candles, take a seat on the nice, clean
couch, and enjoy relaxing in your fresh, clean living area.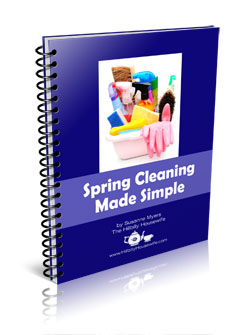 some of these links are affiliate links

Want to be"DONE" with diapers?
Check out Becky Mansfield's Potty Train in a Weekend-THIS BEST-SELLING BOOK HAS EVERYTHING THAT YOU NEED TO KNOW TO POTTY-TRAIN YOUR CHILD IN 3 DAYS!
This ebook is a personal account of exactly what a mom (of four!) did that worked for her, her family and her friends. I just want to share it with you in hopes that you get the same outcome!
Potty Train in a Weekend is the only guide that you will ever need to potty train your child. Whatever method you choose, this eBook has more than 70 pages packed full of information that will be helpful to you and your child! Author Becky Mansfield even asked other Moms for their advice and input and she researched where they were having difficulties in potty-training and addressed those issues. Take the first step and ditch those diapers!