**The posts I write might contain affiliate links or be written in collaboration with businesses or brands. Please see my disclosure policy for more information.**
Disclosure: Kids Yoga Stories gave me a copy of this book free of charge. All opinions in my review are my own and I did not receive any other compensation. As in all my reviews I am providing links for your ease, but receive no compensation.
I adore kids books. Sometimes, I think I enjoy them more than my kids!
So when I was asked to read and review Hello, Bali, I jumped at the chance to read something new and different with our 8-year old. Needless to say, thanks to the refreshing topic and super-cute graphics, it was a hit. Here are some of our thoughts and highlights:
Energize your body and mind with this yoga island adventure book
Hello Bali: A Kids Yoga Island Adventure Book
Say good day to the magical island of Bali! Join Anamika, one of the Yoga Kids, as she travels with her family to Bali, Indonesia. Surf like a surfer, dance like a Balinese dancer, and sit like a monkey.
The book includes a list of Kids Yoga Poses, Map of Bali, Basic Indonesian Phrases, and a Parent-Teacher Guide with tips on creating a successful yoga experience.. Age group: Toddler, preschoolers ages 2-5.
What we liked:
Hello, Bali is about a girl from India visiting Bali with her family. I love it when I can share information about other cultures with my kids.
Yoga moves for kids! I have been trying very hard to get my daughter interested in yoga (I am a total yoga newbie myself) and she's been resistant until now.  Hello, Bali introduced yoga in a fun way that coincides with the book. Yoga moves include hello to the sun in Bali,  the beach, sailboat, dolphin, sunbathers and more! Classic yoga moves "kid-a-fied." 🙂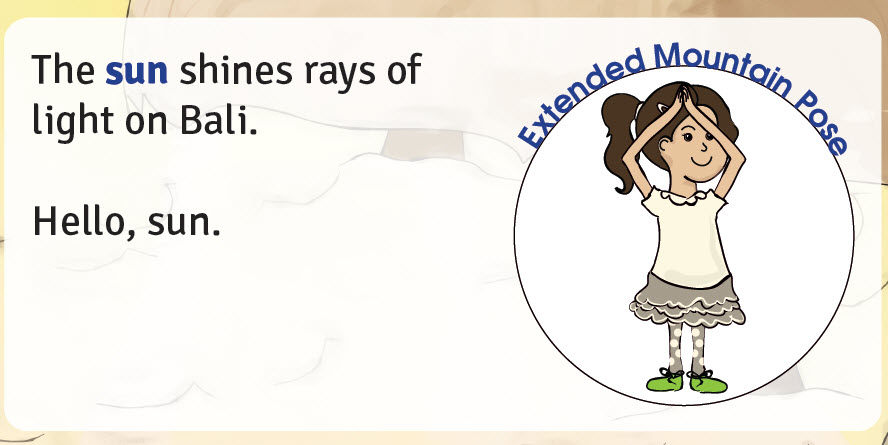 Simply adorable and fun illustrations.
The last thing we LOVED (me especially) was that it created some fun and special "together time" between myself and our daughter. Life is so busy and hectic, it was nice to read, decompress, exercise and even be silly for awhile.
Two thumbs up for Hello, Bali!