**The posts I write might contain affiliate links or be written in collaboration with businesses or brands. Please see my disclosure policy for more information.**
The Christmas season is looming and I know I am not the only one who has noticed!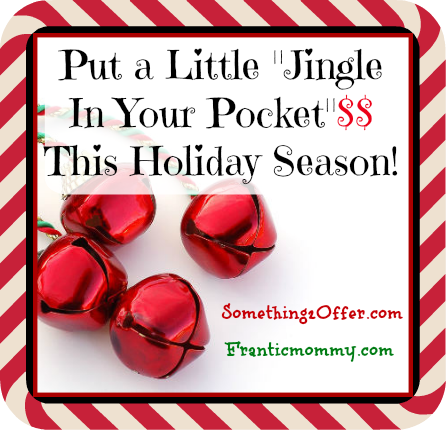 So try as I may to stick my head in the sand and ignore the fact that gift-buying season is approaching, I decided to instead get proactive. I've teamed up with Thaleia from Something2Offer once again to bring both of our readerships some kickin' good ideas on not only ways to MAKE extra money for the Christmas season (that's my job), but introduce creative and cost-effective ways to MAKE gifts your whole family will love and cherish (that's Thaleia's job). You may remember the wildly successful series Thaleia and I did together last year called What it Takes to be a Virtual Assistant. You can read the series here.

Thaleia has a great post this week on saving Save Money on Educational Christmas Gifts which I love the thought of since I'd prefer to give some thing that has learning value as a gift. You can check out her post HERE.
Me? I thought I would share the scoop on one of my favorite "honey-holes" for money-making; Fiverr. Here's the scoop on Using Fiverr to Generate Christmas Cash.

Fiverr is an online marketplace where people buy and sell products and services for $5. It's a popular freelancing site and if used wisely can be turned into a great source of income online. Once you are able to establish yourself as a seller on Fiverr it has great potential to help you earn a regular income.
When I first heard of Fiverr, I admit I rolled my eyes and poo-poo'd it as a waste of time. Who can live on $5 gigs for Pete's sake! The more I read about it, the more I liked it and eventually set up an account "just for fun" to see what would happen. I created a couple of "gigs" (the tasks you are willing to provide your potential client for $5) and sat back and waited. It wasn't long before I started getting bites, and that was without any sort of promotion on my part.
That's actually one thing I really like about Fiverr. The fact I can sell my products/services without doing a lot of promotion to get buyers on a regular basis. You just need to work on getting some positive feedback as a top seller and that can get you work automatically on Fiverr without any promotion.
One thing I would like to caution is to offer only tasks that you can do quickly. For me it's 250 word mini blog posts and 10 tweets based on a client's material or event. Those are two things I know I can crank out pretty fast (around 10-15 minutes).  If you offer a task that has you laboring over it for an hour, that is a pretty poor use of your time. I would also caution you to be careful about offering services that you already offer to clients at a higher rate. This is especially true of you are a service provider like a Virtual Assistant.
How much you can make with Fiverr really depends on what you are offering, as well as how much time you put into it. It is totally possible to earn an extra $100 or more a month, and I say this from personal experience. Sellers earn a flat $4 commission when a buyer purchases their services, and payments are made through PayPal with a minimum payout of $4.
And for those of you that are thinking "there's no freaking way I'd do anything for only five bucks!" let me assure you, the real money is in the "upgrades." Once you successfully sell and complete a certain number of gigs, you can "level up." Once you reach level, then you can start adding additional services for more money. That along with repeat customer will add up over time.
Becoming a seller is easy, free and takes only a couple minutes. You can start here: http://fiverr.com/join
If you really want to dive in with both feet, I've piled everything I know about Fiver into this handy 13 page report that will enable you to not only get up and running on Fiverr quickly, but determine what types of services or products will be the best fit for you to offer. This whole kit-n-kaboodle is only FIVE BUCKS!
Consider it an early Christmas gift to yourself…and one that will flip that $5 into even more income!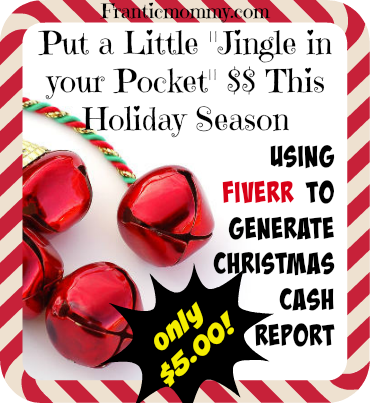 Grab your copy now and get started putting some extra Jingle In Your Pocket for the Holiday Season!