**The posts I write might contain affiliate links or be written in collaboration with businesses or brands. Please see my disclosure policy for more information.**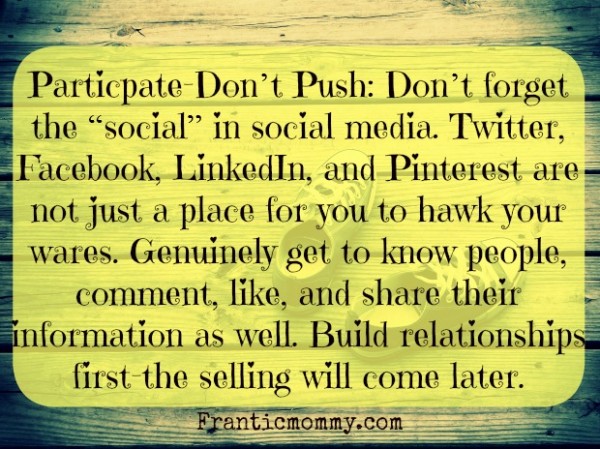 Social Media is Key: Facebook may want to make your pull your hair out and Twitter may make your eyes cross in confusion, but these channels are a huge key in the success and longevity of your business. Social media basics include keeping it short and sweet (studies have shown that Facebook and Twitter updates under 80 characters get the most Likes, Shares, and Comments) and taking the time to be present and engaged with your followers and Likers. Social media consumers have gold-fish attention spans which you have around 4 seconds to catch their attention and you need to be consistent about the tactics to keep that attention
Particpate-Don't Push: Don't forget the "social" in social media. Twitter, Facebook, LinkedIn, and Pinterest are not just a place for you to hawk your wares. Genuinely get to know people, comment, like, and share their information as well. Build relationships first-the selling will come later.
Be Consistent: Many new bloggers start with good intentions and high ambitions, but quickly peter out when they discover that blogging (successful blogging with an actual readership) takes long-term persistence and effort. If your blog is starting to feel like a needy child, consider getting creative with curating your content. Invite guest bloggers, check into PLR or having articles created via Fiverr. Or create the discipline, head space and process you need to create content yourself. If you start a blog, do your best to commit to writing or creating a blog post every single day. Minnesota historical novelist Candace Simar shared an amazing nugget of advice to me earlier this year in regards to writing which she called it her "Fifteen Minute Rule." Candace shared that, if she required herself to sit down and write for 15 minutes, once she got past those initial minutes the rest of her writing came easier. Try it, it works. Commit to working on your blog posts a little every day, even if you only post one completed article per week, it's still progress.
Don't Be Everything to Everybody: Another quick way for moms, WAHMS and business peeps to burn themselves out on blogging is when they attempt to crank out a blog post a day and splash themselves across the www. Though visibility is great, this tactic would be a lot like painting a 3 story house with one gallon of paint! Choose realistic and reachable blogging and work them to your fullest potential.
Did I mention I am in LOVE? In love with the 2015 Create Your Shining Year Life + Biz planners! FINALLY, a calendar I can get excited about! Grab yours here and kick-fanny in 2015!