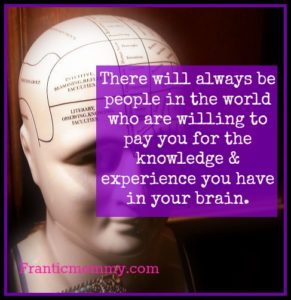 I love writing for magazines and doing "people profiles" of inspiring and strong women. Pretty much half of the time I let someone know I will be doing a story about their business and life, these article subjects will make a comment along the lines of, "I'm really not that interesting!"
I wholeheartedly disagree. People are fascinating to me and I believe everyone has a story. I have never been wrong 🙂
The same applies to those who want to work from home (make extra income) but feel they lack the knowledge to do so. Everyone posses a skill or life knowledge about something and that's how Creating Non-fiction eBooks can be a Money Maker for you.
I promise that somewhere there is someone who would be willing to PAY for the knowledge in your brain!
In our constant quest to "bring in some extra cash," we forget to consider what I think is an incredibility obvious option for extra income, so that's why I want to talk about Creating eBooks as a Money Maker.
My friend Kathleen summed this up nicely in a guest post she did for me last year called  Freelancing 12 Ways to Make Money From Your Know-How (guest post from Kathleen Krueger). Here's an excerpt:
Too many women make the mistake of thinking they don't have any skills or products worth marketing.
"I don't know how to do the things, you do," they tell me.
You don't have to do what I do or know the things I know to make money from home. There will always be things that you know that someone else doesn't. Here's a simple list of 'know-how' that WAHM's can use to make money. (I'll tell you how later in the post.)
Simply (or complex) sewing projects you've created on your own.
Recipes that you came up within your own kitchen.
Creative craft project ideas to do with kids.
Tips for new mothers.
Tips for keeping your home organized.
Gardening know-how.
Ideas for low-cost birthday parties for kids.
How to save money on groceries.
Quilt patterns, knitting patterns, crochet patterns you've created.
How to make your own natural products.
Makeup tips for teens.
What's your hobby? Tell someone else how to get started.
CLICK TO TWEET "WAHM TIP: Don't make people look elsewhere for information you yourself could be providing"-Franticmommy.com
"But what do I have to offer?"…you may be asking. How about starting with the knowledge, experience, and wisdom that you already possess? I've always said, 'somewhere in the world there is someone willing to pay you for the knowledge that you have in your brain."'Your expertise is the product you can market to moms everywhere. Know how to write a press release, a business plan or even plan an event? I promise you there are moms/women in business in need of that assistance right this moment. The situations that you have encountered and overcome as a mom are ones that other mothers are facing too. They could benefit from what you know to make their life a bit easier.
Another way (and one that's like the "gift that keeps on giving") is the creation of an e-book based on your experience, advice, and skills that can be used as a guide for anyone in need of it. You probably have a lot of good advice to offer, but unless you pull it out of your brain and put it in some sort of legible format, it will never help anyone else. If you have a talent for writing this will be less of a challenge for you but the first step is to sit down, write down some ideas and organize your thoughts on paper.
Someone I highly respect is Becky Mansfield from Your Modern Family. Becky just posted a great article on her site called 15 new ways to make money from your living room
Many of the ideas on her list are winners including "writing an ebook," something Becky herself has done very well. Her eBook Potty Train in a Weekend is a huge seller for her and she has others as well. The thought of creating a guide to sell makes some people cringe and run the other way, but it truly is a great way to make some extra jing. Here are a few I have written:
If this idea trips your trigger, check out this free report from Ellen Finkelstein on How to Write and Sell an E-book. E-books can be a good way to boost your income on autopilot.  Plus an e-book can help establish your authority in your field.  Ellen  has put together what you need to know on how to get started here:  http://bit.ly/1vluajZ
SO if you could write an e-book about the knowledge you possess, what would you write about? Here's two of mine that I was able to create and publish within a few months of each other. Yes, I am proud of myself!
Would you like a sneak-peek at my popular book FREElance FREEdom: Creating the Work-From-Home Life You Crave?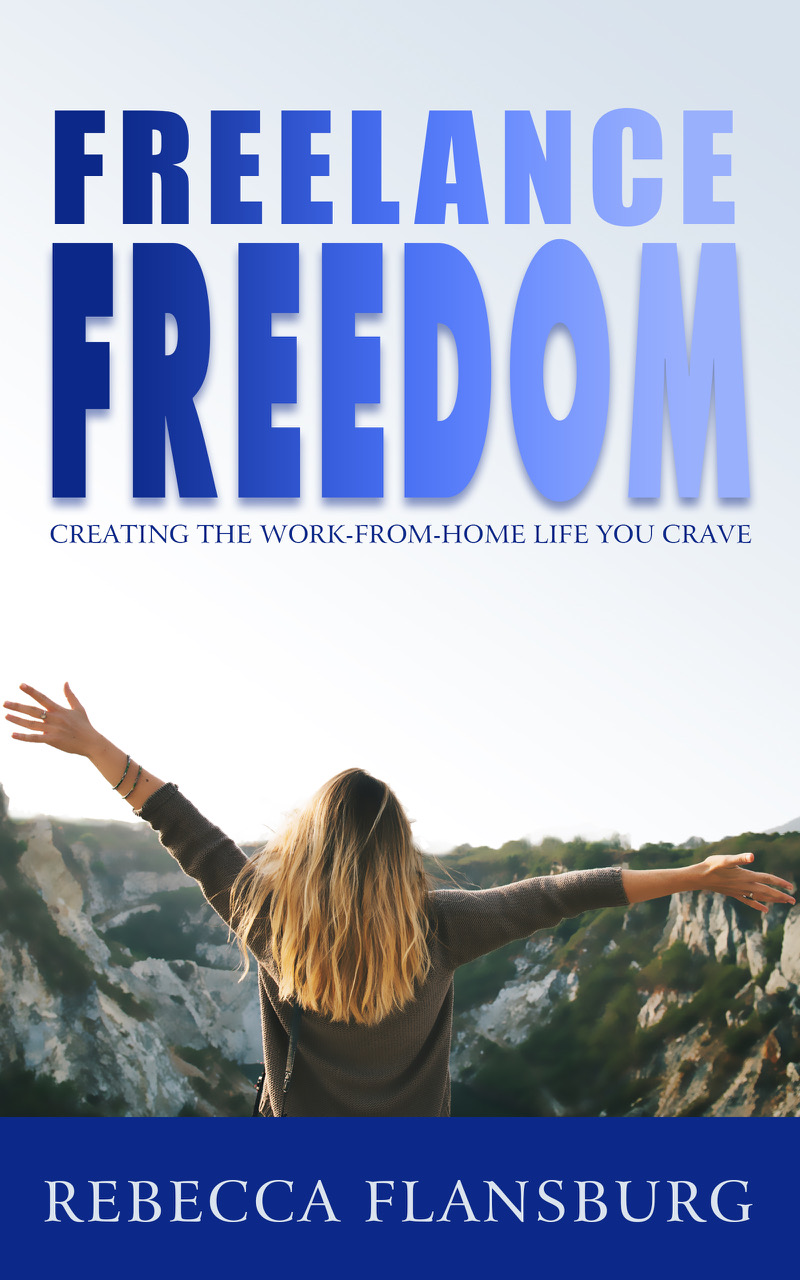 Go HERE to grab your -no-cost FREElance FREEdom 3 Chapter Teaser of this book and see why people are wanting to know MORE.
If you are one of the many people who are growing tired of the rigidity of the "9-to-5 grind" and crave an alternative way to earn a steady income on their own terms, this book is for you. Within the pages of this book, readers will find the motherlode of excellent information about working from home, navigating the freelance lifestyle, and creating the business and career they love.
Visit Book Funnel HERE to get a taste of the book that is crammed full of dream propelling goodness!
Rebecca "Becky" Flansburg is an author, freelance writer, and blogger from Minnesota. She is mom to two humans and critter mom to way too many pets. She is the author of two non-fiction books on working from home, FREElance FREEdom: Creating the Work-From-Home Life You Crave and MOM BOSSING: The Freedom to Create the Business You Love (both in physical and ebook form) and her children's picture book, Sissy Goes Tiny, was released July 19, 2019. She is a member of the Lakes Area Writers Alliance and can also be found on BeckyFlansburg.com.
Go HERE to grab your -no-cost, no-obligation (I don't even make you sign up on a list!) sample of my book FREElance FREEdom.
ALL THREE
---
My published books!

---
Ebooks aren't always just words! Use Your Love of Adult Coloring to CASH IN HERE.