This coming November I will be celebrating FOUR years of working for myself. What a proud day it will be. Actually, every day I can wake up and do what I love for a living is a cause for celebration.
Has it been easy? Heck no. Has it been successful? Heck yes.
But that being said folks need to know, if you do work from home, there needs to be a constant checks-n-balances of your home biz going on. Whether you are a freelance writer, an VA like me, or selling direct sales like Tastefully Simple or Arbonne, work at home pros need to tweak and redirect on occasion to keep their Ship of Success floating in the right direction. Here's a few ideas:
#1 Take Your Business' Temperature Often: What is it you are doing right? What is not working. Is this client the best for my business? Before you spend months floundering along only to find you left money on the day ( a low paying client, or time wasted on a "fun" project that did not generate income) take a hard look at your business and it's processes monthly. Do you know how much $$ you make a day…on any given day? No your numbers.
#2 Remember Forget the Client is #1: I am not saying be at their beck-and-call 24/7, but I am saying be available, and be problem solver. If a client says "I need help with ______" and your response can be, "sorry, I don't know how to do_____" and leave it at that…OR…instead say, "I'm not sure, but I'll check into it" and then Google or ask another VA for help and guidance. I prefer to never give my clients a reason to look elsewhere for help.
#3 Know When It's Time to GO: I have a golden rule with my clients that ensures that I am working with people who are the best fit (for both of us). If I have a client who sucks my time and drains my energy to the point where I dread hearing from them…IT'S TIME TO GO. Life is too short to be working with miserable people.
#4 Dial Back on Spending: Sure it's fun to buy the latest and greatest stapler or the desk pad calendar with the puppies on it. But that stapler that looks like it came over on the Mayflower works just fine and the plain black-n-white calendar will too. When the money get flowing it's tempting to want to "treat" yourself to some "purdy stuff" but I am say PLEASE, err on the side of caution.
#5 Multiple Streams of Income Rule: I spent 30 years in sales and enjoyed the "sky the limit" when it came to earning money. As a business owner I am now very aware that I am in control of every penny and I guard those pennies with my life. As a VA or freelancer, oftentimes you are somewhat limited by the number of hours in the day, but there are ways around this. Have other streams of passive income running in the background (affiliates, ad space, ) or offer your own products for sale.
Here's two that I have created as a means of Extra Streams of Income:

Like the images on this blog? Great images for your website or blog are waaaayyyyyy easier to create than you think!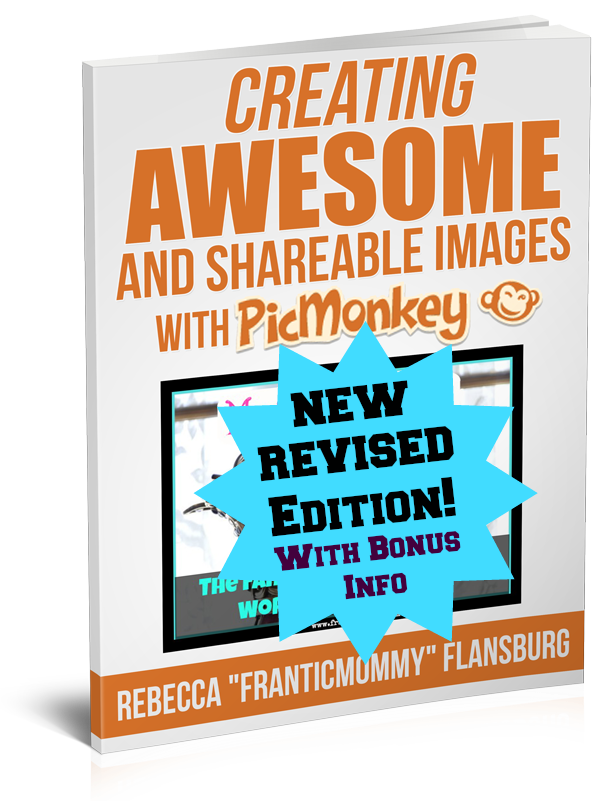 PicMonkey makes creating fun images with text that tell a story and pull the reader in easy to achieve. I've taken this experience and created this 25 pages guide with over a dozen screenshots to help YOU tap into the awesome-ness that is Picmonkey. SO…for less than the price of a pack of gun, you can get Creating Awesome and Shareable Images with PicMonkey; an info-packed ebook full of tips, strategies, options, and best practices for navigating the image creation tool PicMonkey. For less than a BUCK, we can be creating amazing and shareable image for your own blog, website, and social media in no time!
Click HERE to grab your copy of Creating Awesome and Shareable Images with PicMonkey
For only .99!!


Need ideas, tools and suggestions for being a work-from-home Mom? This ebook was created as a tool to help others navigate the sometimes slippery slopes of work-from-home freedom. A guide that shares the key facts, secrets, tips, strategies and resource to make an informed leap and discover Life Beyond the Cubicle. This eBook has been in the making for "lots of sleeps" but I think it's finally time to release my baby into the world.
FREElance FREEdom -Tips & Secrets for Working from Home and Discovering Life Beyond the Cubicle!
If your plan is to grab 2015 by the short hairs and create a new career and income stream for yourself, then go HERE to grab your copy of this investment in your new Future.
P.S.- I'm also offering a TWO BONUS GIFTS! #Winning!