**The posts I write might contain affiliate links or be written in collaboration with businesses or brands. Please see my disclosure policy for more information.**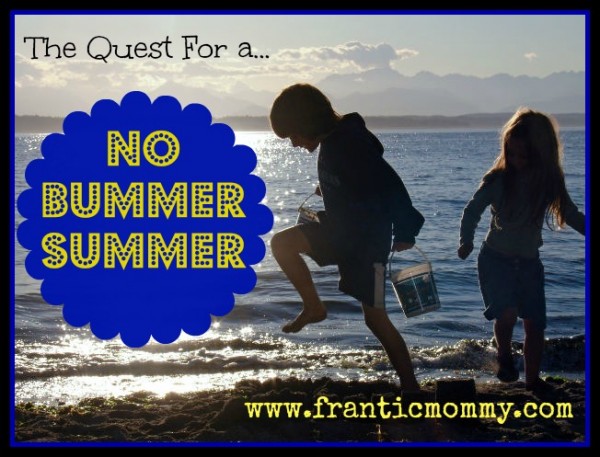 This last Saturday (June 13th) was National Get Outdoors Day. National Get Outdoors Day is a new annual event to encourage healthy, active outdoor fun. Participating partners will offer opportunities for American families to experience traditional and non-traditional types of outdoor activities.Prime goals of the day are reaching first-time visitors to public lands and reconnecting our youth to the great outdoors.
It was a fun day for us because admission to our state parks was 100% free that day. It gave us a chance to do some exploring and enjoy the beauty right in our own backyard so-to-speak.
So with the two rugrats in tow, we set off to do some exploring. One park we visited was about a 45 minute drive and it was a place I had never been. One park we visited was about a 45 minute drive and it was a place I had never been. Mille Lacs Kathio State Park is really cool.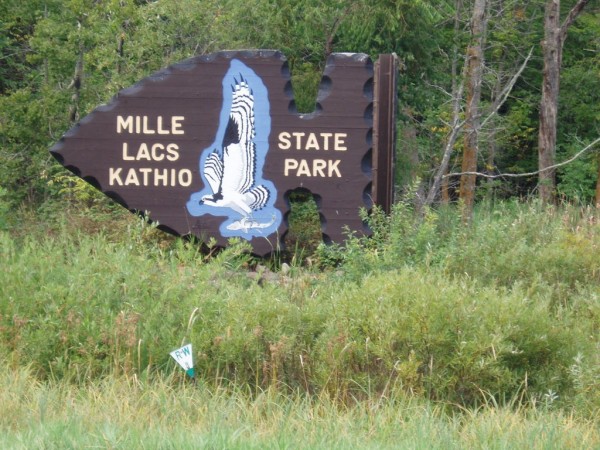 We loved their Immersion Center and their Touch The Earth Nature Walk. But I would have to say the highlight of the day was the tadpole pond. Well…it really wasn't meant to be a tadpole pond. It's a man-made swimming hole with a really nice beach. It just so happened to be BURSTING with tadpoles! So cool! It had been years since I had even seen tadpoles and now there were hundreds (if not thousands) every where.
All were just the little black comma-looking tadpoles…with the exception of one. Gigantor The Tadpole was half-way to a frog and super cool to observe.
I remembered one of the activities in our At-Home Summer Nature Camp eCurriculum was the raising of tadpoles and OH, how I wanted to transport some of these cuties home and watch them evolve! BUT, the long drive, and lack of safe transport containers, made me abandon the idea. But if you should happen to encounter a pond, I could see how this activity could be a ton of fun if done correctly. Imagine having dozens of little froglings hopping around! Here's a snippet from the eCurriculum book: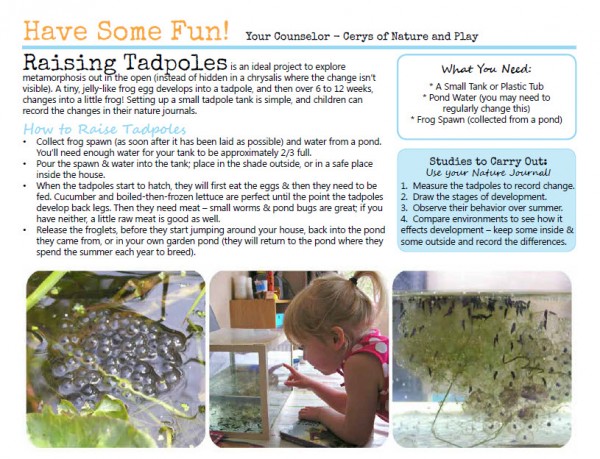 Curious about the At-Home Summer Nature Camp eCurriculum? This guide is a creative, affordable alternative to pricey summer camp.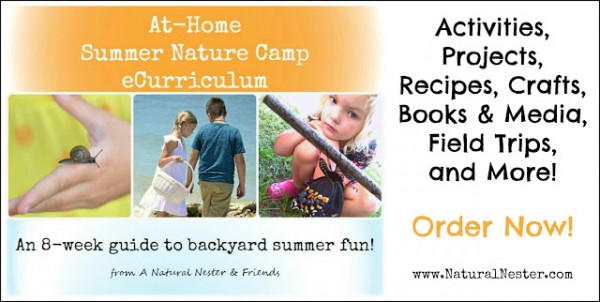 This eCurriculum is packed with ideas and inspiration to keep your kids engaged and happ.y all summer long. In one easy-to-follow PDF, parents will receive eight kid-approved themes, each including ideas and tutorials for: outdoor activities, indoor projects, arts & crafts, recipes, field trips, books & media, and more. Every weekly theme is packed with summer nature fun our family can have right in our own backyard! Learn more, or plan your summer fun,and grab your copy of the At-Home Summer Nature Camp eCurriculum ASAP!