It's been a llllooonnnggg week. I think I lost a chunk of brain cells around Tuesday…for sure by Wednesday. BUT today is a new day and even my worst day at home is better than my best day when I worked 9-5 for The Man.
Is it luck? Nope, it's good planning and a few non negotiable that keep my biz humming along and moving forward. Here are a Coupla Ninja Tips to Ensure You Stay Sane (and Successful) while rocking the work-from-home-life.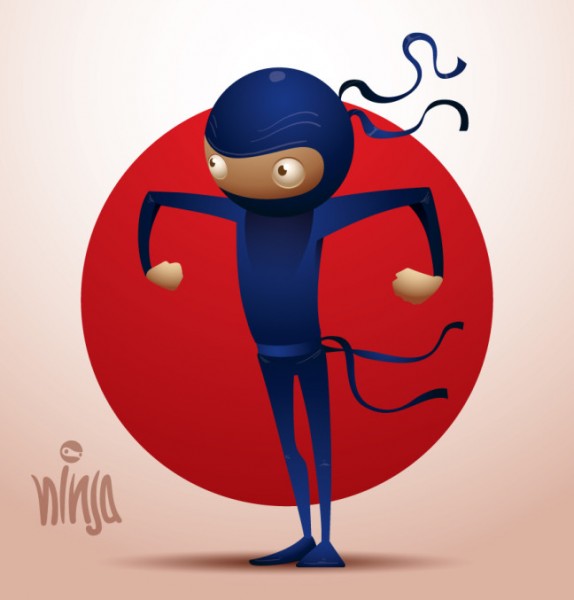 1. Plan Your Work: Work Your Plan:
Take Your Business' Temperature Often: What is it you are doing right? What is not working. Is this client the best for my business? Before you spend months floundering along only to find you left money on the day ( a low paying client, or time wasted on a "fun" project that did not generate income) take a hard look at your business and it's processes monthly. Do you know how much you make a day…on any given day.
2. Remember to Never Forget the Client is #1:
I am not saying to be at their beck-and-call 24/7, but I am saying be available, and be problem-solver. If a client says "I need help with ______" and your response is "sorry, I don't know how to do_____" and leave it at that…EPIC.FAIL.  I prefer to never give my clients a reason to look elsewhere for help. Instead say, "I'll check into it"  and then Google or ask another mompreneur for help and guidance.
3.Multiple Streams of income:
As a VA or freelancer, you are somewhat limited by the number of hours in the day, but there are ways around this. Even when one portion of my business makes me want to snatch myself bald, I know I have several others humming along and makes money. My advice is to cultivate those multiple streams and be prospecting for new clients, affiliate and income even when you are losing-your-mind-busy.
4. Know when to fold 'em and know when to hold 'em: I recently had to step aside from client work with a particular client of mine. The micro=managing was making me insane and I could not ignore the fact my internal gut radar (a.k.a The Shady Meter) clanged loudly every time I worked with the person. To add a degree of difficulty to the situation, it was right before Christmas. I really needed to dig deep, put aside the "but you need to $$" voices in my head and set away gracefully from this client. It was hard. It hurt. BUT, when one door closes=another opens and usually that one is a MUCH better door.
–
Frustrated because maybe you are just starting out with your blog, but you want to earn $$ like the big guys? Here's a super affordable answer to your prayers.
Carol Tice is the creator of Make a Living Writing site and she is a wealth of info. Carol just came out with a new e-book called, Small Blog, BIG INCOME and it is a treasure trove of amazing blogging info that will help small to mid-sized bloggers make money with their site.
In the SMALL BLOG, BIG INCOME ebook, Carol lays out the exact step-by-step formula she used to launch and build her Make a Living Writing blog, which now earns multi-six figures each year.
This ebook is VERY good information for those of us in the blogosphere who have small to modest readerships. And it reinforced the fact that it IS possible to
make money with your blog
even if you are just starting out. SO, if you have a blog, or are toying with the idea of starting one, grab
Small Blog, BIG INCOME
while it's still at the "launch price" of $6.99. Carol has other excellent programs of e-books as well.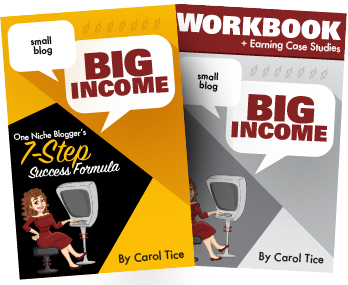 Grab your copy of this ebook during the
launch week sale
ASAP. Even if you are not blogging yet, I'd grab this and keep it handy for future reference. Yeah, it's that good.
Click here
for instant access and start earning ASAP!