**The posts I write might contain affiliate links or be written in collaboration with businesses or brands. Please see my disclosure policy for more information.**
I love perusing Pinterest looking for nuggets of gold in the form of pins that boast new-and-improved ideas on how to pinch a penny until is screams.
Sometimes I find good stuff, most are simply repeats of what I already know. BUT, sometimes being reminded of the things "you already know" is a great way to light a fire under you tail so you actually DO said tips and ideas. But at the end of the day, sometimes the simplest ideas make for the best Work-Arounds For Saving Money.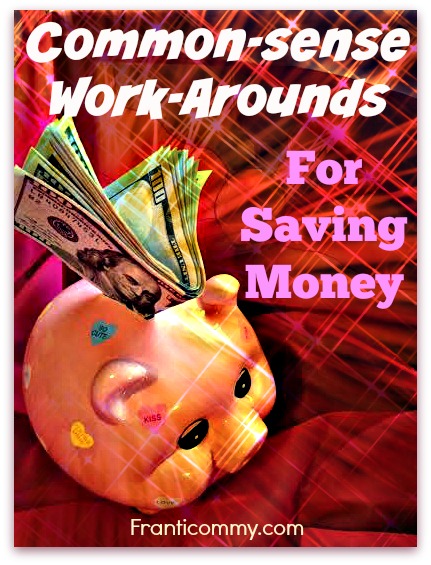 Use "Found Money"- It's the time of year where we are often blessed enough to get surprise gifts on money on the form of bonuses, gifts from rellies and even winnings from contests. These "found money" opps are what I squirrel away to use as I need supplies, advertising or marketing expenses.
Sell So Much Stuff, The Kids Think They are Next– There is nothing wrong with downsizing. I read something once that stated the average family has $1500 worth of un-used and sellable items in their home. I think it's more. I took some of my clothes into a consignment boutique and sold them. We had multiple garage sales, sold items on eBay, reduced monthly bills and got creative with gift buying. I've also had great luck with Facebook Garage Sale Groups for selling unwanted items from around the house.
Diversify Your Income Efforts– Multiple streams of income is a beautiful thing. Besides client work and freelance sales, I have a trickle of income come in from other places. Fiverr is one of my favorite "honey holes" and Zazzle has been a source of income as well. I dabble in affiliate sales too, but I have to admit it's hard to find a good one that pays out consistently. BUT, I am determined to find some! The nice thing about affiliate income is that it is considered "passive" income. Now, by passive I don't mean all "chillax" and lazy, I mean income that comes to you that doesn't actually require you time. Sounds pretty cool, right?
DIY When Ever Possible-I needed business cards not too long ago. I didn't need many, just enough for an event. Typically business cards aren't even in my wheelhouse since so much of the work i do is online as opposed to face-to-face. Not wanting to invest $20+ in something I may never use again, I dug around in my office products stash until I found a sample pack of some Avery business card blanks that I had gotten free at a conference once. Using this freebie, I printed off my own (they weren't half bad either). There are many work-arounds when it comes to fulfilling your business needs and don't rule out trade or barter.
Dust off the Piggy Bank- Yes, piggy banks are for kids but I am, in fact, a big at heart…so THERE. My smiling pink piggy bank was picked up at a thrift shop for a buck and I have tried to be more diligent about "feeding" her every time I find loose change. Even nickles and dimes add up over time and it's money we don't miss if we tuck it away. I'll bet, if you feed your piggy consistently, you will be shocked how fast the money total adds up!
What are some of your favorite money saving work-arounds?