**The posts I write might contain affiliate links or be written in collaboration with businesses or brands. Please see my disclosure policy for more information.**
Monster Slayer by Gladys Barbieri
I "met" Gladys over three years ago during the very first Multicultural Children's Book Day and it's been such am honor to watch her writing career evolve and grow. The first bilingual picture book I read of hers was Pink Fire Trucks-the perfect book for my head-strong daughter!
Gladys' latest book is Monster Slayer and this bilingual picture book is such a sweet and wonderful story.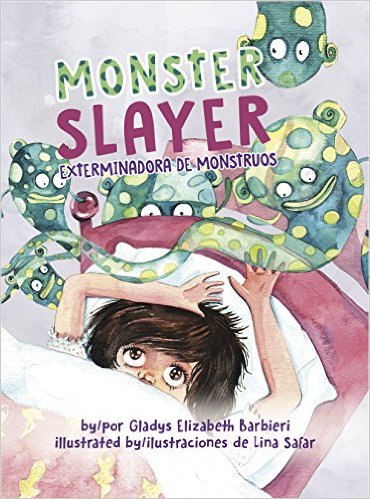 "Spirited Gladys Elizabeth has a big problem – her pesky little sister. But when the monsters come out at night and interrupt her sleep, she realizes she's not up for the challenge. An unlikely ally shows up just in time, and Gladys Elizabeth learns a valuable lesson about the meaning of family."
I have two kids (boy and girl) who are three years apart. Jake (the oldest) views his little sister Sara as the "annoying little sister"…and she earns that title most of the time! BUT, when either one is sick or scared, it's amazing to me how sweet, concerned and considerate they are to each other. I know that, if one of them was in trouble or being picked on, the other would have their back.
Monster Slayer has a sweet, colorful and charming way of showing older siblings just how important they are to the younger ones.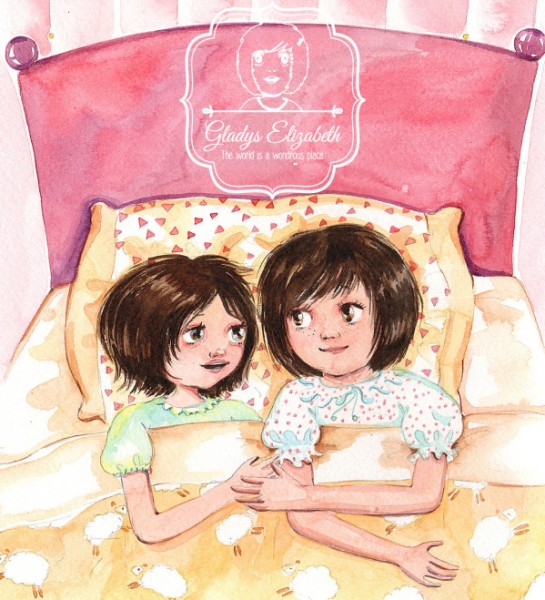 Note from Gladys: Monster Slayer is a story based on my childhood. Growing up, I was not very kind to my little sister. As life presented me with challenges, my little sister was always there to save the day and I don't know what I would do without her. I think it's fitting that this bilingual picture book (English & Spanish) is being recognized as a book that helps teach siblings the importance of family and celebrates the richness of cultural diversity."
Monster Slayer/ Exterminadora de monstruos has been awarded aPurple DragonFly Book Award in two categories: Family Matters & Cultural Diversity – Honorable Mention.
Monster Slayer also comes with full text in both English and Spanish and it's the third book in this series featuring Gladys Elizabeth as a child. Parents and teachers will appreciate this book as a tool for teaching about family relationships, tolerance, and sibling rivalry.
Connect with Gladys via her website or on Facebook.
Happy Reading!
**some of these links are affiliate links