**The posts I write might contain affiliate links or be written in collaboration with businesses or brands. Please see my disclosure policy for more information.**
**some of these links are affiliate links
Picture Books that comfort Kids Dealing with Anxiety
According to the Anxiety and Depression Association of America (ADAA), 40 million Americans over the age of 18 are affected by anxiety — roughly 18 percent of the nation's population.In a nutshell, anxiety is a subjective sense of worry, apprehension, and/or fear. And anxiety has been part of my life for many, many years.
Not the common kind of anxiety like when you know your mom is coming over and your house is trashed. Or the kind when you discover that you checkbook is on fumes and there's still 11 days until payday. The DEEP anxiety. The kind that makes people not want to leave the house because it's too "people-y out there." The kind that makes your head spin when you walk into a room of strange people filled with lots of noise. The kind that makes small talk with strangers difficult. The kind of debilitating anxiety you get when the thought leaving the house, for any reason, darn near gives you runny butt.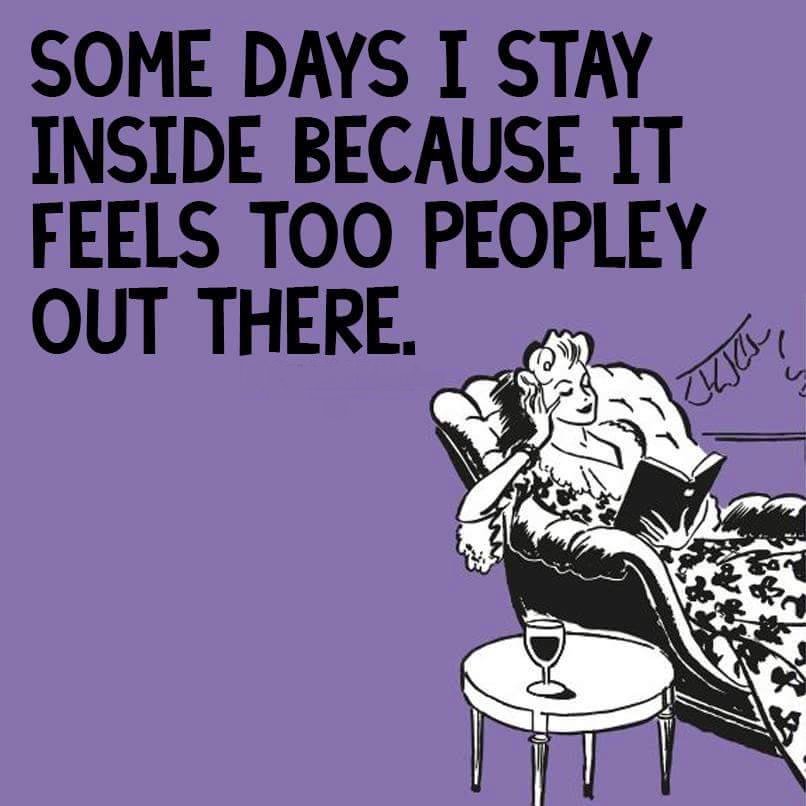 Even when you do "suck it up" and go somewhere, it doesn't take much for the overwhelming "get me outta here!" feeling to take over and send you scuttling back home.
That has been my life for over five decades. No one ever identified the phrase "you have anxiety issues" with me. I just knew it was part of my personal quirks and I spent years keeping all those fears and gut aches quiet. I am 99.9% sure my anxiety has caused me to act stand-offish and odd over the years. That kind of stuff I really don't want to dwell on.
I had even approached the subject my my regular doctor (an older male) several times and was told I simply "needed to get out more." I remember sitting in his office and staring at him while trying to digest his latest blow-off, wondering if I was truly nuts, or he was just clueless on the topic of depression and anxiety. So I consulted with a new doctor ( a woman) and she immediately validated my feelings and prescribed me medication for my anxiety. After taking Celexa for a few weeks, I swear it was like the sun came out.
But I also began to see something else very, very clear. My tween daughter was the carbon copy of me; anxiety and all.
Her social issues and fears that made no sense escalated in the 3rd grade. Her 4th grade year (thanks to a strict teacher who had no patience for challenging kids) was long and painful. Watching her self-esteem dive and her fears rise was heartbreaking. Again, I took the steps needed to get her help because I DID NOT want her to struggle through life for 50 years like I did. This intervention included several things including an IEP assessment,  therapy and a new medication. I am happy to report things are on the upswing. She has even felt confident enough to join an after school club that meets once a month; a first for her.
I was sharing this story with a long-time friend the other day and I remembered she looked at me in a puzzled way and said, "so anxiety in kids is a thing?'
Anxiety in Kids it is a Thing.
Ask any teacher. Ask any therapist. It's also a thing that can be turned around so kids don't have to hide in their bedrooms all summer because they are feeling too insecure to go anywhere. Honestly the first thing you need to do, if your child falls into this category, is to let them know they are not alone. As a advocate for allowing kids to "see themselves in the pages of a book," I've pulled together a kidlit booklist to help kids deal with anxiety. I hope this brings comfort to your home. Enjoy 🙂
But What If?: A book about feeling worried (Our Emotions and Behavior): Daisy's family is moving, and Daisy is very worried. What if she doesn't like her new home? What if her cat runs away? What if her new teacher isn't nice? A conversation with her grandpa helps Daisy learn that many worries don't come true—and if one does, someone will be there to help her solve the problem.
The Our Emotions and Behavior series uses cheerful brightly illustrated stories to help kids understand how their emotions and actions are related—and how they can learn to manage both. At the end of each book, a two-page series of pictures invites kids to tell a story in their own words. A special section for adults suggests discussion questions and ideas for guiding children to talk about their feelings.Click the image to view on Amazon.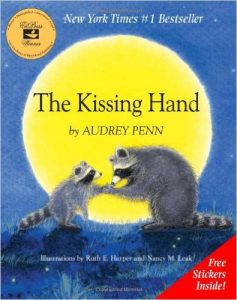 The Kissing Hand: The first day of school jitters is one of the many anxiety-inducing triggers in kids (and moms!) but separation anxiety can strike at any time. Thankfully stories like The Kissing Hand but a fun, sweet and memorable spin on calming a child's fears of being away from mom. "School is starting in the forest, but Chester Raccoon does not want to go. To help ease Chester's fears, Mrs. Raccoon shares a family secret called the Kissing Hand to give him the reassurance of her love any time his world feels a little scary. Since its first publication in 1993, this heartwarming book has become a children's classic that has touched the lives of millions of children and their parents, especially at times of separation, whether starting school, entering daycare, or going to camp. It is widely used by kindergarten teachers on the first day of school. Stickers at the back will help children and their parents keep their Kissing Hand alive." Click the image to view on Amazon.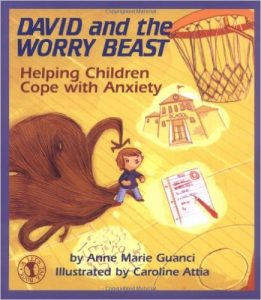 David and the Worry Beast: Learning to deal with anxiety is an important step in a child's healthy emotional growth. Conquering fears, and not avoiding them, is the lesson imparted in this story. David could not stop thinking about the basket he had missed at the end of the big game. He was worried that he might do it again. He was worried that his team mates would be angry with him. He was worried that his parents would not be proud of him. He was also worried about an upcoming math test. In fact, David was worried a lot. "Should I quit the team?" he asked himself. "Should I be sick tomorrow and miss the math test?" Luckily, David finally confided in his parents and school nurse, both of whom gave him support and techniques for controlling the "worry beast" within him. Delightfully illustrated, it focuses on a very real and essential topic. Click the image to view on Amazon.
Wilma Jean the Worry Machine: This fun and humorous book addresses the problem of anxiety in a way that relates to children of all ages. It offers creative strategies for parents and teachers to use that can lessen the severity of anxiety. The goal of the book is to give children the tools needed to feel more in control of their anxiety. For those worries that are not in anyone's control (i.e. the weather,) a worry hat is introduced. A fun read for Wilmas of all ages! Softcover, 32 pages. Click the image to view on Amazon.
Sea Otter Cove]: Introducing relaxation breathing to lower anxiety, decrease stress and control anger while promoting peaceful sleep: Sea Otter Cove is a story that teaches children how to use diaphragmatic breathing to calm down, lower stress, and control anger. Children love to experience belly breathing with the playful sea otters and sea child. This self-calming breathing technique can help your child to self-soothe, relax, and manage anger.
Children love to experience belly breathing with the playful sea otters and sea child. This effective, self-calming technique also known as diaphragmatic breathing or deep breathing can have a positive impact on your child's health. Focused breathing can lower stress and anxiety levels. It can be used to decrease pain and anger. Delightful characters and this easy breathing exercise encourages your child to slow down, relax, and fall asleep peacefully. If you have enjoyed the classic story for younger children entitled A Boy and A Bear, you will love Sea Otter Cove. This story is ideal for older children or those with a longe
r attention span.Sea Otter Cove is also featured on the Indigo Ocean Dreams Audio/CD. It is also available in several eBook formats. Click the image to view on Amazon.
No Matter What by Debi Gliori: I'm grim and grumpy," says Small to Large, "and I don't think you love me at all." But nothing could be further from the truth–and Large knows just how to reassure Small in this warm and tender story about a child's biggest worry and a parent's endless capacity for love. The key message here is the reassurance to kids about a parent's endless capacity for love. For ages 2+. Read Little Parachutes review of this book HERE or Click the image to view on Amazon.
This book translates anxiety from the jargon of psychology into concrete experiences that children can relate to. Children and their parents will understand the biological and emotional components of anxiety responsible for the upsetting symptoms they experience. Please Explain Anxiety to Me, 2nd Edition gives accurate physiological information in child-friendly language. A colorful dinosaur story explains the link between brain and body functioning, followed by practical therapeutic techniques that children can use to help themselves. Age level 3-7. Click the image to view on Amazon.
"What to Do" Guides for Kids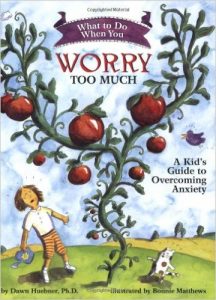 What to Do When You Worry Too Much: A Kid's Guide to Overcoming Anxiety (What to Do Guides for Kids): "What to Do When You Worry Too Much" is an interactive self-help book designed to guide 6-12-year-olds and their parents through the cognitive-behavioral techniques most often used in the treatment of generalized anxiety. Engaging, encouraging, and easy to follow, this book educates, motivates, and empowers children to work towards change. It includes a note to parents by psychologist and author Dawn Huebner, PhD.For ages 8-12. Click the image to view on Amazon.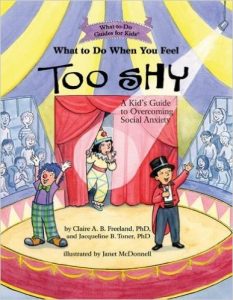 What to Do When You Feel Too Shy: A Kid's Guide to Overcoming Social Anxiety (What-to-Do Guides for Kids): What to Do When You Feel Too Shy is meant to help kids with social phobias and anxiety using an approach based on cognitive-behavioral principles. Through a variety of examples, activities, and step-by-step instructions, middle-grade children will learn how to speak up, participate, and expand their comfort zones. Includes an "Introduction to Parents and Caregivers." For ages 8-12. Click the image to view on Amazon.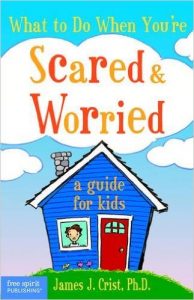 What to Do When You're Scared and Worried: A Guide for Kids: From dread of spiders to panic attacks, kids have worries and fears, just like adults. This is book kids can turn to when they need advice, reassurance, and ideas. They'll find out where fears and worries come from, practice Fear Chasers and Worry Erasers, and learn to seek help for hard-to-handle fears they can't manage on their own. For ages 9-13. Click the image to view on Amazon.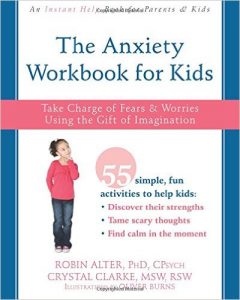 The Anxiety Workbook for Kids: Take Charge of Fears and Worries Using the Gift of Imagination: The Anxiety Workbook for Kids is a fun and unique workbook grounded in evidence-based CBT and designed to help children understand their anxious thoughts within a positive framework—a perspective that will allow kids to see themselves as the highly imaginative individuals they are, and actually appreciate the role imagination plays in their anxiety. With this workbook, children will learn that, just as they are capable of envisioning vivid scenarios that fuel their anxiety, they are capable of using their imagination to move away from anxious thoughts and become the boss of their own worries.
Tips to Keep in Mind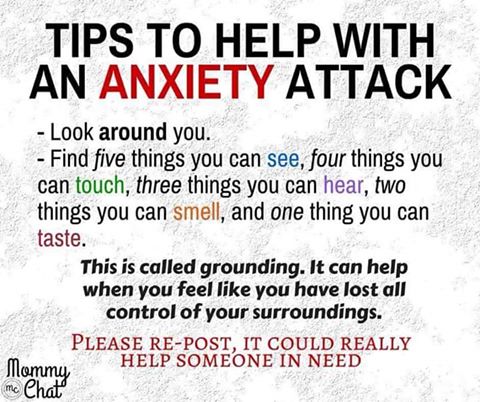 Anxiety Resources: Turn Around Anxiety
A Great Booklist from The Joy of Boys
For Teens


**some of these links are affiliate links