**The posts I write might contain affiliate links or be written in collaboration with businesses or brands. Please see my disclosure policy for more information.**
I've been spending a lot of time fussing lately.
Fussing about one particular client that is starting to wear thin on me. The client AND the work are starting to wear thin on me.
But here's the rub, this client (as prickly as they may be) is also consistent, fast paying (the pay is OK..not crappy, not great either) and decent work. But 3.5 years in, I am starting to get bored and starting to truly feel invisible as far as a team member.
Thus the reason for the fussing.
But I am also wondering what is at the root of this upset. Am I stressing about this client because I have truly outgrown them? Am I fed up with the minor disrespect that gets sent my way? Or have I lost sight of what they truly are: a bread-n-butter client that pays the bills, nothing more…nothing less. Is the control enthusiast in me trying to make this more out of my role with this client than what it really is? Have I just run more course with these folks and it's time to move on to green pastures? These are the times when a crystal ball would be lovely.
I am all for doing work that is fun and exciting, but I also bills to pay and two kids to raise.
What to do….what to do.
I admit I have had fantasies about giving my notice to this client….which were quickly followed by feelings of sheer terror when I thought about this chunk of change going bye-bye every month. So last night, as I lay in bed fretting about this issue for the 167th time this week I decided to ask for help from my Higher Power. And by golly, it WORKED.
As the sun came up and blasted me in the eyeballs this morning the first thought that came to mind was the work I needed (yes NEEDED) to get done for this particular client.
DREAD 🙁
But when I popped open my email, one of the first things I saw in my Inbox was a podcast from the Freelance Writer's Den (oh, how I heart "the Den!") called, HOW TO BALANCE WRITING FOR LOVE AND PAYING THE BILLS from Jennifer Goforth Gregory.
Holy schnickies! Is that for real? An answer to my request for clarity! So I clicked and listened. Thirty minutes later and I can happily say YES, THAT was what I needed to hear. This is what I gleaned from this podcast.
Being a freelancer is amazing and tough all at the same time. It is, without a doubt, business ownership and being the CEO is a blessing and a curse. BUT, you do have choices and the power to mold your business how you see fit. This includes the kind of people you choose to work with. As a freelancer, here are the types of clients to be aware of: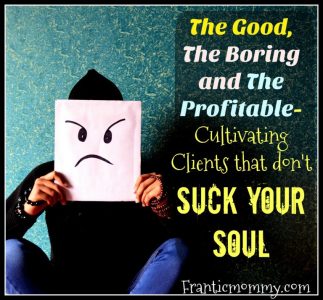 #1-The Client that is a Delight and their work is just as Delightful: If you have any clients in this category, congrats- you are BLESSED. If you have a great client, that pays good (and on time) and the work is super rewarding and fun (I have at least 3 of this kind of clients #Winning :), hang on to them for dear life. BUT, the reality is that probably only about 25% of your customer base will fall into this category.
This reveal via this podcast really lifted the weight of decision from my shoulders along with a ton of other nuggets of gold. Give this podcast a listen HERE.
Cultivating Clients that don't Suck your Soul | Clients to Avoid
#2-The Client is a Delight, but their work is Boring as Heck: Again, this is not horrible and you should count your lucky stars. As long as you are part of a team that is doing good work, and you feel like you are a respected member of this team, then these clients are an asset to your business. I have at least 7 of these clients. Yay me!
#3-The Client is a Troll, but their work is Delightful: Assuming this client pays well and on time, their downside would be that they are the Cruella di Ville of the client world.  I personally can look past a little "troll-y-ness" if the work is enjoyable and fulfilling. And I feel respected at some level.
#4-The Client is a Troll and their work is Drudgery: I have a hard-n-fast rule in my virtual assistant/freelancer life when it comes to clients. The moment I start dreading hearing from them…they gotta go. Also, if these types of clients get mean and abusive, they totally need to hit the road ASAP. I tend to have at least one of these every year and proud to say separating from them were among some of the smartest moves I ever made for my business. These are the clients who are also Boat Anchors. They suck your time, your energy and your soul leaving your exhausted and feeling pretty crappy. If you find yourself with one or more of these, seriously begin an exit plan. If you are worried about a loss of income, just think of the hours you are designating to this client and how that time could be better served directed in more productive and profitable directions.
Cultivating Clients that don't Suck your Soul | Where I am (and What I'm Doing About it)
Where am I i this mix? Somewhere between #3 and #4. Not good, grasshoppa.
Thanks to this podcast, I do have the clarity I want. The reality is that every month (assignment-wise) is different. Sometimes the work is drudgery…sometimes it's fun…but I have certainly noticed a shift towards a more consistent "not fun" theme these last few months. Also, the client is quite high on my Troll Scale as well-not good.
After listening to the above podcast I have decided to make an effort to re-frame my view of this quasi Category 3/4 client. It's amazing how a little attitude adjustment can show things in a different light! My decision at this moment is to work on viewing this client not as who they are, but for what they do and how they offer amazing opportunities for business and people to have the spotlight shined on them. I like being about to share the journeys of amazing people and this job has put me in the position of interviewing many, many people who inspired me and make me a better me. THAT is what I choose to focus on for the moment.
I plan to work this Re-frame my Thinking Plan for a few months to see if my view changes and if the dread factor fades. If not, I will see it as a sign that it's time for me to hand this opportunity off to someone else who is just starting out like I was 3.5 years ago. In the meantime, I also plan prospect for something more rewarding and lucrative in the meantime because that is what I need to do to move my business forward. #BetterWorkforBetterClients.
What do you think of this hypothesis? Thoughts?
Now go forth and be FABULOUS.
ONE MORE THING! Grab this freebie too!
Tons of "getting started" info from what kind of gear will you need to where are the best places to find clients. Did I mention it was free?
Best of luck to you on your new quest!