**The posts I write might contain affiliate links or be written in collaboration with businesses or brands. Please see my disclosure policy for more information.**
On April 22, people all over the world will March for Science. Will you be one?
At first, I was a little puzzled why anyone would be marching for this. Was it a protest?
Then the more I read, the more I was intrigued. Basically, #ScienceMarch is held across the US on Earth Day as a way to show support for science-based policy, climate change, clean water, and air and healthcare. To date, there are over 514 of these marches scheduled in the USA.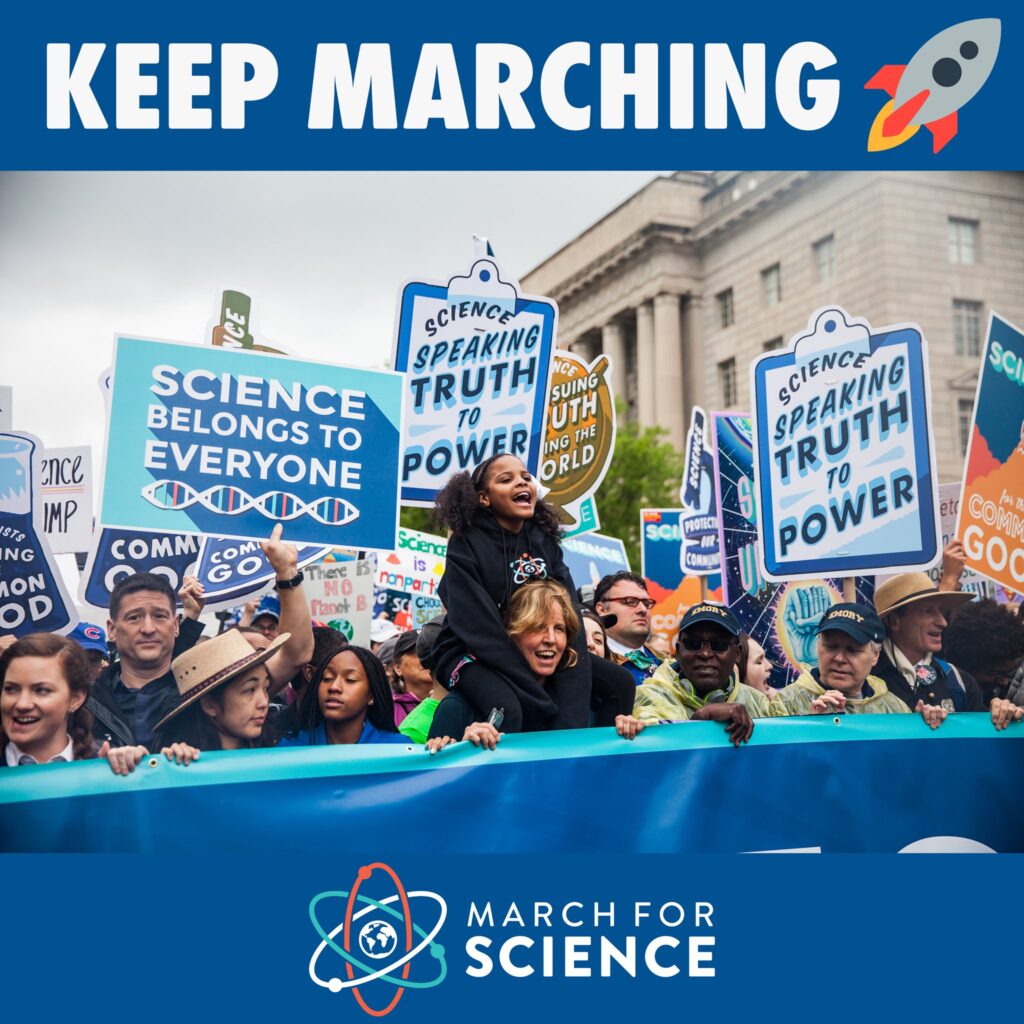 Why
Science, scientists, and evidence-based policymaking are under attack. Budget cuts, censorship of researchers, disappearing datasets, and threats to dismantle government agencies harm us all, putting our health, food, air, water, climate, and jobs at risk. It is time for people who support science to take a public stand and be counted.
The March for Science is the first step of a global movement to defend the vital role science plays in our health, safety, economies, and governments.
How
We are building a broad, nonpartisan, and diverse coalition of organizations and individuals who stand up for science. We are advocating for evidence-based policymaking, science education, research funding, and inclusive and accessible science. All with your support!*
People who value science. Science advocates, science educators, scientists, and concerned citizens. More than 170 partner organizations and counting. And you!
I am seriously thinking about doing this one. What a great topic and cause! (scroll down for a printable marching poster!)
In the meantime, I really want to shine the spotlight on kids' books that applaud and honor the many great women scientists we have in our National and Global history. I am reading a new book from a new author that has really tugged at my heart. Bat Count: A Citizen Science Story by Anna Forrester is about a young girl named Jojo who is helping her family track and study bats.
Jojo is prepping for an exciting night; it's time for the bat count! Bats have always been a welcome presence during the summers in the family barn. But over the years, the numbers have dwindled as many bats in the area caught white-nose syndrome. Jojo and her family count the bats and send the numbers to scientists who study bats, to see if the bat population can recover. On a summer evening, the family quietly makes their way to the lawn to watch the sky and count the visitors to their farm.

We are going to South Dakota this summer and will be exploring Winds Cave and the Jewel Cave. There are very specific precautions visitors need to take to protect the bat population from white-nose disease. Bats are so important to our environment! I highly recommend Bat Count. Great story, great topic and I love that it is also multicultural.
Here are some more booklists from other awesome bloggers who share a ton of great women-in-science-related book titles for kids.
I Love,Love, LOVE these free downloadable posters from artist Mary Engelbreit!
"FREE DOWNLOAD for you! Download my Science March art below to make your protest signs, t-shirts, totes, whatever you need to help you make it through the march. Use this as your "permission slip" if you're working with a printing company. Have fun! Exercise your power! Never, ever, ever give up!
— Mary Engelbreit