**The posts I write might contain affiliate links or be written in collaboration with businesses or brands. Please see my disclosure policy for more information.**
How to market books, build a platform and get our work in front of potential buyers is always an ongoing….journey for any author. The list of marketing ideas that can lead to book sales is a long one, but leveraging social media is still somewhere towards the TOP of the list. Some channels are more effective than others and authors should think about where their ideal reader might be hanging out. If your goal is to get your brand and work in front of a female demographic made up of parents, book reviewers, bloggers, publishers and teachers, INSTAGRAM is a channel you are going to want to invest some time in.
In a nutshell, Instagram is a cool free photo sharing service that works with Apple iOS and Android devices. It allows you to take photos that are reminiscent of Polaroid pictures with some unique lighting effect. You can share photos with friends on Instagram and post them to other social media sites. They boast of 700+ million users and with its acquisition by Facebook, it's expected that those numbers will continue to grow.
Like Pinterest, Instagram is very much about sharing pictures-snapshots of your life so-to-speak. Like on Facebook and Twitter, hashtags are used to accompany photos shared on Instagram. And also like on other social media platforms, using relevant hashtags is the best way to discover new accounts and pick up followers. A user can also find out what hashtags are hot and trending by checking out sites like Hashtag.org, Chandler Bolt's Self Publishing School Social Media for Authors, and TopHashtags.com. Unlike Pinterest, Instagram is very hashtag-driven and it's a great way to comment, like ("heart") and search for similar topics via the hashtag.
Now I've been told that 30 hashtags are normal….to me that sounds EXTREME. However, I think including 10-15 is not a bad idea.
Curious which hashtags are best for authors? Lucky for you MixtusMedia has a killer list of 130 of the Best Hashtags for Authors to Use on Instagram. And it's free. #winning
Here's another handy Insta-Hack: Have multiple accounts ( a business and a personal one, or in my case, a business one and a non-profit one) and you are sick of signing out and signing back in? Me too. BUT, Hootsuite.com had an AMAZE-BALLS work around that is so ridiculously simple that I wish I would have discovered it sooner:
How to do it on Instagram:
Tap on the person icon at the bottom of the screen to visit your profile
Tap the gear icon on iOS or the three dots on Android to go to Options
Scroll to the bottom and select Add Account
Enter the username and password for the second account you'd like to manage
Once you've added a second (or third or fourth) account, the profile icon in the navigation bar will change from the silhouette of a person to your profile image
To switch between accounts, simply long press your profile image in the navigation bar until a menu of your accounts appears
Select your desired account, then snap, scroll, and like away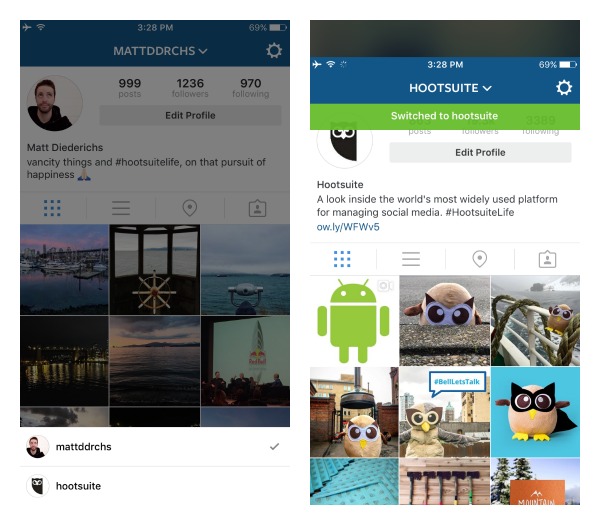 Read the whole info-packed article here:
Instagram Hacks: 31 Tricks and Features You Probably Didn't Know About
People use Instagram for a variety of reasons-some for business, some use it to support a cause and others use it just for the pure fun of it. Those using it casually sometimes also utilize the option of keeping their account and posts private. I imagine this is a way for them to be selective on whose information is showing up in their stream. If you try to follow someone with a private account you will see a "requested" tag come up and you won't be connected to that person until they accept your follow request (which may or may not happen).
I would say that, if you are using Instagram for business purposes or to promote a book DON'T choose a private account. Social media is meant to be that-SOCIAL. To me, nothing screams "go away!" faster than someone who makes me work for a connection to them (just my humble opinion).
So lets back up a little. Say you are just getting started on Instagram. My best piece of advice is make your "handle" or profile name make sense in conjunction to your business or book. As an author, I truly think would be better to set up an account under your name rather than your book title. Using "Author Becky Flansburg" as an account name has a lot for potential than using my book title The Gecko who was Ridiculously Naughty (this is TOTALLY made up, by the way…even though my gecko does tend to be naughty) because, what if I write another book that has nothing to do with naughty geckos? Get my drift?
Instagram Dos and Don'ts for Business
Instagram is a great place to share photos with friends and family. I also strongly suggest using Instagram to build your brand and communicate with your clients.
DO explore Instagram's Filters: Instagram has a bunch (around 20) of fun filters that users can use to add shading, drama or interesting effects to their photos. My personal favorites are
DO post regularly. Use Hootsuite to schedule and post pics to your feed.
DO include the link to your blog, website, Goodreads profile, Amazon link in your Instagram profile. You can share images relevant to your cause and let followers know you have a "Link in profile" to access latest blog posts right within your update.
DO tag the location of your image so others can find your account! (But be safe – don't tag your home!)
DO follow users in your industry or niche and comment on their posts.
DO share details of your business, books, services….BUT mix it up as well. Show photos of your life, leisure time, vacations, family and pets.
DON'T'S
DON'T forget that primarily your Instagram must be curated to reflect your brand and business. Ten selfies in a row of your new hat isn't going cut it.
DON'T post more than 3-4x a day. And put some time/space in between your photos
DON'T forget to add a caption to every post. Users need to know the story and the reason behind what you are sharing.
Don't forget to add a url in your profile since links are not clickable on Instagram. Be sure remind your followers that there is a "link in my profile" so they can gravitate to your site to get deeper details about you or your info.
Who uses Instagram
It's no secret that Pew Research Center has the most reliable facts among U.S. users of social media. I eyeball their reports pretty regularily when I doing freelance writing articles. Their latest report, released in the latter part of 2016, revealed some pretty eye-opening stats on Instagram: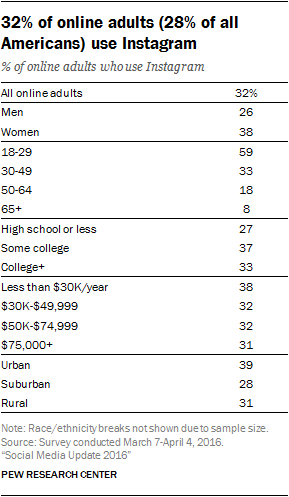 32% of internet users (28% of all U.S. adults) use Instagram.
Instagram usage is especially high among young adults. An estimated 6 in 10 (59%) of online adults ages 18 – 29 use Instagram.
33% of 30- to 49-year-olds use Instagram.
Female internet users are more likely to take a shine to this platform than men, 38% to 26%, respectively.
One of my biggest caveat to users of Instagram is to find that balance of showing followers snapshots of you as a person and sharing info that gives them insight as to your career. I love Instagram but realized I was posting A LOT of Minnesota sunset pics. That's great…if I was trying to position myself as a photographer. One of my many social media goals this year is to make a mindful shift to sharing more of what my brand is about and post more about what is in alignment with my biz, goals and what I want to be known for.
Not all businesses can benefit from a tool like Instagram, but if your business regularly uses images to share information about your products and services, this free tool may be worth another look. Instagram is yet another way to share your business activities and milestones with your potential customers in a streamlined, trendy and non-cumbersome way.
Instagram is a fun tool for sharing your photos and helps you create some very attractive photos with your device, even if you're not a great photographer. Get on and start sharing!
Give your business a boost and a jumpstart into 2019!
The Jumpstart 2019 Biz Bundle is full of awesome resources to help you grow your biz, and the perfect opportunity to learn something new!
Hosted by Crissy Herron of IndieBizChicks.com, this bundle is a partnership between online business owners and experts in their field.
For a limited time, you can get 30 full size, awesome digital products – for just $27!
The value of this bundle is over $1,450!
Whether you are looking for help with managing your biz, learning social media strategies, need pre-written content, or something in between, there is something in this bundle for everyone!
This bundle will only be available to purchase through December 5th!
Grab your Bundle or Get the Scoop HERE.