**The posts I write might contain affiliate links or be written in collaboration with businesses or brands. Please see my disclosure policy for more information.**
**Shared with permission from Essentia Health of Brainerd
It may seem like a simple concept, but washing your hands really is one of the best ways to stay healthy.  According to the Centers for Disease Control (CDC), handwashing reduces the number of diarrhea cases by a third, and the number of colds and other respiratory illnesses by 20 percent.  May 5 is World Hand Hygiene Day and Essentia Health is using this time to spread the word about not spreading germs.
"Good hand hygiene is really being aware that we can transmit infectious germs on our hands and that we carry them around with us," says Dr. Kevin Stephan, an infectious disease specialist at Essentia Health. "Hand hygiene provides a means to get those germs off your hands.  There are several ways to do that, including an alcohol-based handwashing rub or old-fashioned soap and water. The key is to do it properly and to do it at the proper times."
You should always wash your hands before, during, and after preparing and eating food.  If you care for someone who is sick or are treating a wound, wash your hands first.  After changing diapers, using the bathroom or blowing your nose, it's time to lather up or sanitize.  And it is good hygiene to wash your hands after petting an animal, cleaning up animal waste, or handling pet food.  Don't forget to sanitize after touching or taking out your garbage as well.
Effective handwashing involves five simple and effective steps:
Wet
Lather
Scrub
Rinse
Dry
Dr. Stephan adds many places people commonly miss include their thumbs, the webs between their fingers, nail beds and around jewelry.
Please encourage your family to use good hand hygiene habits. Consider these tips:
Put a nail brush next to your sink
Remind yourself and others to wash carefully around nails and between the fingers
Show children how to properly wash their hands and remind them to wash after going to the bathroom, before eating and after playing with pets
Use an antibiotic wipe on shared surfaces of your home regularly, including your cell phone, computer mouse, and television remote
The CDC also has some great resources and science to back up healthy hand hygiene at this link: https://www.cdc.gov/handwashing/index.html
There are so many good books on positive kids' books out there on healthy hygiene habits (American Girls has a whole series for girls on caring for growing bodies). This book really caught my eye because of the multicultural characters-Germs Are Not for Sharing.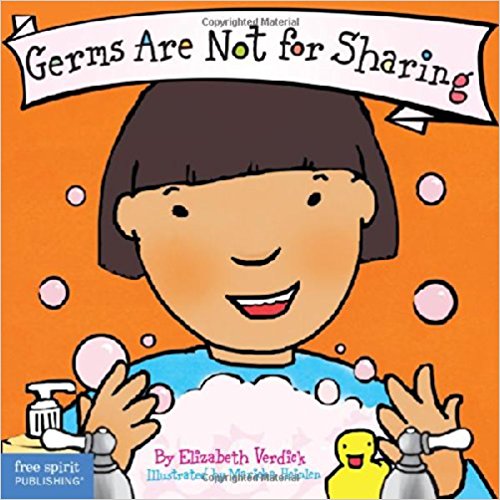 Achoo! Cough! F-L-U-S-H! What to do? In childcare, in preschool, at home, and everywhere, toddlers need to learn that germs are not for sharing. Rather than focus on what germs are, this book teaches the basics of not spreading them: Cover up a sneeze or cough. Hug or blow kisses when you're sick. And most of all, wash your hands! Child-friendly words and full-color illustrations help little ones stay clean and healthy. Includes tips and ideas for parents and caregivers.
Author Elizabeth Verdick has a whole  Best Behavior Series that has great topics and have awesome multicultural representations. Good stuff.


Stay clean my friends!
**This post may contain affiliate links. Read my disclosure for more info.
**Franticmommy was compensated for this post