**The posts I write might contain affiliate links or be written in collaboration with businesses or brands. Please see my disclosure policy for more information.**
"Empowerment of and investment in girls are key in breaking the cycle of discrimination and violence and in promoting and protecting the full and effective enjoyment of their human rights"-United Nations Resolution 66/170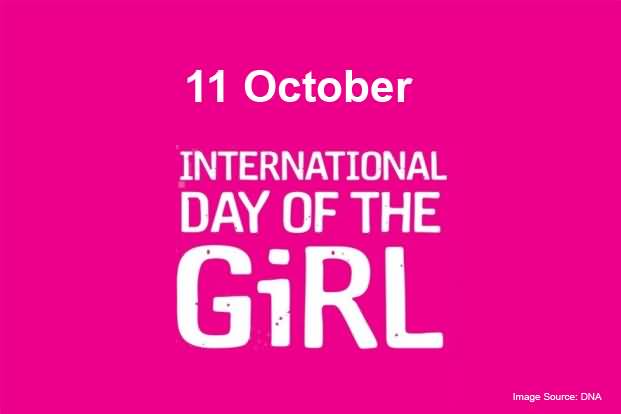 In 2011, as the result of youth advocacy around the world, the United Nations declared October 11 as the International Day of the Girl Child. Its mission is "to help galvanize worldwide enthusiasm for goals to better girls' lives, providing an opportunity for them to show leadership and reach their full potential." It's a day when activist groups come together under the same goal to highlight, discuss, and take action to advance rights and opportunities for girls everywhere.
Day of the Girl-US is the United States branch of this global movement. We are an 100% youth-led movement fighting for gender justice and youth rights. Our work to dismantle the patriarchy and fight for social justice is rooted in girl-led activism across the country, using October 11th as a day of national action.
October 11 is not just a day; it's a movement.

I am SUPER-stoked that more and more of books these days and rising up and using their reach and imagery to let girls know they are amazing, strong and valued. Here are some gorgeous Multicultural Picture Books that Empower Girls, and also have excellent "girl power" messages, that I have come across lately. Enjoy!
Multicultural Picture Books that Empower Girls
Shelly Bean the Sports Queen by Shelly Boyum-Breen: Shelly Bean the Sports Queen, a children's book series (ages 3-8) about a tough, loveable little girl who loves to learn new sports. Shelly Bean isn't a typical queen – she's a SPORTS queen and after struggling and working hard to learn her new sport with the support of friends and family, she rewards herself with a new charm for her crown. Author Shelly Boyum-Breen (a fellow Minnesotan and older sister of a classmate of mine!) created this book series to provide children with an athletic, female lead character (less than 1% of children's books annually have such a character). The characters do not fit typical gender roles and offer diversity racially and ability-wise.  What I also admire about the author is that she has made a career out of traveling to schools supporting Minnesota girls' participation in sports and fitness. (click the book title to view details on Amazon)
Ahni and Her Dancing Secret- Shereen Rahmin: "A young girl learns how to conquer her fears, have confidence in herself and become successful."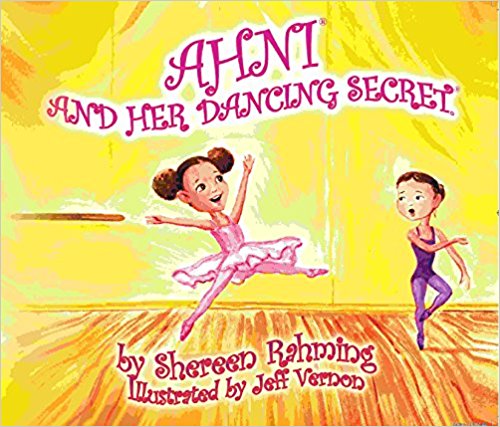 Ahni dreams of being a prima ballerina so she joins Madam Sabina's dance school. But her spirit is soon broken when she discovers that the other students are far more advanced than she is and not as friendly as she expected. This charming story depicts the journey of little Ahni from an unsure hopeful to a confident dancer, by discovering the secret to success with the help of wise Madam Sabina. (click the book title to view details on Amazon)
Beautiful by Stacy McAnulty: Every girl is unique, talented, and lovable. . . .Every girl is BEAUTIFUL.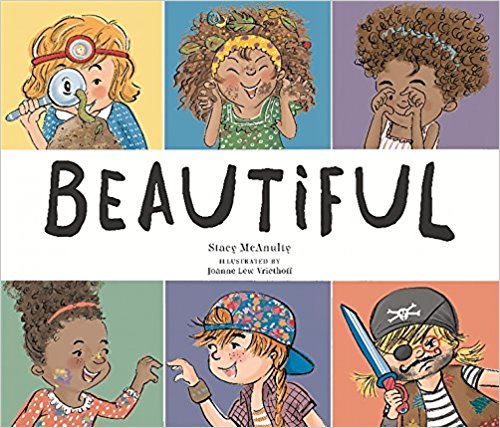 Much more than how one looks on the outside, true beauty is found in conquering challenges, showing kindness, and spreading contagious laughter. Beautiful girls are empowered and smart and strong! BEAUTIFUL breaks barriers by showing girls free to be themselves: splashing in mud, conducting science experiments, and reading books under a flashlight with friends. This book will encourage all girls to embrace who they are and realize their endless potential. (click the book title to view details on Amazon)
P.S. I ADORE Stacy's books and the next one is no exception.
Brave by Stacy McAnulty: Like superheroes, brave kids can save the world, just by being brave.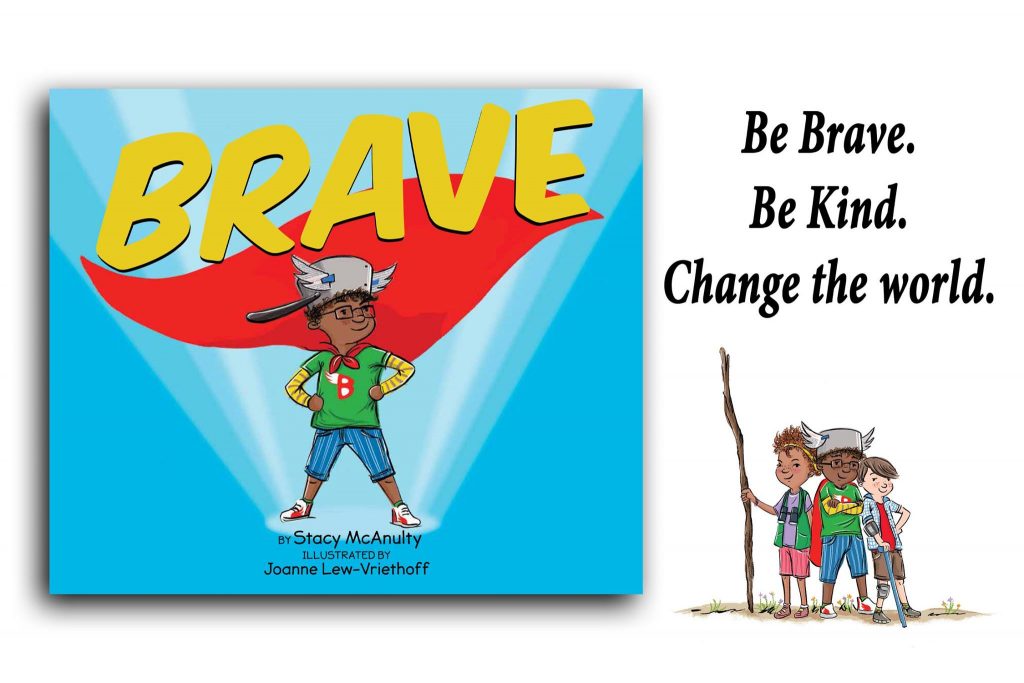 An empowering picture book for all kids that demonstrates to children that they can be real-life superheroes and that all kids have what it takes to be brave. Kids are brave every day. When they are told they are too little, but accomplish something big. When they check for monsters under the bed, just in case. When they face something uncertain, whether a thunderstorm or a hospital visit. When they stand up for what's right, even when it means facing consequences. (click the book title to view details on Amazon)
She Persisted by Chelsea Clinton: Chelsea Clinton introduces tiny feminists, mini activists and little kids who are ready to take on the world to thirteen inspirational women who never took no for an answer, and who always, inevitably and without fail, persisted.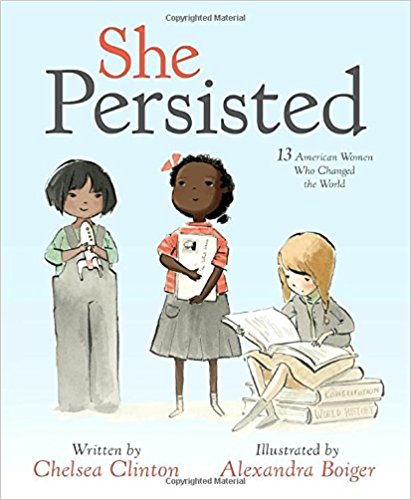 Throughout American history, there have always been women who have spoken out for what's right, even when they have to fight to be heard. In early 2017, Senator Elizabeth Warren's refusal to be silenced in the Senate inspired a spontaneous celebration of women who persevered in the face of adversity. In this book, Chelsea Clinton celebrates thirteen American women who helped shape our country through their tenacity, sometimes through speaking out, sometimes by staying seated, sometimes by captivating an audience. They all certainly persisted.
P.S. I really want to get my hands on this book! It looks wonderful!
I am Beautiful: When I Look at Me, I See… Simone DE Costa: An inspirational book that aims to empower young black girls. It liberates them to believe that they too are beautiful despite society s notion of what beauty is. In an era where the popular idealistic images of beauty are based on the Western World s realism of beauty, it illustrates that beauty begins with knowing who you are, believing it and accepting yourself as you are.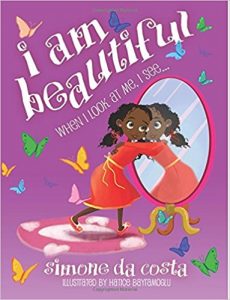 Lou Lou Mae's Badge of Courage by Kinjatta Dobbins
Any book that shares a positive mindset on an otherwise challenging situation is a winner in my world. It's also very hard to find picture books that reveal characters with disabilities. Lou Lou Mae needs to wear an eye patch, but she's sure people will stare. The strong-willed little girl decides she doesn't need to wear the patch because being blind in her left eye has never stopped her before. But Lou Lou Mae is determined to make her parents and her doctor happy, so she decides to give her eye patch a makeover. But does she have the courage to wear it in public? Might an unexpected encounter with a classroom visitor help Lou Lou Mae overcome her fear? This story empowers children to work through their specific experiences with physical and emotional challenges. Lou Lou Mae's Badge of Courage is a story for all ages.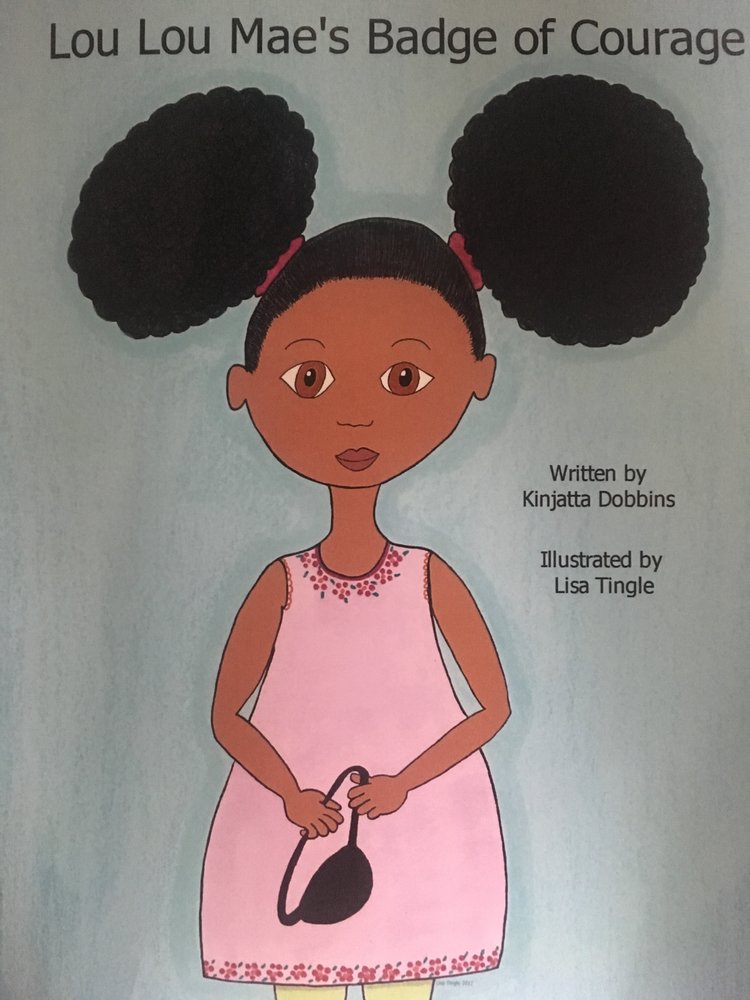 I Am Sacagawea by Brad Meltzer: This book series came across my radar in 2016 when I was lucky enough to briefly work with Brad for Multicultural Children's Book Day. His whole Ordinary People Change The World Collection strikes a wonderful balance between information and inspiration and sends a strong message to kids about the importance of determination in achieving your goals. I also appreciate that the common theme in all of this series is a focus on the traits that made our heroes great — the traits that kids can aspire to in order to live heroically themselves. Each book tells the story of one of America's icons in a lively, conversational way that works well for the youngest nonfiction readers. It's a great way to show how any person can be a hero.
Sacagawea was the only girl, and the only Native American, to join Lewis and Clark's Corps of Discovery, which explored the United States from the Mississippi River all the way to the Pacific Ocean in the early 1800s. As a translator, she helped the team communicate with members of the Shoshone tribe across the continent, carrying her child on her back the whole way. By the time the expedition arrived at the west coast, Sacagawea had proved that she truly was a trailblazer.
I Like Myself! by Karen Beaumont: In this cheery and high energy ode to the self esteem and spunk of one little girl knows that, no matter what she does, where she goes, or what other people think, she is special because "I'm ME!" I wish all kids could embrace their individuality and love the skin that their in. Heck, even most adults (::raises hand::) struggle with that one.David Catrow's vibrant and hilarious illustrations provide a confident girl of color as a role model, while Karen Beaumont's rhyming text makes for a great read-aloud.
Diverse Children's Book Reviewers -We need you for MCCBD 2018!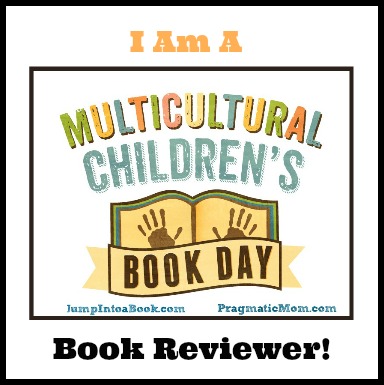 Are you interested in receiving a FREE multicultural children's book to review for MCCBD 2018?
If the answer is a resounding YES, Multicultural Children's Book Day need YOU to review and write about a diverse kids' book and share it on your blog or social media platforms like Instagram, Facebook and YouTube.
In a nutshell; you don't have to be a blogger to review multicultural children's books for the MCBD 2018 holiday! You just need to have a love of diversity in children's literature and be willing to share on your social media platforms such as Facebook, Instagram, or YouTube. Just pick one of these three social media platforms that you are most comfortable on and post your review for everyone to read and enjoy there. When signing up to be one of our book reviewers simply indicate which platform(s) you plan to post your review on in the "blog URL" space on the below Google sign up form that can be found HERE.