**The posts I write might contain affiliate links or be written in collaboration with businesses or brands. Please see my disclosure policy for more information.**
Guest post from Author Shelly Boyum-Breen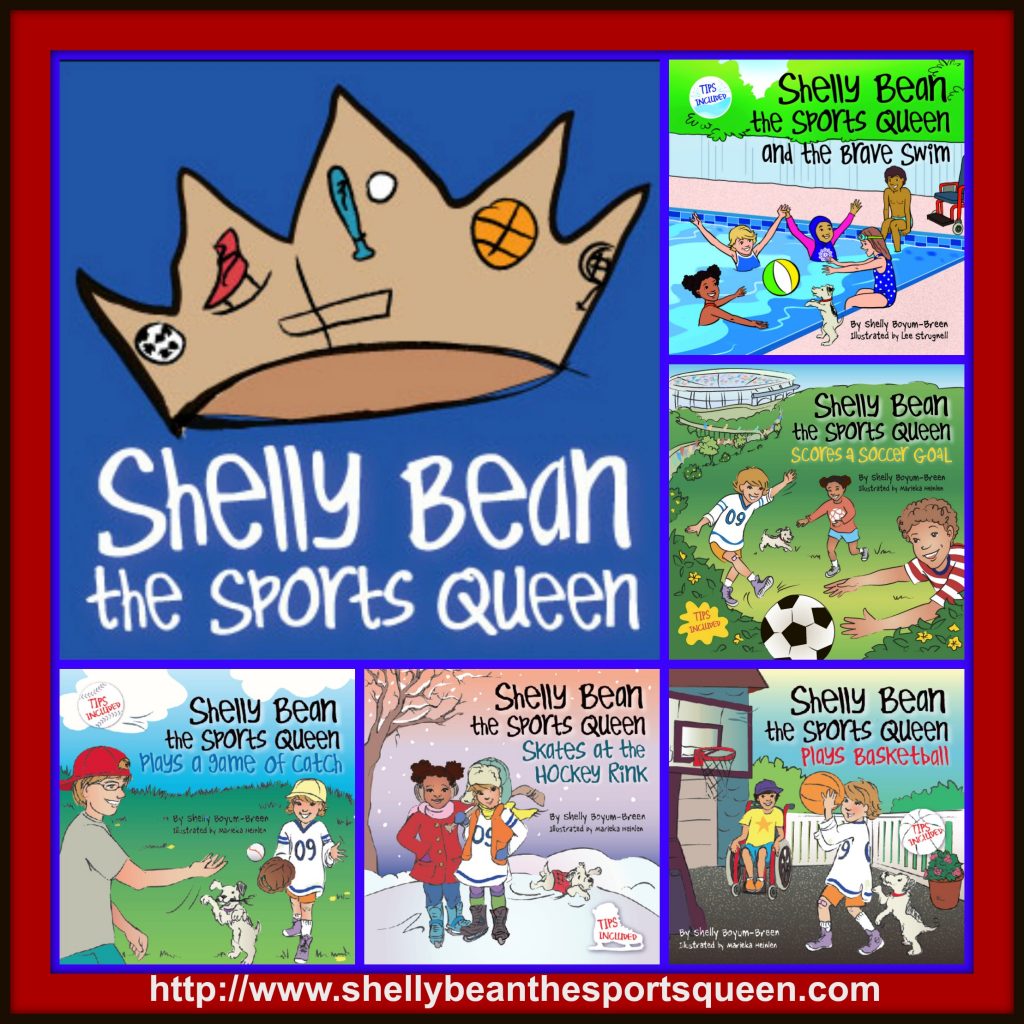 When I was in elementary school, I vividly remember the Scholastic book order form and the excitement I had to put in an order. As the only girl in my class that played sports, I, like the most of the boys, gravitated to books about the football, hockey, and basketball. But never in the choices listed was there one about girls playing sports – no one who looked like me. But I did play and continue to throughout my life.
Thirty years later, I was starting a non-profit to fund female athletes in Minnesota while also substitute teaching in a 5th-grade classroom. There, I came across a scholastic book order form and wondered to myself 'what books are out there now?' Once again, all of them featuring boys but still no girls playing sports. That was when the character of Shelly Bean was born.
I was born in 1974, two years after Title IX and one year after Billie Jean King beat Bobby Riggs. Since that time, girls' participation in sports has grown to an all-time high but the books they read and the dolls they play with still represent princesses.
Shelly Bean the Sports Queen is a product of a new generation where being a "jock" is not only acceptable for girls but encouraged. Illustrator Marieka Heinlen captures the spirit of Shelly Bean. In each story, she and her friends learn how to play a new sport and parents can utilize the instructional and safety tips at the back of each book as well.
Shelly Bean is a sporty, dirty knee little girl with a "can-do" spirit. It might take falling down, getting hurt and getting back up but Shelly Bean is determined to learn new sports and be great. After watching an event on TV or seeing other kids in the neighborhood, she gets it in her mind that it is her time to play and to reward herself each time she's successful, she creates a new sports charm to put on her crown like a jewel of accomplishment.
Becky's Notes:
Shelly Bean the Sports Queen is one of the many awesome books being offered to reviewers for Multicultural Children's Book Day 2018. I personally love the fact that Shelly Bean owns the fact that not all girls are into dresses and tiaras. Shelly Bean stands up for what she believes and honors who she truly is.
Author Bio:
A native of Brainerd, MN, Shelly Boyum-Breen grew up with aspirations of playing professional sports. She spent countless hours on the basketball court, neighborhood hockey rinks and local golf courses. With a foundation of support from family, friends and the community, Shelly pursued a career as a physical education teacher and coach. Boyum-Breen received her B.A. from Augsburg College in Minneapolis, MN in 1997.   She spent five years in the education field, coaching the Augsburg Women's Basketball Team and Anoka High School's basketball and tennis teams. Boyum-Breen then pursued a job with the Minnesota Timberwolves and Lynx organization. Shelly served with the organization for three years and later moved into a sales consulting role serving the Lynx, the New York Liberty, and the 10th Anniversary WNBA All-Star Game at Madison Square Garden.
Boyum-Breen is the Founder and past-President of Foundation IX, a non-profit increasing the rate of girls' participation in sports and fitness, who dissolved upon the merge with the Ann Bancroft Foundation. "Sports helped pave my path in life, building my character as well as my leadership skills along the way. No young lady should be prevented from experiencing these things because of her family's financial situation. It is my dream to eliminate cost as an obstacle and give girls more than money- the opportunity for experiences of a lifetime. It is an honor to work for girls in sports, and to continue the work that many have done long before me in the name of girls and women in sports."
Connect with Shelly via her website, Instagram, Twitter, Facebook,
Multicultural Children's Book Day 2017 (1/27/18) is in its 5th year and was founded by Valarie Budayr from Jump Into A Book and Mia Wenjen from PragmaticMom. Our mission is to raise awareness of the ongoing need to include kids' books that celebrate diversity in home and school bookshelves while also working diligently to get more of these types of books into the hands of young readers, parents and educators.
Current Sponsors:  MCBD 2018 is honored to have some amazing Sponsors on board.
2018 MCBD Medallion Sponsors
HONORARY: Children's Book Council, Junior Library Guild
PLATINUM:Scholastic Book Clubs
GOLD:Audrey Press, Candlewick Press, Loving Lion Books, Second Story Press, Star Bright Books, Worldwide Buddies
SILVER:Capstone Publishing, Author Charlotte Riggle, Child's Play USA, KidLit TV, Pack-n-Go Girls, Plum Street Press
BRONZE: Barefoot Books, Carole P. Roman, Charlesbridge Publishing, Dr. Crystal Bowe, Gokul! World, Green Kids Club, Gwen Jackson, Jacqueline Woodson, Juan J. Guerra, Language Lizard, Lee & Low Books, RhymeTime Storybooks, Sanya Whittaker Gragg, TimTimTom Books, WaterBrook & Multnomah, Wisdom Tales Press
2018 Author Sponsors
Honorary Author Sponsors: Author/Illustrator Aram Kim and Author/Illustrator Juana Medina
Author Janet Balletta, Author Susan Bernardo,  Author Carmen Bernier-Grand, Author Tasheba Berry-McLaren and Space2Launch, Bollywood Groove Books, Author Anne Broyles,  Author Kathleen Burkinshaw, Author Eugenia Chu, Author Lesa Cline-Ransome, Author Medeia Cohan and Shade 7 Publishing, Desi Babies, Author Dani Dixon and Tumble Creek Press, Author Judy Dodge Cummings, Author D.G. Driver, Author Nicole Fenner and Sister Girl Publishing, Debbi Michiko Florence, Author Josh Funk, Author Maria Gianferrari, Author Daphnie Glenn, Globe Smart Kids, Author Kimberly Gordon Biddle, Author Quentin Holmes, Author Esther Iverem, Jennifer Joseph: Alphabet Oddities, Author Kizzie Jones, Author Faith L Justice , Author P.J. LaRue and MysticPrincesses.com, Author Karen Leggett Abouraya, Author Sylvia Liu, Author Sherri Maret, Author Melissa Martin Ph.D., Author Lesli Mitchell, Pinky Mukhi and We Are One, Author Miranda Paul, Author Carlotta Penn, Real Dads Read, Greg Ransom, Author Sandra L. Richards, RealMVPKids Author Andrea Scott, Alva Sachs and Three Wishes Publishing, Shelly Bean the Sports Queen,  Author Sarah Stevenson, Author Gayle H. Swift Author Elsa Takaoka, Author Christine Taylor-Butler, Nicholette Thomas and  MFL Publishing  Author Andrea Y. Wang, Author Jane Whittingham  Author Natasha Yim
We'd like to also give a shout-out to MCBD's impressive CoHost Team who not only hosts the book review link-up on celebration day, but who also works tirelessly to spread the word of this event. View our CoHosts HERE.
TWITTER PARTY Sponsored by Scholastic Book Clubs: MCBD's super-popular (and crazy-fun) annual Twitter Party will be held 1/27/18 at 9:00pm.
Join the conversation and win one of 12-5 book bundles and one Grand Prize Book Bundle (12 books) that will be given away at the party! http://multiculturalchildrensbookday.com/twitter-party-great-conversations-fun-prizes-chance-readyourworld-1-27-18/
Free Multicultural Books for Teachers: http://bit.ly/1kGZrta
Free Empathy Classroom Kit for Homeschoolers, Organizations, Librarians and Educators: http://multiculturalchildrensbookday.com/teacher-classroom-empathy-kit/
Hashtag: Don't forget to connect with us on social media and be sure and look for/use our official hashtag #ReadYourWorld.