**The posts I write might contain affiliate links or be written in collaboration with businesses or brands. Please see my disclosure policy for more information.**
Brainerd Lakes Bicycle Safety Clinic and Pequot Lakes PTA Bike Rodeo May 19
Teach, Test, and Reward bike safety
Children and their parents are invited to attend one of the two local bike events on Saturday, May 19. Both events are open to riders of all ages free of charge. Don't forget to bring your bike and helmet!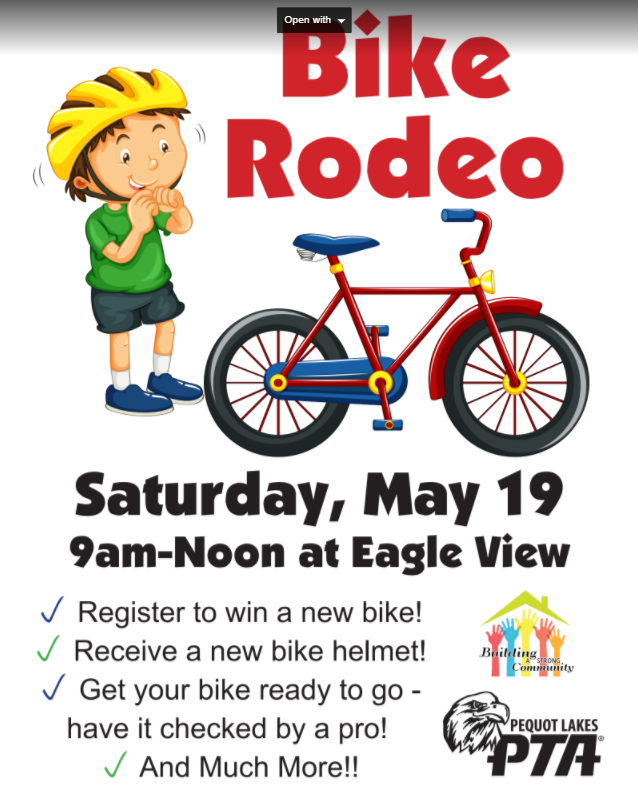 Brainerd Lakes Bicycle Safety Clinic from 

10:00 a.m.–Noon

 at the Brainerd High School's lower parking lot, in the event of inclement weather in the Brainerd High School gym
Pequot Lakes PTA Bike Rodeo from 

9:00 a.m.-Noon

 at Eagle View Elementary
Bicycling is a favorite past time for all ages, but understanding safety first is the key to staying safe and having fun! Children and their bike will visit various stations for a review of bicycle safety rules, a bicycle safety check, and be checked for a properly fitted helmet. Then they will put the knowledge they gained to the test by riding a mock course. Once complete, they can enter a drawing for a bike, and other treats.
If a child does not have a bike helmet or the one they have does not fit properly, they will receive one from Essentia Health. "We are excited to bring these events to our communities," said Heather Nixon, Trauma Coordinator at Essentia Health-St. Joseph's Medical Center. "Learning bicycling safety at a young age will stick with someone for life, just like riding a bike."
Events will be held rain or shine and are brought to you by: Pequot Lakes PTA, Essentia Health, Crow Wing County Passenger Safety Coalition, Baxter Police Department, Brainerd Police Department, Brainerd Parks & Recreation, Brainerd School District 181, Easy Riders Bicycle and Sport Shop, Lakes Area Law Enforcement Association (LALEA), and Dairy Queen.
"These Bike Safety Clinics are an opportunity for us to provide the community with injury prevention," said Nixon. "It's a way to actively engage kids and inform them of some of the things that they can do to prevent injuries while riding a bike."
Download the free poster for this event HERE.
Brainerd Lakes Bicycle Safety Clinic |One More Thing
Crow Wing Energized Kids Bike Fleets
Crow Wing Energized has two youth bike fleets available for use through a grant received from the Minnesota Super Bowl Host Committee Legacy Fund. During the summer, the Crow Wing Energized kids bike fleets are available for rental for a flat rate fee by youth-serving groups, organizations, and agencies in Crow Wing County. Learn more about the program at http://crowwingenergized.org/kids-bike-fleet/ or by contacting Jessica Waytashek at jessica.waytashek@essentiahealth.org.