**The posts I write might contain affiliate links or be written in collaboration with businesses or brands. Please see my disclosure policy for more information.**
There's something precious about aardvarks.
There's also something empowering about girls who love math.
Marry the two and you have a wonderful STEAM picture book!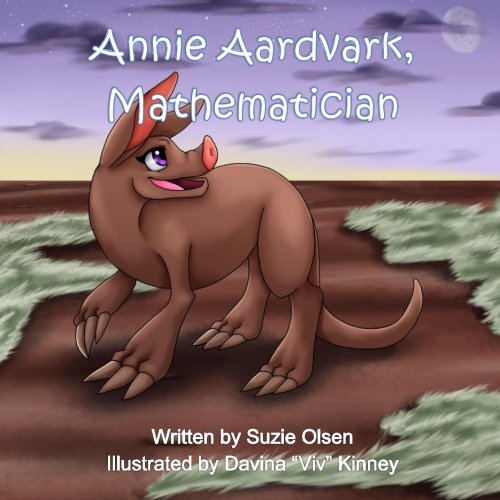 About The Book
In this award-winning picture book, follow Annie, an Aardvark who loves math, on her daily foraging. As Annie sets out on her forage, she decides to count everything she encounters. She zigs and zags through the landscape, stopping to use her nose and tongue to count objects. The effect is amusing sounds as she counts and forages. Join Annie on her math adventure! 
Buy it on Amazon or at your local bookstore and learn more about the author's books at www.suzieolsen.com.
Suzie is also the founder of STEM Spark, a new site devoted to igniting the passion for science and engineering in girls.
"To me, STEM is one of the best ways to spark curiosity and awe in children (and in us). So the name STEM Spark was forthrightly born. My hope is that STEM Spark ignites the spark that lays in all children– that lays in us all.  At the end of the day, this blog is about having a good time while exploring STEM!" ~Suzie Olsen
STEM SparkI truly love her story about her origin story for STEM Spark as well.
As I sat watching my child play the other day, I realized he was exploring his world with wonderment and curiosity; he had this spark to him.  That spark got me thinking about my own spark– do I still have that spark for life as did when I was a child? 
If Annie Aardvark, Mathematician wasn't cute enough, Suzie is currently working on the follow-up book, Annie Aardvark, Counting Ants!
AND, there is a wonderful Annie color page available here.
About The Author
Suzie Olsen is a writer and engineer. She's also a caregiver to her adorable son and supportive husband. Suzie's is currently working on picture books that feature female (animal) characters, and they all have jobs in science, technology, engineering and math (STEM).
Connect with Suzie on Twitter, Facebook and Pinterest.