**The posts I write might contain affiliate links or be written in collaboration with businesses or brands. Please see my disclosure policy for more information.**
Ah, Halloween.
It used to be such a big deal at our house! But now as the kids have entered their teens, the interest in costumes, trick-or-treating and Halloween decorating has fallen by the wayside.
I, however, still get a kick out of decorating, watching All Hallows Eve TV shows and reading up on "monster-related" info. And that's how I stumbled upon two books from QuartoKnows.com about everyone's favorite ancient monster; Frankenstein. QuartoKnows.com was also kind enough to partner with me on their review and book giveaway!
So this last weekend, I snuggled in my bed and did some catching up on my monster memorabilia and facts with this two awesome hardcover books.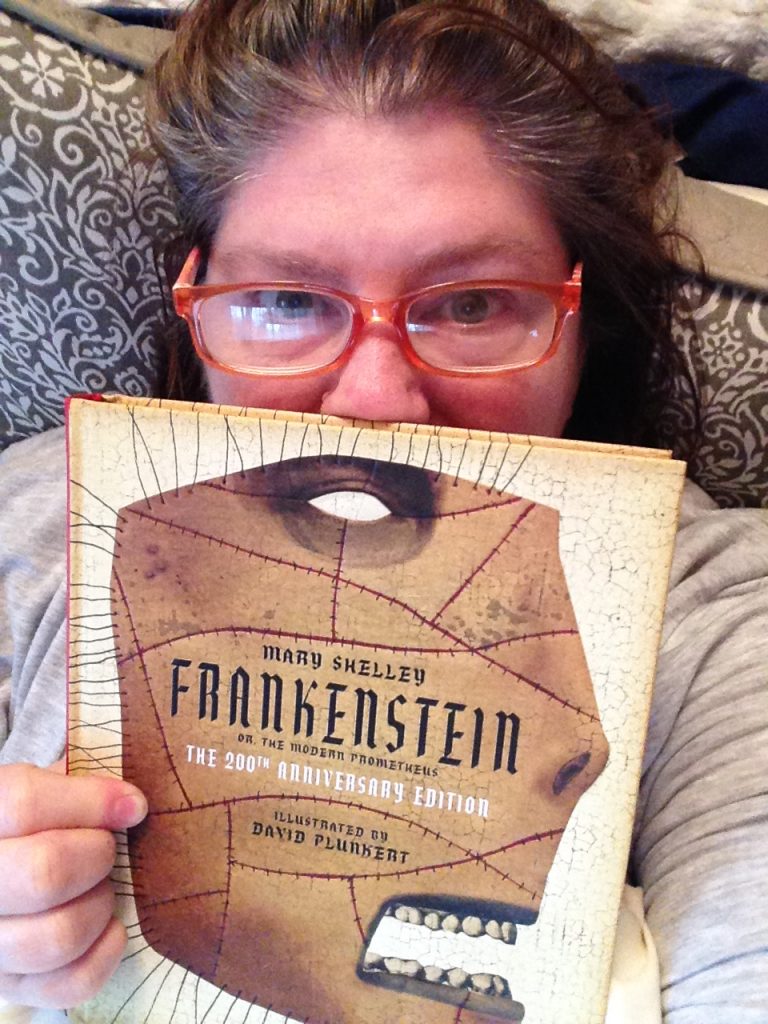 BOTH of which you can WIN. But first…
200 Years of the World's Most Famous Monster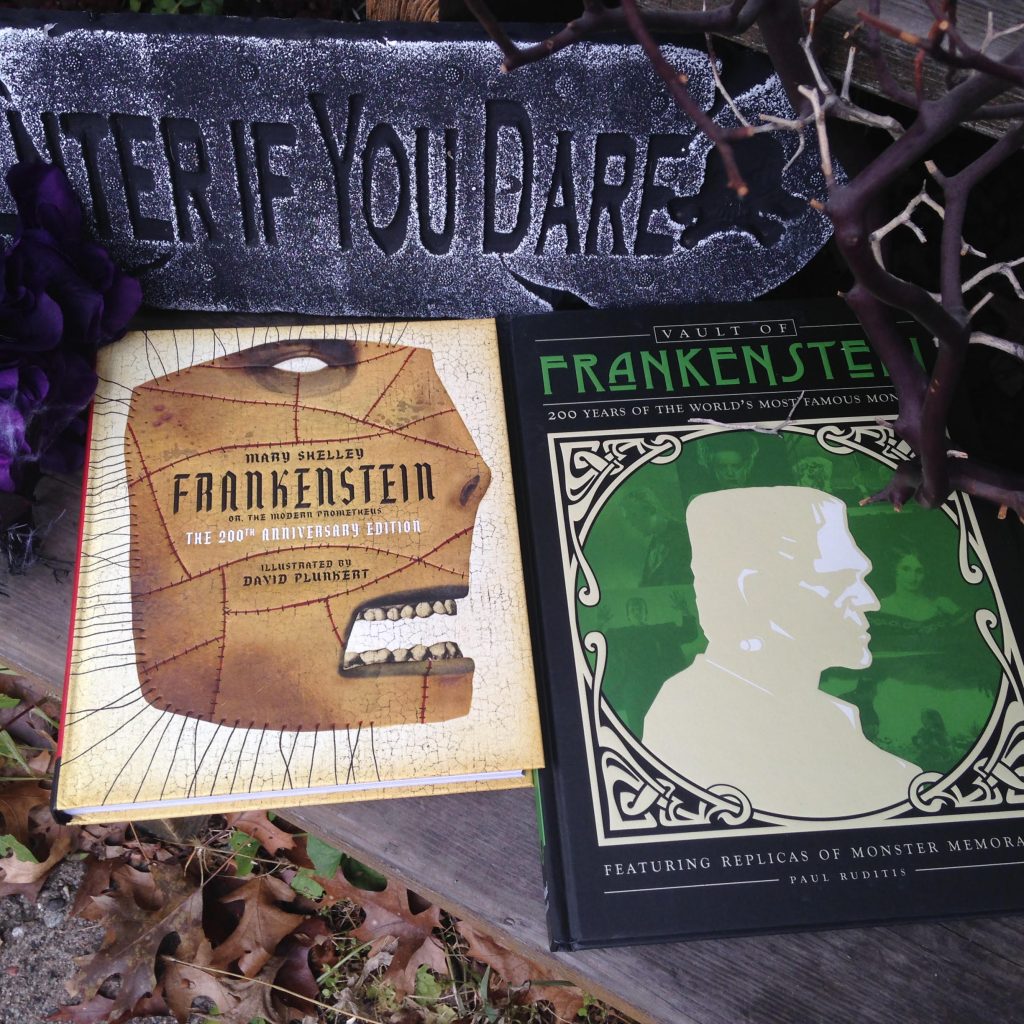 The Vault of Frankenstein traces the incredible history of how the nameless abomination in Shelley's classic novel became a pop culture icon. Removable replica memorabilia—Shelley's manuscript pages, movie posters, a playbill, and a photograph of Boris Karloff on set for the iconic 1931 portrayal of the character—add an interactive element to this amazing retrospective.
Beginning with the story of how Mary Shelley first conceived of the novel (on a stormy night on the shores of Lake Geneva), The Vault of Frankenstein traces the Creature's evolution from nameless literary character to international superstar, appearing in films, TV shows, comic books, and commercial merchandise.
Frankenstein's monster has been a hero and a villain, in both comedies and dramas. He has tap-danced with Gene Wilder, held a daisy by a stream, and even appeared on cereal boxes. With special attention placed on the 1931 film that lifted Frankenstein's monster to a new level of stardom, this book explores the many facets of this enduring—and often tragically misunderstood—character.
What I loved, loved was the secret Big Black Envelope in the very back of the book that was filled with fantastic replica memorabilia that brings the history to even more vivid life as you hold it in your hands:
The Bride of Frankenstein movie poster
Pages from Mary Shelley's original manuscript of Frankenstein; or, The Modern Prometheus
Photo of Boris Karloff on the set of Universal's Frankenstein
Playbill for Presumption; or The Fate of Frankenstein, the first stage adaptation of
Frankenstein
Frankenstein movie poster
So cool.
NOTE: This book is a little more "adult-ish" and "ghoulie" so I would refrain from letting kids under the age of 12 read it.
With detailed and evocative imagery, renowned artist David Plunkert takes readers on a dark journey into the greatest novel in the monster genre, Frankenstein.
Celebrating the bicentennial anniversary of Mary Shelley's original 1818 version, Rockport Publisher's Classics Reimagined series presents this beautiful deluxe edition. The 256-page hardcover book features an 8-page vellum insert detailing the doctor's designs and a stunning, full-bleed gatefold image of the monster. Finished with printed endpapers, this masterpiece volume is perfect for book lovers and art lovers alike.
The suspense and horror of Dr. Frankenstein reanimating assembled body parts, the monster spying on an unknowing family, and the creature's revenge on his maker take on whole new meaning when accompanied by Plunkert's mystical, layered interpretations. NOTE: This Classics Reimagined series Frankenstein book is a great way of introducing a young audience to the classic
The Classics Reimagined series is a library of stunning collector's editions of unabridged classic novels illustrated by contemporary artists from around the world. Each artist offers his or her own unique, visual interpretation of the most well-loved, widely read, and avidly collected literature from renowned authors.
This book also has a super-creepy-but-cool tri-fold Frankenstein poster. #Score!
**Both books were gifted to me by QuartoKnows.com. Opinions expressed are purely my own.
Giveaway Time!
ONE winner will receive a copy of Mary Shelley Frankenstein and The Vault of Frankenstein. Giveaway begins October 16, 2018
Prizing & samples  courtesy of QuartoKnows.com of the above books
Giveaway open to US addresses only
ONE lucky winner will win one copy of each of the above books.
Residents of USA only please.
Must be 18 years or older to enter
One entry per household.
Staff and family members of Franticmommy are not eligible.
Grand Prize winner has 48 hours to claim the prize.
Winner will be chosen via Rafflecopter on 10/23/18