**The posts I write might contain affiliate links or be written in collaboration with businesses or brands. Please see my disclosure policy for more information.**
Please don't get me wrong…I am NOT sharing this to toot my own horn or "rub it in."
I've been homeschooling my highly-anxious teen daughter for almost a year now and it is #1 on my 2019 Victories List.
Our school was not "bad"…quite the opposite in fact. But the noise, chaos, pressure, drama, and crowds were a case study in emotional overload for my already highly sensitive 14-year old. I resisted homeschooling for years because I didn't think I was smart or patient enough to teach her. But when I finally made the decision that homeschool was the best for her and started hardcore researching, I was blown away at the options and possibilities.
I already had the time since I work from home as a project manager and virtual assistant, so that wasn't my worry. The worry was the actual schoolwork. Long-story-short, we made the decision to pull her from public school and have never looked back.  After much research and the advice and wisdom on a local Facebook Homeschooling Group, we settled on PowerHomeschool.org ($25/month) and Kahn Academy for math.
Since the beginning, we've added other things on our own like art and language and a healthy dose of what I call Life Skills (how to pump gas, use a checkbook, handle money, make an appointment, etc.).
Fast forward to March of 2020 and the world is in a situation that none of us have ever seen before. Coronavirus (COVID-19) is shutting down entire countries and U.S. schools are beginning to close as a means of prevention. I don't need to repeat what the media and government are saying about this ferocious virus that has brought countries like China and Italy to a standstill. I don't need to repeat the fears and skepticism of the general public either–if you want a sample, visit Facebook and spend about 5 minutes reading.
What is also unique is that families are now thrown into being homeschoolers with no warning and no research. Luckily, the new options to keep kids learning for free (or low cost) are exploding thanks to authors, publishers, literacy non-profits, organizations, online schools, and libraries.
Our family even has discovered some new and fun programs to try to make things a bit more interesting!
Homeschooling Links and Resources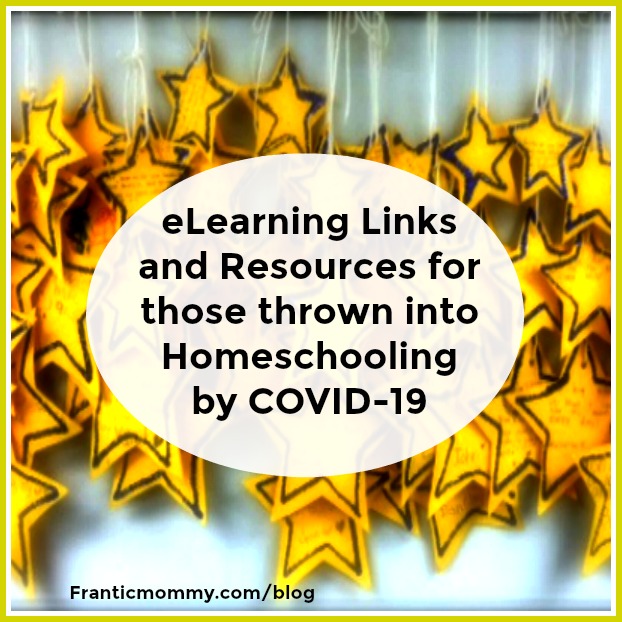 STEM SPARK: Inspiring Kids in Science, Technology, Engineering, and Math 
Diversity Book Lists & Activities for Teachers and Parents
This is List of Lists so you can find the books you need. Every blue title is a link to more book lists on that topic. https://t.co/GLGpViEjCM#ReadYourWorld #teachers #parents pic.twitter.com/mOkbUcDxzb

— ReadYourWorld (@MCChildsBookDay) April 10, 2019
Planning for school closures? Scholastic has you covered with engaging online resources and activities from #ScholasticLearnAtHome. #Coronavirus

— Scholastic Parents (@ScholParents) March 13, 2020
Home-Schooling Tweens and Teens During Coronavirus Closings
Advice from experts and home-schoolers on what do with your children if their schools are closed.
Another great list of FREE educational websites. #elearning pic.twitter.com/Y0rb4l8cGu

— Mrs. Rupnick (@Rhodes7and8LA) March 15, 2020
As a teacher I have created this slide to show my top 5 ways for #elearning #distrancelearning #remotelearning #edtech during #COVD19 @GoogleForEdu@PearDeck@Flipgrid@Screencastify@quizizz

slides credit @SlidesManiaSM

Hope this helps @WeAreTeachers
💜
-Laura pic.twitter.com/2tsVHe3ede

— Laura (@technologylaura) March 12, 2020
Hi everyone. Hope you're hanging in there mentally & physically. Sharing this week's Innovation Bits & Bytes highlighting resources to help continue learning at home. The page is clickable: https://t.co/KaLBbvYXCx Take care of yourselves. 💛 #elearning #edtech #engage109 #IDEAil pic.twitter.com/7qbZuNPH9O

— Maria Arfanakis (Galanis) (@mariagalanis) March 13, 2020
100+ FREE Websites to Help You Learn at Home While Schools Are Closed (or Homeschool for the Rest of the Year!)
A Great Art Resource from Author Jarett Lerner!
Another fresh batch of activities is up at my site:https://t.co/elSYH2RkBR

These are "Finish the Comic!" Comics, in which kids are tasked with using inferencing skills and their imaginations to complete incomplete comics.

I plan to post more new activities every day or two. pic.twitter.com/e1egXv4tSY

— Jarrett Lerner (@Jarrett_Lerner) March 15, 2020
"Mapping activity is not the only way of teaching about the world, continent, and country." https://t.co/2sK8gKsM00 #Geography #TeachingIdeas #Homeschool pic.twitter.com/ASWMCz5OoB

— Adelien Tandian (@Adelientan) March 15, 2020
Looking for things to do with your Children in the coming weeks #AtHomeLearning Easy Hands-On Activities Families Can Do At Home (Teacher Approved!) https://t.co/y4e9sy8WvF via @WeAreTeachers #Education #SpecialEducation #HomeSchool

— Jodi Szuter (@jodiszuter) March 15, 2020
Multicultural Children's Book Day has always worked very hard to support teachers with free resources, free classroom kits and free diverse books, but now we want to give YOU a way to help them as well! In 2017, MCBD published its first-ever ebook filled with multicultural book resources and recommendations.
Read Your World: A Guide to Multicultural Children's Books for Parents and Educators
is a "Best Of" list of diversity books lists for children contributed by 20 bloggers and 2 authors. Available on Amazon or read for FREE on Kindle Unlimited.
Are you helping kids learn from home for the next few weeks? Here's a #LivsList w/ my favorite apps and sites! Click on the link and see icons to FREE tools so you can help kids CREATE & SHARE! #KidsCanTeachUs #LivBits #elearing #RemoteLearning #EdTech 🌎https://t.co/einqNik2Ss pic.twitter.com/7eWIDLyp1L

— Olivia Van Ledtje (@thelivbits) March 13, 2020
📚🎨🖍🎲Stuck at home with the kids? 🎲🖍🎨📚
Blast away the boredom with some bookish fun by downloading some free activity sheets and board games from my website. https://t.co/cYfSSvHijp#FreeBookResources pic.twitter.com/HHd8AFwuRg

— Jonathan Emmett 📚 (@scribblestreet) March 15, 2020
**Do YOU know of any great homeschool/eLearning sites, links, or resources? Please share in the comments below…I want to keep adding to this list!