**The posts I write might contain affiliate links or be written in collaboration with businesses or brands. Please see my disclosure policy for more information.**
I did it!
I FINALLY finished the third book in my Work from Home Pros series! If you recall, I wrote and published Book 1 (FREElance FREEdom: Creating the Work-From-Home Life You Crave) and Book Two (MOM BOSSING: The Freedom to Create the Business You Love) during the epically cold winter of 2019.
Book #3 languished on my laptop for almost a year (even though it was already half-done) before I *made* the time to finish it this April…at the height of the worst pandemic the world has ever known.
I wish I could share one of those cheery stories about the fact that being in a Shelter in Place situation for over 40 days resulted in the time and space to write, but that actually isn't true.
Don't get me wrong, I have found many silver linings in this very tough time, but my writing took a backseat (for a while) while I helped my virtual assistant/freelance clients and worked a part-time side hustle as an Essential Worker. Exhausted and stressed, I knew I needed to dial it all back a bit and do something for ME.
Thus, my Streamlined: The Art of Minimizing Workspace Resistance eBook was *born* during the second week of April 2020.
With the number of people working from home, running their business from home, and telecommuting at an all-time high, home office workspaces have potentially morphed into one Big Hot Mess. Streamlined is a guide full of ideas, tips, systems, and product recommendations that can turn your workspace disaster into a streamlined office setting that you will be happy to spend time in.
OK…let's talk money. Yes, it's tight. Everyone is struggling and I totally get that.
People are also reading eBooks like crazy because they want to escape into a book after a long day of producing income, schooling kids, and managing the household. And eBooks are affordable.
I love a good fiction read, but I also firmly believe that everyone should spend time reading things that improve their brain. With that in mind and the knowledge that budgets are tight, all THREE of my non-fiction eBooks are priced at .99 right now.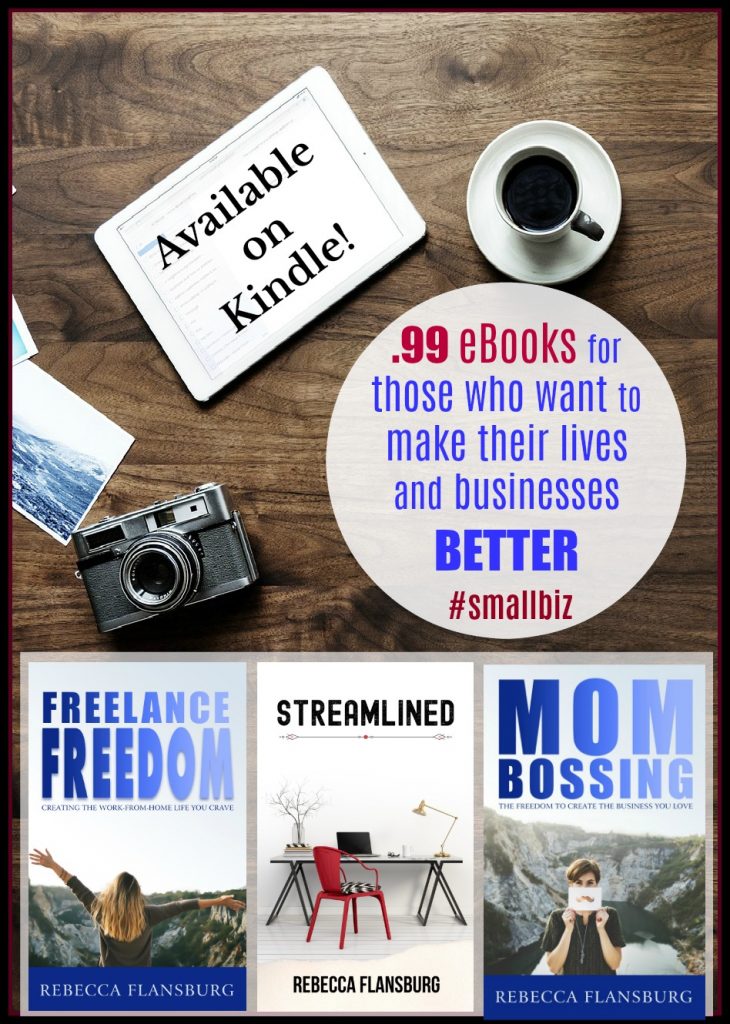 Click the links below to not only learn how to tame your office chaos (Streamlined), but to also set some support as a Mompreneur (MOM BOSSING) and learn how you can turn your downline into a money-making side hustle with the skills you already have (FREElance FREEdom).
Just know I support you all and I am cheering all of you on. We will get through this strange time together. Thank you for your business!