**The posts I write might contain affiliate links or be written in collaboration with businesses or brands. Please see my disclosure policy for more information.**
So how are you? I think we are in the 8th week of lockdown/quarantine?
Honestly, my ultra-introvert life hasn't changed a ton so there are many times (a day) when I am unsure what freaking day it is much less how long we've been living under the Fear Shadow called COVID-19.
I know it's hard. Not everyone is an introvert like me. Extroverts are suffering the most and no matter who you are, a hug from your mom, a lunch date with your bestie, or even a steady paycheck are likely things you are hankering for the most.
Despite all the adjustments and uncertainty, there are upsides to being in Stay at Home or Shelter in Place mode. People are finishing DIY projects, exploring new recipes, learning new things about gardening and discovering what truly is (or isn't) important in life.
With a fast-paced-calendar-jammed-pace on hold, most people now have the time and space to learn the times that have always been rattling around in the back of their brains for months and years.
They are finally nurturing the amazing person they have always been but have been too busy trying to keep up on the Hamster Wheel of Life to honor that fact.
Another upside to living at a slower pace is that people are reading more. Even though budgets are tight, there's been an uptick in book buying…especially eBooks.
My publisher (who is amazeballs, by the way) noticed this trend and immediately shifted from "sales" mode to operating from a place of service.
"We knew we needed to keep people reading and yet respect the fact that there's a lot of financial insecurity right now, "Audrey Press CEO, Valarie Budayr, noted. "We noticed that audiobooks were waning in popularity as were physical copies of books. Yet, people were craving distraction via a quality read. With that in mind, we've been working hard to get ALL of Audrey Press' catalog of fiction, children's and non-fiction books in ebook form and purposefully priced as many as we could $3 and below.  My company is no different than most small businesses. Times are tough, but we are still here. Now is the time to give and show compassion as much as we can. And Audrey Press/Aletha Press will continue to gladly do just that."
eBook Deals from Audrey Press
Jonesing for a new thriller? Romance? A kick-arse book series that will keep you reading late into the night?
Fans of any of those will LOVE the Ascension Trilogy series by Hannah Rials will be happy to know the final book in the series, Reclamation, is now available on Kindle!
The situation is dire.
Teen vampire hybrid, Cheyenne Lane's world is shattered as she discovers that she's led her friends and family to the slaughter. With their blood on her hands, Cheyenne finds herself a captive to the most powerful vampire in the world, Lamia. Clouded by her own greed and lust for power, Lamia launches a plan to use Cheyenne and Jason Lacroix to rule the world with her army of vampires who can now walk in the daylight.
Cheyenne knows time is running out and Lamia will do whatever it takes to make her future a reality, but she and her crew of witches and Deuxsang brethren aren't going down without a fight.
Book One and Book Two are also available in eBook form. Awesome "can't put it down" reading for teens and adults alike!
---
Sissy Goes Tiny by Rebecca Flansburg and B.A. Norrgard.
YUP…one of the authors is ME!
Released in July of 2019 as a hardcover diverse picture book, this book is a wonderful story about a family who is "going tiny" and determined to "do more with less." The illustrations in this picture book are vibrant and we love the "gentle lessons" of recycling, repurposing, and the true meaning of the word home that are skillfully woven into this timely story. There's a super-cool story behind why B.A. and I decided to write this book and you can read about it here.
You can also read more about Sissy Goes Tiny via our publisher's site and even add it to your e-reader via Kobo for only $3.99!
P.S. I have signed copies of these in my lair so if you'd like an extra-special-make-it-even-cooler version of this handover children's book, give me a holler at rebeccaflansburg  (at)  Gmail  (dot)  com.
---
The Waldorf Homeschool Handbook by Donna Ashton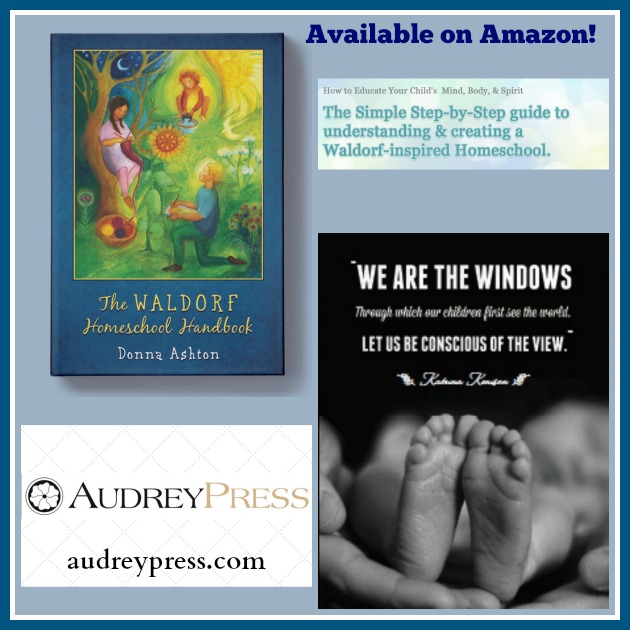 Homeschool is taken on a whooolllleeee new interest over these last 4 months due in part to the need to Shelter in Place and explore other ways our kids can learn.
As all families are navigating the very new path of either homeschooling or Distance Learning, many parents are feeling like they are floundering in the vast ocean of schoolwork without a life jacket.
My friend Donna Ashton's best-selling book guides parents on creating a school routine that works for their family while reminding everyone that they are not in this alone.
"The first steps are clear and you know exactly where to find the resources and support needed to be successful. There's no second-guessing. No confusion. No lack of focus. Without any floundering, your homeschooling falls into place with ease, assurance, and joy."~Donna Ashton
This book has been a top seller for Audrey Press since its release in 2014 so we are very pleased to offer this essential guide in eBook form via Kobo for only $3.99! The physical copy of this book is available on Amazon HERE.
---
Pilgrimage: A Modern Seeker's Guide by Evans Bowen
I don't think I will ever be able to say enough good things about this book.
When I first met Evans, I knew she was my kind of people.
Then I was lucky enough to be able to work on the planning and launch of her very first book, Pilgrimage: A Modern Seeker's Guide.
This book came to be at a time when I was at a very dark place and I wanted to be everywhere/anywhere but HOME. I was secretly angry and frustrated that I didn't have the finances or the freedom to "travel" (probably a code word for "leave" without me even knowing) like I *thought* I wanted to.
Then, I read Evans book and I had a Lightbulb Moment to end all Lightbulb Moments. You can read about this epic "Ah-HA!" HERE.
The official summary of this book is that it is a recounting of the author's 40-day trek on one of the most sacred paths in the world. But it's really SO much more. It's a guide on how to live life, savor every moment, and not let the constraint of miles and money hold us back from having our own pilgrimages. 
"A pilgrimage helps you find that secret space where you step out of your ordinary life and take time to listen to the longing of your heart and to find your extraordinary life."~ Evans
SO NOW, you lucky ducks, you can not only get Pilgrimage: A Modern Seeker's Guide in physical form,  you can get the eBook for only $3.99 via Kindle HERE.
Seriously, it's a life-changing book.
---
 The ABCs of BookJumping: The Best of Jump Into a Book!
Not to be a spotlight hog but, yeah…this is another one of my co-written books!
My mom always said, "You better toot your own horn or someone will use it as a spittoon!" If you even know what a "spittoon" is, I tip my hypothetical hat to you. But she's right. I worked hella hard on the books I've helped to create and I feel the need to do a little *toot*toot* for a  minute.
SO, if you have kiddies that love books, but are about turning inside out from boredom, this ebook is for you. Inspired by the 10+ year run of the wildly popular site Jump Into A Book, this ebook contains over 150 book reviews, unique book-inspired activities and recipes, book pilgrimages, facts about classic book authors that we all know and love, and many, many reasons to spend countless hours "unplugged" and reading as a family.
Basically, it's book inspired fun and a great example of how the books your kids' love can be taken to the "next level" with companion activities, crafts, recipes and deeper learning.
What if you could "live" inside the pages of the children's books your family reads? What if you could enjoy the same adventures as the characters? Bookjumping is taking the solitary act of reading a book and transforming it into an event that can be shared with others. It's the process of pulling books off shelves and stories off pages. It's making kids' books come ALIVE by "jumping" inside the pages.
Readers of this ebook will enjoy hand-picked book reviews and unique companion activities that will reignite your child's love of reading and encourage screen-free family time.
The ABCs of BookJumping: The Best of Jump Into a Book is a bright and engaging ebook that was just "born" on May 12th so it is new to the world. AND…just in time for the summer reading season.
Get the details here http://ow.ly/b8mO30qp9Bh or download your ebook for Kindle for only $2.99.
Stay safe and well!