**The posts I write might contain affiliate links or be written in collaboration with businesses or brands. Please see my disclosure policy for more information.**
A few years ago, I started a book sharing theme on Fraticmommy called Badass Books for Warrior Women. I love books and I read as often as my busy schedule lets me. But thanks to the hecticness of life and work, I've gotten away from series…but not anymore.
Now is a good time to revitalize this book recommend series that pays homage to books that strong, wise, and open-minded women will love (and probably dudes too).
Enjoy
The story of a Columbine High School Shooting Survivor
Eight minutes. Eight minutes was all it took to change one shy teenager's life forever.
On April 20, 1999, two disturbed teenage boys carried out an attack on Columbine High School in Columbine, CO that killed twelve students, one teacher, and left the nation in shock. Another 23 students and adults were wounded before the shooters killed themselves. One of those survivors was Kacey Ruegsegger Johnson.
Fast forward to 2020, Kacey is a wife, mother, and mentor for other trauma survivors. She has spent nearly two decades coming to terms with the haunting reality of that brutal day and she shared that journey in her non-fiction memoir, Over My Shoulder.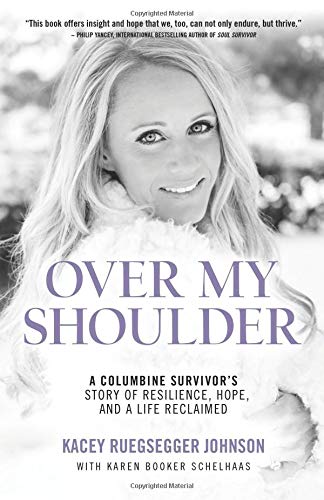 I was lucky enough to be able to work with Kacey through her book publicist during the launch of her book and through several phone conversations, she shared details of her long journey to healing her mind, body, and spirit, marrying the love of her life, and navigating PTSD during motherhood. Over My Shoulder is truly a gripping and heartfelt retelling of that day in 1999 and the painful medical reconstructions of her body that followed.
This mama is a testament as to how others can become the victor instead of the victim.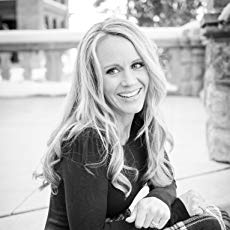 When asked what the inspiration was for the Over My Shoulder book title, Kacey shared the title has multiple meanings. In the throes of the vicious attack in the Columbine High School library, she revealed there was a moment when she knew one of the shooters was coming towards her, shooting the students who were cowering under tables with shotgun blasts as he walked. Looking over her shoulder briefly, she saw Harris heading towards her and knew that being shot was inevitable.
"But in the midst of terrifying realization, I felt a hand on my back," she recalled. "I remember wondering who would put themselves at risk to comfort me in the middle of gunfire. But when I looked over my shoulder, no one was there. At that moment, I just felt complete peace. I didn't know if I was going to die, but it didn't matter because that angel who was with me completely put me at peace. That was the second time in those terrifying eight minutes when 'over my shoulder' had a profound meaning."
The hours, days, and weeks that followed the shooting, Kacey's young life still hung by a thread. After being rushed to the local hospital, surgeons work frantically to remove 73 shattered pieces of bone and lead from her young body. The shotgun blast to her shoulder and arm left damage so severe, doctors feared her only option was amputation. However, thanks to the talents of Dr. Ross Wilkens, and the generosity of a donor family, a donation of bone and a shoulder joint allowed for a full reconstruction.
Kacey shared that she still has moments when her mind flashes back to that fateful day in 1999. Loud noises that sound like gunfire or seeing a random stranger wearing a trenchcoat or large backpack frequently will bring the memory of crouching under a library table with her fingers in her ears rushing back. Luckily, the intensity and frequency of these flashbacks are slowing fading with time. But to this day it is still hard for this mother of four to walk through the doors of a library. During her college years, she shared that she never entered a classroom without mentally making an escape plan first.
But through it all, this determined young woman refuses to live a fear-based life.
"Deciding how our traumas dictate our life is a choice," Johnson noted. "I look back on my life, and I now can see that every difficult time I endured prepared me for the next. Life after a painful event is not an easy path to walk, but I want others who find themselves lost and hurting to know that it is possible to shift from victim to victor. I also want others with disabilities to know that life doesn't have to be limited just because they are differently-abled. These life-changing events do not define us, but they can shape who we are in a positive way if we choose."
The 20th anniversary of Columbine High School shooting occurred in April of 2019 and true to form, Kacey remains more determined than ever to use her turbulent journey of healing and awareness to help others choose as to how their past struggles will influence their future life.
"When people think of me, I would like them to think of someone who, with the help of many others, has learned over the years to not only survive the struggles in my life (both before, after, and including the Columbine shooting), but to understand the strength I gained from those events; a strength that has led to joy. I want to be known as a person willing to share my experiences to help and encourage others as they work through their life stories."
You can score a copy of Over My Shoulder on Amazon and be sure to visit Kacey's website to learn more about her and her appearance schedule.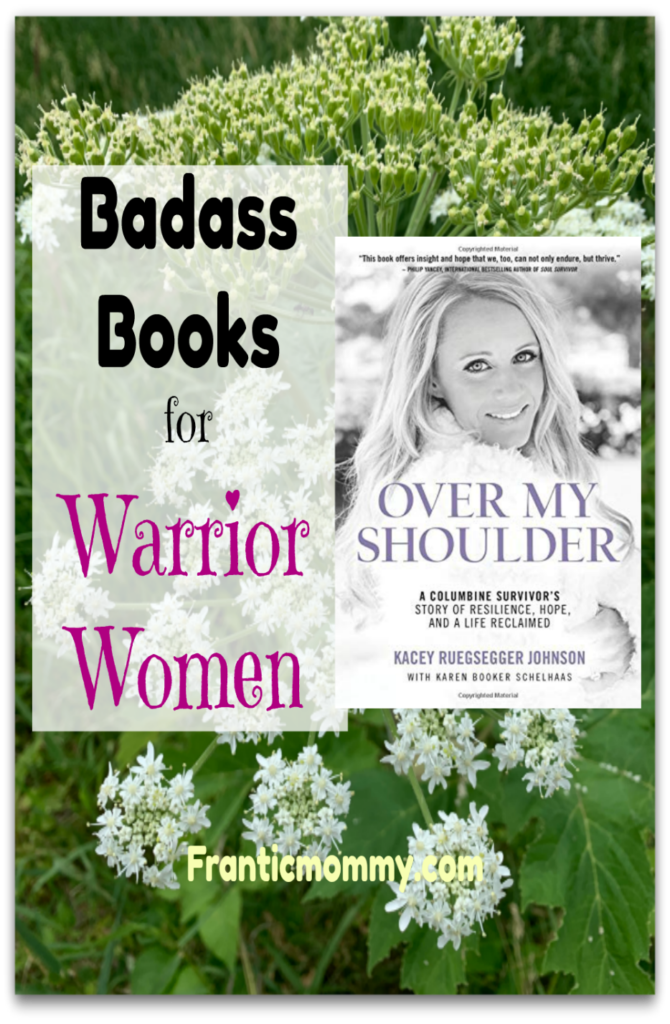 ---
One More Thing:
Fans of Spiritual Travel…where will your gypsy soul take you this year?
Author Evans Bowen raises the vibrations and shifts the restless souls' perspectives that are unable to travel due to our increasingly fragmented world. ​In Pilgrimage: A Modern Seeker's Guide, B​owen recounts her 40-day trek on one of the world's most sacred paths, Camino de Santiago (known in English as the Way of St. James) in 2014.

​
Written to be a guide on how to live life, Bowen also encourages transformative travelers to savor every moment and not let the constraint of miles and money hold them back from their pilgrimages. Bowen delivers a wisdom-filled book that will help others find the secret space where they can step out of ordinary life and into an extraordinary one.
A tradition of all religions, a Pilgrimage is a journey to sacred sites as an act of devotion and dedication. Still, Bowen shares with readers that it is time to expand that definition to encompass modern life. Taking time to visit a place near home or around the globe, to open the mind and heart to the Divine, brings healing and new meaning to life. Pilgrimage is both an external journey to a place longed for and an internal journey to the center of our most authentic self.
It is an epidemic of our time to come to the end of our days and realize we've never taken the time to let the simplest of pleasures nourish our souls, or even be aware of what those pleasures are. Evans offers pragmatic advice for heightening sensory awareness, finding presence, connecting with nature, breath, movement, mindfulness all in the context of a well-told story of a 40-day pilgrimage.~Amazon review
A lovely and inspirational book that beckons travelers to realize that a pilgrimage can be made with friends and doesn't have to be in faraway lands.~Mia W
Grab your copy of Pilgrimage: A Modern Seeker's Guide in paperback or ebook on Amazon today.