**The posts I write might contain affiliate links or be written in collaboration with businesses or brands. Please see my disclosure policy for more information.**
I'm one of the lucky ones.
My divorce was not "nasty" or heated. It was not ugly, mean, or traumatic. As I said, I'm one of the lucky ones.
But I didn't always know things would go as smoothly as they did. From the get-go, I told my now ex-husband that my goal with our divorce was to be kind, fair, and respectful. I also told him that if he chose not to share the same vision, he better buckle up.
Thankfully, he agreed that our divorce didn't have to be a "rip and tear" session. We came to an agreement on everything and divided up assets and debt in the fairest way possible. I am at peace with how our divorce was settled and I think he is too.
But there were some very dark and worrisome times back when I didn't know what to expect, what to do, or how to fully protect myself. We are all lucky enough to live in a world that is crammed with incredible information. Books are always my go-to for education, clarity, and help so when I needed information about my impending divorce that is what I gravitated to.
Hands down, one of the best books I read during that time was Divorce, Simply Stated (2nd ed.) How to Achieve More, Worry Less and Save Money in Your Divorce by Larry Sarezky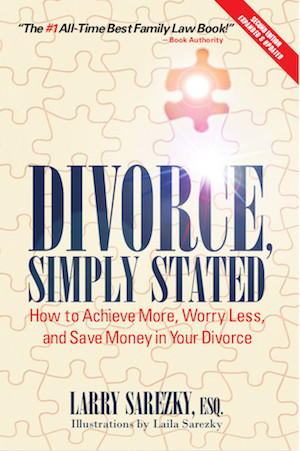 Combining courtroom savvy with award-winning creative skills, Sarezky demystifies divorce and provides a roadmap to optimal results. Besides the divorce essentials, the book contains insider strategies not found elsewhere on a myriad of issues, such as saving legal fees, reducing acrimony, withstanding cross-examination, and avoiding common missteps. Keeping readers engaged are a uniquely comforting voice, remarkably effective legal, financial, and lifestyle pointers, a sprinkling of humor, and Illustrations by the author's granddaughter designed to focus parents on their children's needs.
This book is available on Amazon.com
About The Author