**The posts I write might contain affiliate links or be written in collaboration with businesses or brands. Please see my disclosure policy for more information.**
Guest Post by Kathleen Krueger
I just wanted the freedom of working remotely and setting my own schedule. That's it. No big aspirations of growing a business or developing a brand. Enough work to keep me busy and pay the bills would be fine.
Sometimes you don't have to pursue big dreams; they find you.
Whoops! I'm Leading a Team. How'd That Happen?
It took me about 11 months to launch my freelance writing career and quit my office job. (If you want to know the steps I took to accomplish that, you can read that story in my short ebook, "The Fasttrack to Freelance Success Online.")
Once I'd established myself as a freelance writer, clients and assignments weren't as hard to find. Within the first month after I quit my employment, I ran into a situation where I had more work to do in a particular week than I could accomplish without working long hours without a break. That kind of blew "setting my own schedule" out of the water.
I had a circle of friends who were amateur writers like me, most of whom were better writers than I was. So, I reached out to them and asked for some help to get me through this heavy work week. That's when Frank started subcontracting for me. That was almost 12 years ago. Frank is still writing for my business, Crafter of Words LLC.
As the weeks and months progressed, the number of clients and writing assignments kept increasing. I kept hiring more parttime freelance writers to "help me out." Finally, a year later, I realized that I was spending a large amount of my time managing my team of content writers instead of doing the writing myself. I had turned into a content writing agency without ever setting that as my intention.
Now what?
Content Agency: Positioning for the Future
The unfortunate part of developing an agency unintentionally is that you don't realize how much it costs you as a business owner to manage that team until you look at the bottom line. When I did, the numbers told me that something had to change.
My total revenue had tripled, but the amount of profit I was making had not changed. I was working more hours for less money because the majority of the profit was going to my subcontractors. It was time to re-evaluate my business model if I was going to continue.
My prices with my existing clients were already set. It would be some time before I could raise my rates with them. The problem was the percentage I was paying to my subcontractors.
I did some calculations to determine what percentage I could pay my subcontractors and make enough profit on their work to cover my hours running and growing the business. Pay rates to subcontractors were adjusted with full transparency and my income began to grow.
Building a Personal Brand
Although I enjoyed the type of writing work we were doing, as well as the challenge of working directly with our clients, I knew my writing skills had advanced beyond the level required by our particular clients. I decided it was time for me to pursue my own personal writing career, separate from my team. To do that, I had to hire a project manager to handle the interactions with clients and the writing team.
Once I had a project manager trained and in place, I spent time and money researching the best way to leverage my personal skills. I decided to focus my writing on my favorite niche and began a marketing plan to promote my expertise to a higher-paying clientele. My strategy worked. Soon, I was charging considerably more for my time than I was charging for the writing services of my team. I had a completely different set of clients for my area of expertise than the rest of my team.
Now, I had two separate income streams – one dependent on me and one from the team.
Hey, Freelancer. Go Clone Yourself!
Today, I am retired from active involvement in my writing agency. I am available to my project manager to give guidance and take on a occasional special project. Meanwhile, my team continues to fulfill assignments for our list of clients and provide an income for themselves and for me.
You probably have lots of questions about what it takes to make this business model a success, like:
What type of clients will hire a content agency over an individual?
Where do you find reliable freelancers who will work for less pay?
How do you maintain quality control?
That's why I and my co-author, Michael Stover, decided to put all the details into a book called "Hey Freelancer Go Clone Yourself."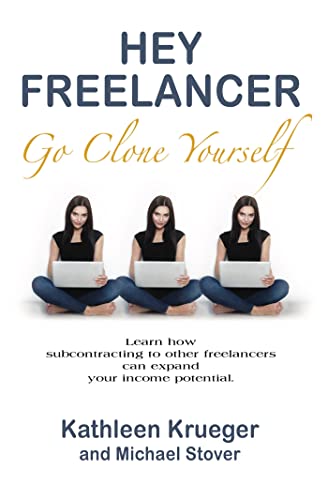 Michael Stover began working as a subcontractor for my business as he was beginning his freelance career. As he gained experience and established his own clients, he was able to quit his job and become a full-time freelance writer and editor. As his business began to grow, he followed my agency model and began hiring subcontractors to allow him more time off without limiting his income potential. He is proof that my success can be replicated.
The greatest benefit we enjoy from our content writing agency business model is making more money while working less hours. The whole point of being a freelancer is freedom, right? With our "Clone Yourself" business model, we are enjoying the freedom we dreamed of when we began.
Hey Freelancer Go Clone Yourself is available in paperback, digital ebook formats, and pdf format. You can purchase the book through most any popular bookseller like Amazon, Apple Books, or Barnes & Noble, as well as direct through our publisher at Booklocker.com.
Never be afraid to think out of the box. Success can come through a variety of pathways.
Learn more about Kathleen Krueger on her website: https://kathleenkrueger.com
Read an interview about her business and life as an artist in the November issue Of HER VOICE Magazine.
Note from Becky (Franticmommy):
I owe Kathleen a huge THANK YOU and hug. She was the person who helped me launch my full-time freelance writing business back in 2010. She is a shining example of business evolution, and we all need strong female trailblazers like her in our world. Keep being awesome, Kathleen!