**The posts I write might contain affiliate links or be written in collaboration with businesses or brands. Please see my disclosure policy for more information.**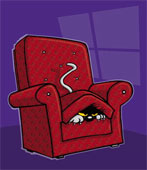 Sunday started off well enough. Cup-o-coffee, a nice sunrise and some giggles from my blog-mates. But after breakfast things temporarily became a big, gigantic ball of yuck.
A quick summary would be, coffee pot overflowed, son got put in time-out (again) and daughter (who's buckin me on the potty training)unbeknownst to me striped off her diaper, put on a pair of Big Girl Undies and promptly piddled all over the carpet.
To make matters worse, I yelled, she cried, and hubby donated a couple of really-piss-me-off-snarky-comments which was the real topper on this turd cake. After Princess Leaky Drawers was bathed, the floor was de-peed, and hubby slunk off to watch TV, I retreated to the basement to wash some stinky Ariel The Mermaid Panties.
After loading washer and pushing "go", I had a major epiphany…I didn't want to go back upstairs. So instead I sacked out on the bean bags chairs in the playroom. It was delightfully quiet and the hum of the washer soothes my fried nerves. After 5 minutes I calmed down, after 10 minutes I relaxed, after 15 minutes I began to wonder if anyone actually missed me. Then I start noticing "the noises."
Specifically the ones coming from upstairs.
What's that? Oh, it was Daddy bellowing like a stuck hog "Mommy where are you!!??"…well I guess that answered the question of whether they missed me or not. I could hear my tiny, 27 pound three year old clumping around upstairs cuz, let's face it, the little fart walks like a Clydesdale (at least I always know where she is). After 16 minutes my feet started to get cold and I needed to pee. *sigh* Just as I was contemplating my return to the Upper Kingdom of Annoying Folks, I heard the thundering of little feet coming down the steps.
Crap..I've been discovered.
My son (lookin dandy fine in his Ninja costume) pounced on me with vigor and Princess Pee-Pants shouted "there you are Mommy!" which such glee it made my heart melt. Oh…ok, I'll come back….this time.