**The posts I write might contain affiliate links or be written in collaboration with businesses or brands. Please see my disclosure policy for more information.**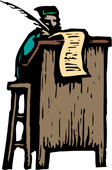 Kids are tricky little buggers.
Don't get me wrong, I have the utmost respect for how little minds tick and how they are always "workin the angles". Being a parent sometimes is like Risk Assessment. Your mind has to always be working about three minutes ahead of your mouth. Just today, in a twenty-minute conversation about cats, somehow our 6-year-old was convinced he was GETTING a cat just because of a poorly timed "uh Huh" on my part. So we had to create a new rule.
* No cats until Jake is old enough to have his own kids and live in his own house. (Right about the time he will be taking care of me cuz I am OLD)
Here are more creative rules from The Kingdom of Tired:
* It is unacceptable to burst into Mom & Dad's bedroom at 6:43 a.m on a Saturday, shrieking there is a squirrel in the bird feeder. Mom and Dad don't care…no really, we REALLY don't care about squirrels on our only day to sleep in. And hey, squirrels need breakfast too.
*No more jelly sandwiches or yogurt in the living room. It's bad enough my carpet now looks like a hound with mange, Mom really doesn't like jelly on her butt (much less her favorite chair that her butt rarely has time to be in).
* Those little pieces of paper stuck in Mom and Dad's book? Well, we didn't put them there to be pulled out and flung about like confetti. They are there for a reason so, keep your little paws off.
*No underwear to be worn as hats in front of the company. Ever.
Last but not least …the #1 rule in The Kingdom of Tired ("survey says"!)
*There is one bathroom in this castle. He who holds it too long pees on a tree.