**The posts I write might contain affiliate links or be written in collaboration with businesses or brands. Please see my disclosure policy for more information.**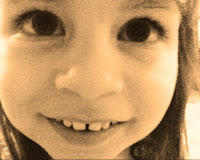 I have to share something.
Our daughter has a new "stage" she is going through.
No, not the one that makes her sing the alphabet in her bed until 11:00 p.m every night (insert eye roll here). But a better one. A happy one.
My little cherub starts her day out everyday by marching out the front door, breathing in the crisp morning air, and announcing to the world "What a GREAT Day!"
Cutest. Thing. Ever.
Wouldn't it be great if we could all start our days that way? I think I will work on that one.
p.s This is also the same kid that also announces every morning "I am SO excited for breakfast!".
Awwwww…..like Mother, like Daughter. 🙂
Never Miss a Poop Story. Subscribe HERE http://feeds.feedburner.com/blogspot/dpfZp