**The posts I write might contain affiliate links or be written in collaboration with businesses or brands. Please see my disclosure policy for more information.**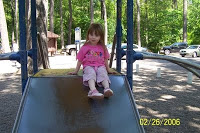 I'll bet it's hard to believe it was 4 years ago that I came outta your tummy…all 4 pounds 6 ounces of me.
Sorry I came a month early. I was bored. And I knew there was shopping to be done.
A girl's gotta do what a girl's gotta do.
Anyway I just wanted to say thanks for being such a great Mommy and Daddy.
And that word I keep saying? You know, the one that's sounds like "Swy-day" ??. The one you can't seem to figure out?…..
…it doesn't mean anything. I just like to keep you guessing.
Oh yeah, one more thing. I promise I won't tell Jakey-D why you call his fish Splat….that will be our little secret.