**The posts I write might contain affiliate links or be written in collaboration with businesses or brands. Please see my disclosure policy for more information.**
I am very excited to take Princess Sara-boo to Vacation Bible School at Timberwood Church tonight! 
We are joining this new church and this is only our second time there.
We are going right after work so I don't have time to run home first.
I will also be volunteering at the church while she is in class.
I'd like make a good impression on all these new people that I just met and don't know….
…only, I just noticed I am wearing my "Rock And Roll' shoes today.
You know, the black ones emblazoned with skulls and crossbones.

Is that BAD?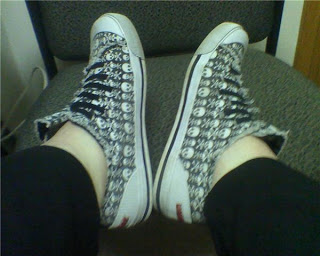 Never Miss a Poop Story. Subscribe HERE http://feeds.feedburner.com/blogspot/dpfZp